Tony's Top 10: Will Butch toss frosh QB into Swamp? Can Hogs go 4-0?
The Vols need help, but will Butch Jones really throw a freshman QB into the Swamp? Can Texas get a win and can Auburn surprise LSU?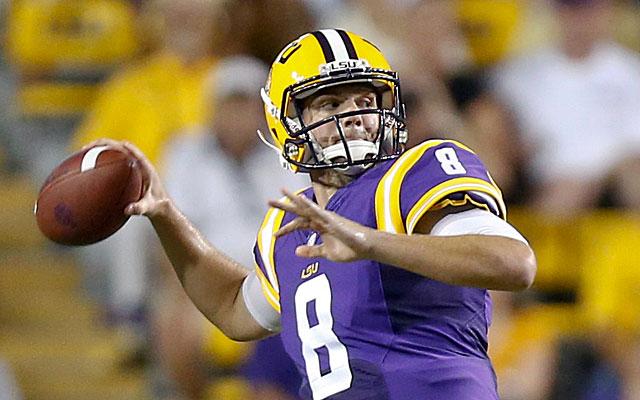 Well, some of our questions DID get answered last week:
• We asked if the best game on the board after Texas A&M-Alabama was going to be Wisconsin-Arizona State. Thanks to the Pac-12 officiating crew we were right.
• We asked if the student, Penn State's Bill O'Brien, was ready to beat the teacher, UCF's George O'Leary. Turns out he wasn't.
• We asked if Tennessee could hold Oregon under 50 points. They couldn't as the Ducks rolled up 59.
• We wondered if a young team like Ole Miss was ready to win at a place like Texas. Turns out they were and now Mack Brown is really feeling the heat.
So what questions are we going to get answered this Saturday? Let's start with these:
Gus vs. Cam: Who puts up the best numbers?
Gus Malzahn picked up his first big win as Auburn's new head coach last week when juco transfer Nick Marshall drove his team 88 yards and threw an 11-yard touchdown pass with 10 seconds left to beat Mississippi State 24-20. It broke Auburn's 10-game losing streak in the SEC. Now Malzahn gets his first road test at No. 6 LSU, where new offensive coordinator Cam Cameron has turned Zach Mettenberger into a bona fide SEC quarterback. In three games Cameron has given LSU's offense a flair and creativity that it hasn't had since Matt Flynn led the Tigers to the 2007 BCS national championship.
A year ago Auburn's defense was just awful. It will be better this season under Ellis Johnson. But will it be good enough on Saturday to give Malzahn's offense a chance to stay in this game?
Gus vs. Cam is an SEC West matchup I think we're going to see for years to come.
Can Michigan State knock off Notre Dame?
After Notre Dame lost quarterback Everett Golson for the season (academics) the big concerns in South Bend were about the offense. But in the first three games the Irish defense has underachieved, allowing 411 yards and 23.5 points per game, far below their 2012 averages. Two of those games were against Temple (0-3) and Purdue (1-2), who are hardly offensive juggernauts. After the defense was responsible for four of the six touchdowns scored in the first two games, there is a glimmer of hope that Michigan State can move the ball through the air as Connor Cook threw four touchdown passes in a 55-17 over FCS opponent Youngstown State. The defense should keep Michigan State in the game but Sparty may lack the pop to win it.
We know what Arizona State wants to do. The Sun Devils want to use quarterback Taylor Kelly and running backs Marion Grice and D.J. Foster to run you ragged. Arizona State is fourth nationally in plays per game at 86.5. We know what Stanford wants to do. They will use quarterback Kevin Hogan plus tailbacks Anthony Wilkerson and Tyler Gaffney plus the big uglies up front to rock your world.
Whose style prevails at Palo Alto? We didn't learn a whole lot new about Stanford in wins over San Jose State (34-13) and Army (34-20). On Saturday I think we learn that the Cardinal is very, very good -- good enough to win the Pac-12 again.
Can Arkansas start 4-0 under Bret Bielema?
It didn't take the Hogs long to find their playing personality under Bielema, the former head coach at Wisconsin. He quickly found a couple of powerful running backs, including freshman star Alex Collins, and began pounding people. Arkansas lost to Rutgers a year ago, 35-26, in Fayetteville. Whether or not they'll avenge that loss may be decided by the dinged-up right shoulder of quarterback Brandon Allen. Allen got hurt in the first quarter against Southern Mississippi and backup AJ Derby finished the game. Derby is a junior college transfer who formerly played at Iowa. Arkansas would love to start 4-0 because after this game the schedule gets real with Texas A&M, Florida, South Carolina and Alabama coming up in the next four weeks.
How will Butch handle his QB situation at Florida?
After a methodical 2-0 start against Austin Peay and Western Kentucky, first-year Tennessee coach Butch Jones got a huge reality check at Oregon (59-14). After flying 2,500 miles home, Jones had to face another daunting reality: Sophomore Justin Worley may not be the answer at quarterback. "If we have to play a freshman quarterback, so be it," he said.
He has a redshirt freshman in Nathan Peterman, a kid Jones recruited to Cincinnati. He has two true freshmen in Josh Dobbs and Riley Ferguson. It's hard to believe he would start a totally unproven player at the Swamp against a really good Florida defense. That runs the risk of crushing a young player's confidence.
But it's also a fact that Tennessee has to do something to generate some offense. Keep your eye on this because the schedule doesn't get any easier with South Carolina, Georgia and Alabama coming up for the Volunteers.
Will UNC-Georgia Tech be another wild one?
All Georgia Tech and North Carolina did the last time they met was give us the highest scoring game in ACC history. Georgia Tech won 68-50 in a game that produced 1,085 yards and just five punts. "If I would have seen that coming I probably wouldn't have showed up today," UNC coach Larry Fedora said after the game in Chapel Hill. Saturday's rematch is in Atlanta and has a chance to be just as explosive. Georgia Tech has scored 108 points in its first two games and under quarterback Vad Lee the Yellow Jackets are more versatile. He had four passing touchdowns last week against Duke.
North Carolina, which was second in the ACC in scoring last season, returns quarterback Bryn Renner. The Tar Heels are coming off an open date after a 40-20 win over Middle Tennessee.
This is the second of four straight ACC Coastal Division games for Georgia Tech.
How good is Maryland's
C.J. Brown

?

I think we may find out on Saturday when the Terps, 3-0, take on West Virginia in Baltimore. Through three games Brown has been impressive. In a 32-21 win over Connecticut last week he had 277 yards passing, another 122 rushing and led the Terps to more than 500 yards of total offense for the third straight game. Brown sat out all of last season with a knee injury. The Terps' would like to make some noise in this, their last year in the ACC before joining the Big Ten. This game may tell us if Randy Edsall's team is for real. Another hint on this game: Look out for Maryland WR Stefon Diggs. He caught five passes for 111 yards last week and a year ago against the Mountaineers, as a true freshman, he had touchdown catches of 56 and 42 yards.
How badly does Mack Brown need to beat Kansas State?
At the very least this is a quality of life game for Brown, who has had a rough two weeks in losses to BYU and Ole Miss. Brown fired his defensive coordinator, Manny Diaz, after a thumping by BYU. The Longhorns didn't do any better with Greg Robinson running the defense in a 44-23 loss to Ole Miss.
Now Brown is throwing out the idea that this team can still win the Big 12 championship. Mathematically that is correct. Realistically, it won't happen with a bad defense. And Texas, regardless of who coaches them, has a bad defense. Bad defenses do not get fixed once the season starts.
How many plays will BYU run against Utah?
We knew things would kind of pick up when Robert Anae returned to BYU as offensive coordinator. Since an inexplicable 19-16 loss at Virginia in the first game, when they ran 93 plays and held the Cavaliers to only 223 yards, they looked unstoppable the following week against Texas. Quarterback Tysom Hill ran for 259 of BYU's 550 yards rushing in the 41-20 win in Provo. After running 99 plays against Texas, BYU leads the nation by averaging 96 plays per game. Looks like state rival Utah (2-1), which lost to Oregon State, has its hands full on Saturday in Provo.
Will Wisconsin have a hangover from 'Umpire Gate?'
The Pac-12 reprimanded the officials -- and I would assume sat them down for at least a game -- for their mismanagement of the end of Arizona State's 32-30 win over Wisconsin. The Pac-12 admitted their guys screwed up. But the win stands.
So what does Gary Anderson's team do in their Big Ten opener with Purdue, who put an early scare into Notre Dame last week?
History tells us the Badgers will either be very sloppy or take out their frustrations on the Boilermakers. Somebody has to pay for what the refs did to Wisconsin. It might as well be Purdue.
Leach wants a rally outside Texas Tech's stadium for $2.5 million he believes he is owed

It's the beginning of the end for a number of teams with College Football Playoff hopes

Every season has early surprises, but which ones are most capable of finishing the job?
Our computer model simulated every Week 8 college football game 10,000 times with surprising...

The bye weeks means there's more time for Smart to hit the recruiting trail

The Cowboys and Longhorns look to stay in the Big 12 title hunt on Saturday