Tony's Top 10: Will Tide D keep rolling? Will Baylor hang 100?
Mizzou is going to win the SEC East, and Florida State has the ACC locked up, but nobody is beating Bama with that defense. Hold on, it's too early to jump to conclusions yet.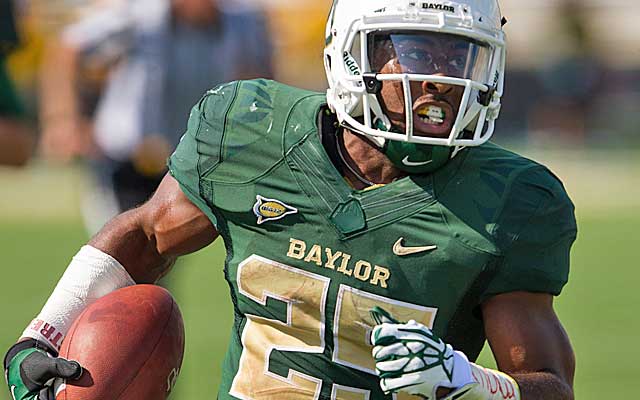 OK, the BCS Standings are out. The pecking order is set. And the next six weeks are going to be about moving up -- or moving out. Here are 10 Burning Questions we have about the last Saturday in October:
Can Alabama's defense keep this run going?
You want a true measure of how good Texas A&M's Johnny Manziel really is? Here's one: The Aggies scored 42 points (and lost) against Alabama on Sept. 14 in College Station. Alabama's six other opponents have scored a grand total of 26 points. Two of those games were shutouts. Three others scored in single digits.
You know that Ole Miss offense that scored 38 on Texas A&M and beat LSU 27-24 last week? Alabama held that offense to zero points and only 205 yards.
Despite giving up those 42 to Texas A&M, Alabama still leads the nation in scoring defense at only 9.7 points per game. The Crimson Tide has allowed only two rushing touchdowns all season.
Now granted, Alabama's competition since College Station has not always been top flight, but reality is that this is a pretty good group that will take on Tennessee on Saturday.
Not all the news about Alabama's defense is good. The Crimson Tide will plays the Vols without safety Vinnie Sunseri, who was lost for the season (knee) in last week's 52-0 win over Arkansas.
Tennessee is coming of a stunning 23-21 win over South Carolina, the first signature victory under rookie coach Butch Jones.
Can Mizzou lock up the SEC East before November?
No. 5 Missouri (7-0, 3-0 SEC) can do exactly that on Saturday by winning at home against a South Carolina team that will probably be without starting quarterback Connor Shaw. Shaw is going to make the trip but will only be used in an emergency, coach Steve Spurrier said.
If Missouri wins, the Tigers will have beaten Georgia, Florida and South Carolina in consecutive weeks in their second year of SEC membership. All three teams have been hit hard by injury. South Carolina (5-2, 3-2) basically controlled its destiny before losing at the buzzer to Tennessee last Saturday in Knoxville. The Gamecocks can still win the East by beating Missouri and running the table if the Tigers lose again. So what we're saying is this game is South Carolina's last stand.
Will Clemson have an FSU hangover?
Clemson lost a lot in the 51-14 beatdown by Florida State last week at Death Valley. Unless Florida State loses twice in the conference down the stretch, which is highly unlikely, the Tigers are not going to be ACC champions or have a shot at the national title.
But with the way their fans travel Clemson (6-1, 4-1 ACC) can still get an at-large spot in a BCS bowl by winning the rest of them. Is that enough to keep this team motivated? We'll find out. Clemson plays a Maryland team that was once 4-0 and nationally ranked. The Terps (5-2, 1-2) lost both of their starting wide receivers to broken legs last week against Wake Forest and quarterback C.J. Brown still hasn't recovered from a concussion suffered against Florida State. He is not expected to play.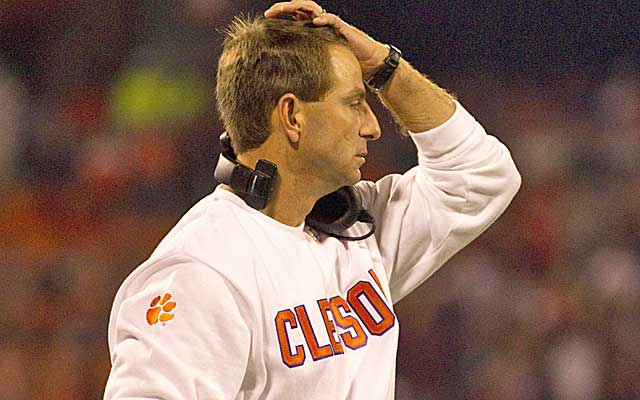 Can Penn State put a scare into Ohio State?
If the No. 4 Buckeyes (7-0, 3-0 Big Ten) believe they are one of the two best teams in the country, and thus deserving of a bid to the BCS championship game, it's time they started proving it. Ohio State did little to help its case last week against Iowa, a team it trailed 17-10 before finally winning 34-24.
Penn State (4-2, 1-1) has had a week off to rest since its (43-40, 4 OT) upset win over Michigan Oct. 12. The reality for the Buckeyes is this: Unless two of the three teams ranked ahead of them (Alabama, Florida State, Oregon) lose down the stretch, the best they can do is the Rose Bowl on New Year's Day. That ain't bad, but that's not where Urban Meyer, undefeated in 19 games as Ohio State's coach, wants to go.
Is Florida State going to have a post-Clemson letdown?
Will the Noles struggle or get a real dose of revenge on North Carolina State? The Seminoles (6-0, 4-0 ACC) played one of their most impressive games in years in winning last week at Clemson. Now they have a score to settle with the Wolfpack in Tallahassee.
A year ago Florida State collapsed in the fourth quarter and suffered a 17-16 loss in Raleigh that reverberated through the program all season. Not even an ACC championship was enough for Seminoles fans to forgive or forget that one.
Now Florida State is No. 2 in the BCS Standings and needs to keep winning impressively to stay there. That can't be good for the visiting Wolfpack. Still, don't be surprised if Florida State is a little flat with No. 7 Miami coming to town next week.
A side note: The game will mark Bobby Bowden's return to Florida State for the first time since he was nudged out the door in 2009. Hundreds of his former players are expected to take part in ceremonies honoring Bowden.
Can Jayhawks keep it to double digits vs. Baylor?
No, I'm really serious because Baylor is capable of scoring 100 points in this game. Baylor (6-0, 3-0 Big 12) has scored 69 or more points against five of six opponents. And if the Bears, ranked No. 8 in the BCS, are going to keep moving up, they need to keep piling on the style points, particularly with the meat of the schedule coming up. That can't bode well for Kansas (2-4, 0-3), which has given up 115 points in three conference games. Texas Tech hung 54 on Charlie Weis and the gang back on Oct. 5.
How good is it to be Kliff Kingsbury right now?
Speaking of Texas Tech, Kingsbury is 34 years old, has the matinee idol looks of Ryan Gosling, and is the coach of the No. 10 team in the land (7-0, 4-0). He has an embarrassment of riches at quarterback to the point where he doesn't know which true freshman to start, Webb Davis or Baker Mayfield, Saturday at Oklahoma (6-1, 3-1).
"I'm still trying to figure it out," Kingsbury said. He also has a back-loaded schedule that includes the Sooners, Oklahoma State, Kansas State, Baylor, and Texas. "The whole league is pretty much like that," said the former Red Raiders quarterback. "We have a lot of work to do." One statistical note: Oklahoma leads the nation in pass defense, giving up only 149.7 ypg. Can the Sooners knock the Red Raiders off their horse? I believe they can.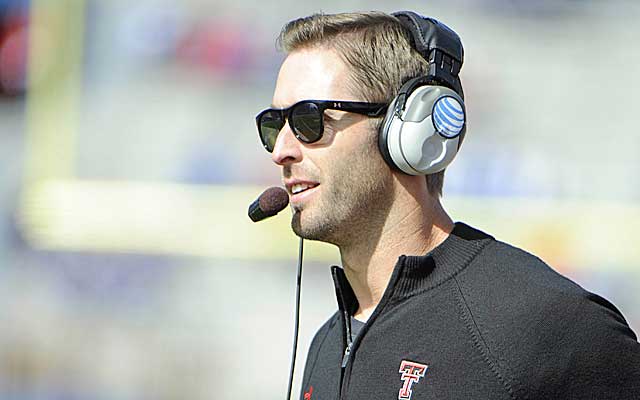 Does D'Anthony Thomas return for Oregon?
If he does, and it looks like he will, UCLA's defensive coaches are not going to sleep well Friday night. Without the elite running back, who has missed the past three games with an injury (ankle), the Ducks have done just fine at the position. Sophomore Byron Marshal had 192 yards last week against Washington while freshman Thomas Tyner had a 66-yard touchdown run and 99 yards total. And quarterback Marcus Mariota doesn't run it too badly either. "I'm ready," Thomas told the Oregonian on Monday. "I'm hungry and ready to get back on the field." With LB Anthony Barr, who is a big-time player, the UCLA defense will be the best the Ducks have seen this season.
Remember Oregon State?
The Beavers almost fell off the face of the Earth after losing the opener to FCS power Eastern Washington (49-46) on Aug. 31. Since then Oregon State has won six straight and has been lighting up the scoreboard with quarterback Sean Mannion, who leads the nation in total offense (414.3 ypg) and wide receiver extraordinaire Brandin Cooks, who already had 76 catches for 1,176 yards and 12 touchdowns. But honesty compels us to point out that the Beavers (6-1, 4-0 Pac-12) put up those numbers against Utah, Washington State, Colorado and Cal, whose pass defenses are ranked 8th, 10th, 11th, and 12th in the conference. Stanford (6-1, 4-1) which dispatched UCLA 24-10 last week and has the No. 6 pass defense in the Pac-12, comes to Corvallis on Saturday.
Is a dinged-up Manziel better than no Manziel?
Absolutely and it will be proven on Saturday when Texas A&M (5-2, 2-2 SEC) hosts Vanderbilt (4-3, 1-3). Manziel hurt his shoulder in the second half of Saturday's loss to Auburn. Despite significant pain he returned to the game and almost pulled it out before the Tigers prevailed 45-41. Manziel wore a sling to practice on Monday but by Tuesday he was ready to go. Vanderbilt, which is trying to go to its third straight bowl game, is coming off a 31-27 upset over Georgia. Vanderbilt has a shot in this game because Texas A&M has a defense that ranks last in the SEC (494.4 ypg) and the No. 118 (of 123) nationally. If Manziel goes the distance, the Aggies win. If not, it could be close.
McElwain will coach receivers and help coordinate the offense for the Wolverines

Nathaniel Watson Jr. was involved in a car accident that injured a passenger in early Febr...

The honorable Tom Fornelli presides over the ASU vs. UM case
Arkansas State is seeking $650,000 for a canceled home game last September due to Hurricane...

Friday Five is tackling the big questions this week

Two unnamed players are being investigated for an incident at an off-campus apartment