Tony's Top Five: BCS keeps things in open, drama lives to final weeks
With postseason matchups on hold until all games are played (thanks, BCS), we can't wait to see what happens with Auburn, Ohio State and in the Pac-12.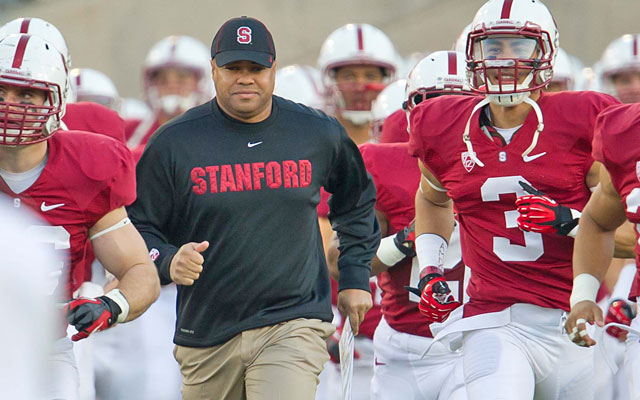 ATLANTA -- For all the fussing and cussing that has gone on about the BCS for the past 15 years, you have to admit that the controversial process has one very redeeming quality: It has made us wait until the last Saturday of the regular season to see college football's postseason picture come together.
And that's a good thing. Before the BCS and its ancestors (Alliance, Coalition) fast-talking, persuasive bowl reps dressed in bright pastel jackets would run around the country to wine and dine school officials. Over drinks and cigars, bowl guys with names like "Hoss" would try to convince the hot school with the star player to go ahead and commit to their bowl. It was literally the Wild, Wild, West with very few rules.
There was the never-to-be forgotten episode on Nov. 17, 1984, when the Cotton Bowl's Jim "Hoss" Brock and his Sugar Bowl counterpart, Mickey Holmes, followed Boston College AD Bill Flynn into the men's room during a game at Foxborough, Mass. They were both trying to lock up the Eagles and Doug Flutie, the eventual Heisman Trophy winner. And back then you could make the deal at any time.
A bemused Flynn left the room and Brock and Holmes were left standing side by side at the urinal. Holmes commented that he thought he was in pretty good shape in his effort to sign BC. Brock chuckled and informed Holmes that the deal was already done and Flutie would be playing in Dallas. Holmes spun around in disbelief. We don't know if any shoes were damaged in the process.
So the entire postseason picture for 2013 really won't come together until the final BCS standings are released Sunday night. Until then, we have Five Burning Questions about Championship Saturday:
1. Will Auburn come out flat? Right about now you're saying, "What a ridiculous question, Barnhart." No. 3 Auburn (11-1), with two miracle finishes and the emotional wind at its back, plays No. 5 Missouri (11-1) for the SEC championship at the Georgia Dome in Atlanta on Saturday. The winner will wait in the wings just in case No. 1 Florida State or No. 2 Ohio State stumbles in their respective conference championship games.
So how could Auburn possibly be flat? Here's how: You have to understand the significance of the win over Alabama. It was, without question, one of the biggest wins in the history of the school. Not only did it punch Auburn's ticket to Atlanta, it knocked hated Alabama out of an SEC West title, a possible SEC title and probably a shot at its third straight BCS championship. This is the Super Bowl to these kids.
And unlike the miracle win over Georgia on Nov. 16, Auburn has not had a week to recover. Auburn immediately started getting ready for Missouri, which would be undefeated if South Carolina's Connor Shaw had not come off the bench at Missouri on Oct. 26 and rallied the Gamecocks to an overtime victory.
So I think Auburn can't help but come out a little flat. The question is: How long will it last?
2. Can Duke keep it close against Florida State? The Blue Devils (10-2) are a whopping 29-point underdog to Florida State at the ACC Championship Game in Charlotte, NC. On paper, the Seminoles (12-0) just have too many athletes. The only question about Florida State was the legal status of quarterback Jameis Winston. That was cleared up Thursday.
Here's a stat for you: On Sept. 28 Florida State went on the road to Boston College and fell behind 17-3. Since then the Seminoles have outscored the opposition 484-89. Florida State has scored 644 points in 12 games, a school record. The Seminoles' average of 53.7 points per game is second all-time to Army's great 1944 team that averaged 56.0 points per game.
Duke's best shot is to run the ball with its dual quarterbacks, Anthony Boone and Brandon Connette, and limit Florida State's possessions. It has been an incredible ride for Coach Cut (David Cutcliffe) and the Blue Devils. But it ends Saturday. Duke will hang early, but it can't hang for 60 minutes.
3. What is the x-factor in the Big Ten Championship Game? Michigan State's defense is great (ranked No. 1 in total defense for 12 weeks). Ohio State's offense is great (leads Big Ten at 48.2 ppg).
Keep an eye on Michigan State running back Jeremy Langford, says Gerry DiNardo of the Big Ten Network. He is sixth in the Big Ten in rushing with 1,210 yards on 245 carries.
"I'm telling you, he has the toughest 1,210 yards and 245 carries you're ever going to see," said DiNardo. "When all is said and done he may be the most important player on the field."
Langford comes into the Big Ten title game with seven straight outings over 100 yards.
Michigan State averages only 29.4 points per game. They are No. 4 nationally in time of possession at 33 minutes, 32 seconds per game. If the Spartans can play keep away from Braxton Miller and Carlos Hyde, and maybe give them two fewer possessions, they just might have a chance to upset the Buckeyes and win their first outright Big Ten championship since 1988.
If that happens, the explosion of joy you'll hear will be coming from SEC territory.
4. Why doesn't the Big 12 have a championship game? The short answer is that the conference has only 10 teams. The better answer is that they may actually have two championship games on Saturday.
Baylor, Oklahoma State and Texas are all tied at the top of the conference at 7-1. Oklahoma State beat both Baylor (49-17) and Texas (38-13) during the regular season so the Cowboys own the tiebreaker over them both.
What that means is if Oklahoma State beats Oklahoma (9-2) at noon in Stillwater, it's over. The Cowboys earn the automatic BCS bid from the Big 12, probably in the Fiesta Bowl.
But if Oklahoma, which has won nine of the past 10 games in the Bedlam series, beats Oklahoma State, then the Texas-Baylor game in Waco (3:30 p.m. ET) is for the championship. Texas and Baylor should know their fate before kickoff.
Just asking: After everything Mack Brown has been through at Texas this season, how ironic would it be if he played for the conference championship?
5. Stanford has beaten Arizona State once this season. Can the Cardinal do it again for the Pac-12 championship?
It was pretty much a lifetime ago (Sept. 21) that Arizona State went to Stanford and lost 42-28. Since then Arizona State (10-2) has lost only once (37-34 to Notre Dame) and is on a seven-game winning streak as it hosts the Cardinal (10-2) in the Pac-12 Championship Game.
This game looks completely different.
Arizona State destroyed Arizona 58-21 last week to lock up the home-field advantage and that's a big deal. The Sun Devils are 7-0 at home this season while Stanford has won 16 straight in Palo Alto.
Stanford was knocked out of the national championship discussion after a 27-21 loss at Utah on Oct. 12. The Cardinal's only loss since then was 20-17 at Southern California on Nov. 16.
Arizona State, in its second season under Pac-12 Coach of the Year Todd Graham, is going for its first Rose Bowl trip since 1996. Stanford will be trying for back-to-back trips to Pasadena for the first time since 1970-71.
Bonus question: Central Florida has already locked up a BCS bid. So why does Saturday's game against SMU matter to coach George O'Leary? When Louisville beat Cincinnati on Thursday night, UCF (10-1) was assured of a share of the American Athletic Conference championship in its first year of membership. With it will come the first BCS bowl appearance in school history, probably in the Sugar.
But if the Knights can win at SMU (5-6, 4-3) on Saturday, UCF would capture the conference championship outright and finish 11-1 with the only loss coming to No. 8 South Carolina (11-1) back on Sept. 28 in Orlando.
O'Leary, in his 10th season at UCF, made it clear this week he doesn't want to back into anything.
"Our concern is SMU and winning the game," O'Leary told reporters this week. "We have to win the game Saturday and that's how we're looking at it."
Six of UCF's wins have come by seven or fewer points.
This is the fourth time in past five seasons that O'Leary's team has posted double-digit wins.
CBS Sports HQ Daily Newsletter
Get the best highlights and stories - yeah, just the good stuff handpicked by our team to start your day.
Please check the opt-in box to acknowledge that you would like to subscribe.
Thanks for signing up!
Keep an eye on your inbox for the latest sports news.
Sorry!
There was an error processing your subscription.
Nix beat out redshirt freshman Gatewood for the top spot on the depth chart

A look at what Darrell K Royal-Texas Memorial Stadium has to offer when the Longhorns are...

Meanwhile, fellow transfer quarterback Jarret Doege received immediate eligibility from the...
The two schools that have met four times in the College Football Playoff lead the way once...

Anderson is taking time away from football to be with his family during this difficult tim...

How an unplanned meeting with a Hurricanes coaching legend helped Miami's staff prepare for...