'Too many physical issues' cost A&M transfer Brian Thomas a roster spot at Texas Tech
"He was second team and went down to third team. Physically, he couldn't make it through a complete practice."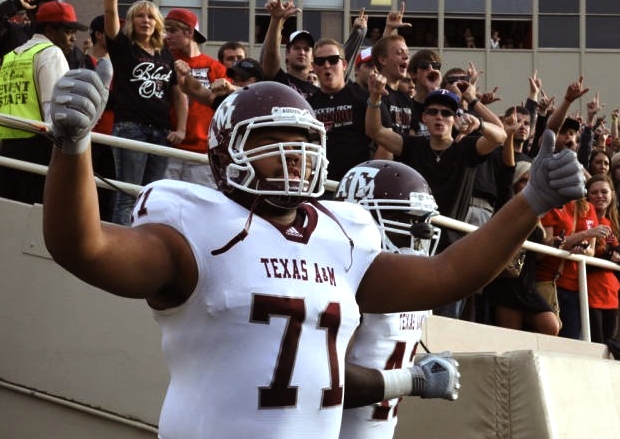 When Brian Thomas agreed to transfer to Texas Tech earlier this year, the Red Raiders had to assume they were getting a readymade, Big 12-tested offensive lineman who would contribute right away: Thomas was on pace to be a fifth-year senior this fall with 25 consecutive starts under his belt at rival Texas A&M, and he expected to be eligible to play right away at his new school. Instead, according to his new coaches, the Raiders got a guy who showed up out of shape and not only failed to compete for a starting job, but failed to meet the basic physical requirements to remain on the team.
Per the Lubbock Avalanche-Journal, Thomas has already been dismissed after the first week of preseason practices:
Offensive lineman Brian Thomas has left the Texas Tech team, a spokesman confirmed Monday, a disappointing development for the Red Raiders considering Thomas transferred to Tech after being a two-year starter at Texas A&M.

Thomas, a 6-foot-3, 319-pound guard, had issues with conditioning and acid reflux, Tech offensive coordinator Neal Brown said after the first few practices last week. He wasn't at Friday's practice or Saturday's intrasquad scrimmage.

"He's got too many physical issues," Tech coach Tommy Tuberville said after Monday's practice. "He was second team and went down to third team. Physically, he couldn't make it through a complete practice."
Thomas was a two-year starter at A&M before landing in the doghouse last December, earning him a suspension for the Aggies' bowl game against Northwestern. Not long after that, he decided to transfer to Tech once he'd completed his degree at A&M in the spring, allowing him to play immediately this fall under the NCAA's standard exemption from transfer penalties for graduate students. His addition to the line, alongside fellow seniors LaAdrian Waddle (27 career starts), Deveric Gallington (25) and Terry McDaniel (12), was expected to give the Raiders one of the most veteran fronts in the Big 12.
As of last week, Brown was still holding out hope for his newest addition, telling reporters that Thomas "looked as good as anybody" on the line during one practice, despite the fact that "he's not anywhere close to where he needs to be" physically. Now, the left guard assignment is expected to fall to Beau Carpenter, a sophomore with one career start, and the right guard will be Le'Raven Clark, an superbly named but very green redshirt freshman. Thomas' immediate future is uncertain, but it is unlikely to include any program whose coaches come across Tuberville's quote in a simple Google search.
Tuberville also confirmed the exit of safety Urell Johnson, a sophomore backup from New Orleans who plans to head back east in search of playing time and maybe some better cooking. "[Johnson] was down the depth chart," Tuberville said. "He wanted to try it and see where he's going to be going into the first week. He just didn't make a move up. He wanted to get close back to his mom back home, and so we gave him a release to go to Southern Miss."
The movie will zero in on former Penn State coach Joe Paterno during the Jerry Sandusky sc...

Bidding for Salaam's trophy, which the auction house says was obtained legally, ends Satur...

Locksley has been the offensive coordinator at Illinois and Maryland during his coaching c...
Many NFL-eligible juniors ignore advice provided by the league and risk going undrafted each...

Snyder died in Manhattan, Kansas, on Wednesday

Locksley joined Alabama's staff in 2016