Top 10: Best defensive players of 2013
UCLA's Anthony Barr opted to hold off on the NFL for a year, but the big Bruin linebacker has only boosted his stock this fall. Barr tops the list of best defensive players of 2013 so far. Check out who else is turning heads.
With talk heating up about the Heisman race as three QBs appear to have separated themselves from the pack, it's time to give some love to the folks on the other side of the ball. This week's Top 10: Best defensive players in college football. One caveat: guys who have missed significant time because of injury and didn't have much chance to make an impact this season--most notably Florida's dominant DT Dom Easley--didn't have much chance to make this list.
1. Anthony Barr, UCLA, LB: He could've jumped to the NFL last spring and been a first-rounder, but he opted to spend another season in Westwood under Jim Mora and the Bruins should be thankful. Barr leads the nation with five forced fumbles to go with 13 TFLs, as the headliner of the country's top linebacking core. The speedy 6-5, 250-pound figures to be a Top 5 pick in the 2014 NFL draft. "Some guys seem like they ease up when they come back for one more year," said one NFL scout. "Not Barr. He's only continued to get better and play faster. It probably won't take him that long to make an impact when he gets up to our level."
2. Khalil Mack, Buffalo, LB: Never mind the mid-major stuff, this guy is a terror who would be a star in any league. And probably will be one soon in the NFL. Mack, who has sparked UB's rise after the program began this season 0-2 with losses to Ohio State and Baylor (combined record 16-0), does it all for a Bulls squad that is now 7-2 and held MAC foes to eight ppg. He has 3 INTs, 2 pick-6s, 11.5 TFLs. and 7.5 sacks. On Tuesday night, Mack had a forced fumble and three QB hurries in a 30-3 romp over Ohio. "Love this kid," said another NFL scout. "He's so explosive and there's so much he can do for you. He can do everything. He's got it all--he's athletic, quick, fast and instinctive."
3. Darqueze Dennard, Michigan State, CB: The top-ranked Spartan defense has a crew of guys who merited consideration for this list (DE Shilique Calhoun and LBs Max Bullough and Denicos Allen), but it's Dennard who is the best of the bunch. MSU makes its bones with its aggressive pressure packages and that relies on excellent DBs. Dennard is as close to a lock-down corner as you're getting in college football and is a great blitzer and reliable tackler. He has NFL scouts salivating. He also has three INTs, seven passes broken up, a forced fumble and four QB hurries.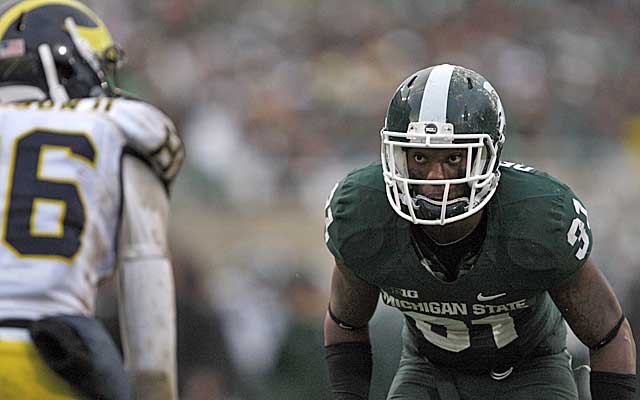 4. Michael Sam, Mizzou, DE: The best of arguably the top D-line in the conference best known for its stellar defensive line play. Sam, whose relentless motor is praised by SEC O-line coaches, has emerged as a star this season, leading the nation with 10 sacks to go with 16 TFLs.
5. LaMarcus Joyner, FSU, DB: His position should just be listed as Playmaker because the short DB does everything for the Noles D. Just another superb talent to come out of St. Thomas Aquinas in Fort Lauderdale, the 5-8 Joyner is inch-for-inch the best defender in college football. He has three forced fumbles, one INT, four passes broken up, three sacks, two QB hurries along with 31 solo tackles. Joyner shined brightest in the Noles' biggest game, at Clemson where he had eight solo tackles, two forced fumbles, one INT and one sack. "He's legit," said an NFL scout. "He's fast and twitchy and instintive. He's so much fun to watch."
6. C.J. Mosley, Alabama, LB: The leader of the Tide's staunch defense. Rival coaches say Mosley, a fast, extremely physical defender is the one guy in the front seven who truly stands out. He is a load in run support and stunningly swift tracking receivers with his uncanny change of direction. Mosley tops the Tide in tackles (59); TFLs (5.5) and QB hurries with four. He's also broken up three passes for the SEC's best defense.
7. Trent Murphy, Stanford, OLB/DE: The toughest guy on the tough Cardinal D, the 6-6, 260-pound former track star leads Stanford with 9.5 sacks and 13 TFLs this season. Earlier this week, in advance of Stanford's huge test against Oregon this week, Murphy and his rugged upbringing was detailed by SI.com's Stew Mandel in this piece that is worth a look.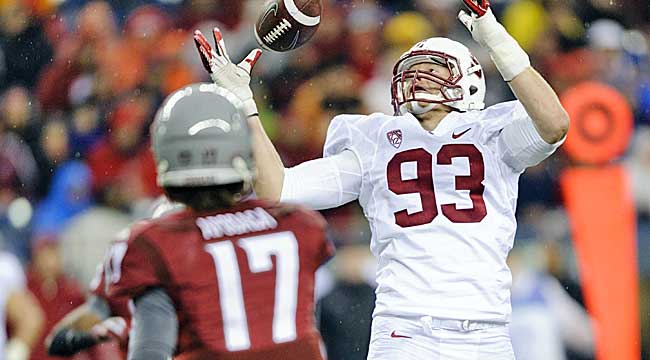 8. Aaron Donald, Pitt, DT: No defender has produced a bigger season with less fanfare than the Panther D-lineman. Donald leads the nation in TFLs with 19.5. He also has three forced fumbles and nine sacks.
9. Vic Beasley, Clemson, DE: Jadeveon Clowney hasn't been the most productive D-lineman playing in the state of South Carolina this fall. It's been Beasley, who is tied for the national lead in sacks with 10. He also has 15 TFLs and broken up five passes.
10. (tie) Ryan Shazier, Ohio State, LB: The 6-2, 230-pound junior was the one sure thing in the Buckeyes front seven going into the season, and he's more than done his share as the Buckeyes resident defensive star. Shazier leads OSU by a big margin in tackles with 73. He also has 12 TFLs and two forced fumbles.

10. (tie) Kyle Van Noy, BYU, LB: A play-making 6-3, 245-pound senior, Van Noy came up big in the Cougars win over Texas (eight tackles, one sack and five QB hurries) but he pretty much comes up big in every game BYU plays. He has a team-high 11 TFLs and is second with 46 tackles. Van Noy also has one pick-6.


The new uniforms will be worn on Oct. 28 at Kyle Field vs. the Bulldogs

Kiffin's Owls have added myriad troubled players since he took over in Boca Raton

The Crimson Tide and Hurricanes have not met since the 1993 Sugar Bowl
Kelly is running out of people to blame at Notre Dame, and you know what that means

What's a bigger problem in college football -- referees or the rules themselves?

Ross Bowsher claims KSU was well aware of his certification status during his employment