Top 10: Best freshmen fantasy picks
Seeing some of the pre-season talk about fantasy college football got me to thinking about the skill players (QBs, RBs, WRs and TEs) who figure to put up the biggest stat lines this fall. For this week's Top 10, I'll focus on freshmen.
Seeing some of the preseason talk about fantasy college football got me to thinking about the skill players (QBs, RBs, WRs and TEs) who figure to put up the biggest stat lines this fall. For this week's Top 10, I'll focus on freshmen.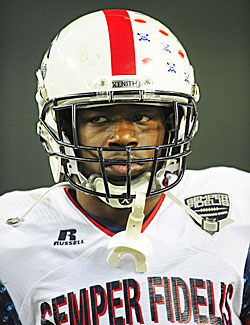 Deontay Greenberry plugs quite nicely into Houston's pass-happy attack. (Getty Images)
1. Deontay Greenberry, Houston, WR: Lots of transition at UH this season. Besides Kevin Sumlin and Case Keenum being gone, the Cougars have to replace five of their top six receivers, including two WRs who combined for 176 catches and almost 3,000 yards and 32 TD grabs. But QB David Piland has experience and new coach Tony Levine is keeping his foot on the gas. Expect another 5,000-yard passing season or at least pretty close to it. Piland has some impressive young talent. Greenberry, a 6-foot-3, 195-pound former five-star recruit who the Cougars snagged away from Notre Dame on signing day, is the biggest name of the group. He runs very well, is physical and has great hands, not just snatching the ball, but also being violent at the line to get away from coverage. UH also has another freshman WR to keep an eye on: a 147-pound blazer named Larry McDuffey, a former track star whose feet, hands and toughness have earned the nickname "L'il Hearne" a reference to former UH star Patrick "Hearne" Edwards.
2. Michael Holmes, Va. Tech, RB: Replacing David Wilson isn't going to be easy, but the Hokies have had quite a knack for finding quality backs to spark this physical offense. Last fall, Wilson piled up a school-record 1,709 rushing yards. The year before, Tech had three RBs combine 1,950 yards and 25 TDs. Even though expectations are high on QB Logan Thomas this fall, this is still a program that loves to run the ball. And Holmes, a 210-pound redshirt freshman, has the Tech staff excited. "I feel about Michael Holmes like I did Logan Thomas last year at this time," Frank Beamer told reporters recently. While on the scout team last fall, Holmes drew raves from the defensive staff and the defensive players. RB coach Shane Beamer told me Holmes has had a really good camp and is atop their depth chart. Holmes has good vision and just a knack for making plays, Beamer said. Holmes isn't flashy, but "does everything really well."
3. Trey Metoyer, Oklahoma, WR: For college football writers, it's probably a good idea to add "Metoyer" (pronounced Muh-twire) into the spell-check on your computer. When Bob Stoops envokes the name Adrian Peterson in regard to your passion and dedication to getting better, you're special. And Metoyer will fill a big need. Not only do the Sooners have to replace record-setting receiver Ryan Broyles, but the suspensions of Jaz Reynolds and Trey Franks along with the dismissal of Kameel Jackson have created quite a void. Fortunately, for Stoops, he has Metoyer, a former five-star recruit who comes to Norman via Hargrave Military Academy to join Kenny Stills. Penn State transfer Justin Brown will also help, but expect the rangy, tough 6-1, 190-pound Metoyer to emerge as a needed go-to guy for Landry Jones this fall. 
4. Wes Lunt, Oklahoma State, QB: The Cowboys go from having a 28-year-old QB (Brandon Weeden) to an 18-year-old one. The lanky true freshman takes over what has been a prolific system of late and Lunt inherits a seasoned O-line to work behind. Lunt would be higher on this list if OSU didn't have to replace three of its top four receivers from 2011. Converted JC tight end Blake Jackson has shed 20 pounds since the spring and will help. And, this is another good sign: the Cowboy receivers didn't drop any of the 51 passes thrown at Saturday's scrimmages. Actually, that's two good signs: One, that they didn't drop any, and two, that there were that many passes attempted.
5. Gabe Marks, Washington State, WR: The Air Raid has come to Pullman. The Cougars already have one prolific wideout in Marques Wilson, but the ball is going up in the air A LOT more in 2012. WSU has two really talented QBs in Jeff Tuel and Connor Halliday. It's Marks though, who has created all sorts of buzz within the program. The former four-star recruit from Southern California has picked up this system as fast as any receiver ever has. At 5-11, 170, Marks isn't huge, but he's really sharp, extremely quick and he already runs great routes. Best of all, he is very, very competitive.
6. Jordan Thompson, WVU, WR: The 5-7, 159-pound Texan -- a k a "Squirt" -- arrived early and proved to be one of the biggest surprises of spring ball around the country. And he's kept up his playmaking ways thus far in fall camp, emerging as a starter at the "H" position. "I just can't say enough about the kid," said WVU OC Shannon Dawson late Monday night. "He just plays real fast." Of course, the Mountaineers still have Tavon Austin and Steadman Bailey to get a lot of catches, but with this scheme and Geno Smith's savvy in Year Two of the Holgorsen Era, look for Thompson to pile up more than his share of yards.
7. Duke Johnson, Miami, RB/KR: The Canes are desperately looking for a few sparks, especially after losing a bunch of playmakers early to the NFL. Johnson's commitment to UM in the face of an ominous NCAA investigation from the Nevin Shapiro scandal was huge for the program. His commitment helped paved the way for other blue-chippers to buy in. Word is, the 5-9, 189-pound speedster has been every bit as good and dynamic as he was touted to be. Johnson's also bigger and more physical than many had expected. He looks like he should be a good complement to big back Mike James. A few days ago, Johnson scored three TDs on only nine carries in a scrimmage -- and also burned the D for 37 yards on a screen pass. He may just be the best thing that's happened to this program in awhile.
8. Dorial Green-Beckham, Mizzou, WR: At 6-6, 220, the nation's top recruit last year is a towering target for QB James Franklin. He probably won't be the team's leading receiver. (That figures to be T.J. Moe.) But DGB is going to be a big headache for SEC defenses this fall.
9. Trey Williams, Texas A&M, RB: The Aggies still have a big back in Christine Michael, but the shifty Williams has got people excited at A&M, especially after running for more than 130 yards and two touchdowns on nine carries in a scrimmage the other day (including a 76-yard touchdown run). Williams' ability to make guys miss is really going to be a factor in Kliff Kingsbury's attack.
10. (tie) Jabril Solomon, ECU, WR: A former track star from the state of South Carolina, the 6-2, 180-pound is a good fit for the pass-happy system Lincoln Riley is running. Solomon is a really explosive kid who has picked up the Pirates' system pretty well and will make an impact in 2012.
10. (tie) Raymond Jackson, FIU, WR: O. Perry Walker High in New Orleans has produced a bunch of gifted receivers over the years (Mike Wallace and Buster Davis of late) and the 6-2, 215-pound Jackson is the latest out of the pipeline. Jackson isn't the shifty burner type like T.Y. Hilton, but he's already impressed coach Mario Cristobal, who is excited about the guy's strength and explosiveness.
The movie will zero in on former Penn State coach Joe Paterno during the Jerry Sandusky sc...

Bidding for Salaam's trophy, which the auction house says was obtained legally, ends Satur...

Locksley has been the offensive coordinator at Illinois and Maryland during his coaching c...
Many NFL-eligible juniors ignore advice provided by the league and risk going undrafted each...

Snyder died in Manhattan, Kansas, on Wednesday

Locksley joined Alabama's staff in 2016