Top 10: Biggest disappointments of the season's first month
Now that we're into October time to focus on the biggest disappointments for the season's first month in this week's Tuesday Top 10.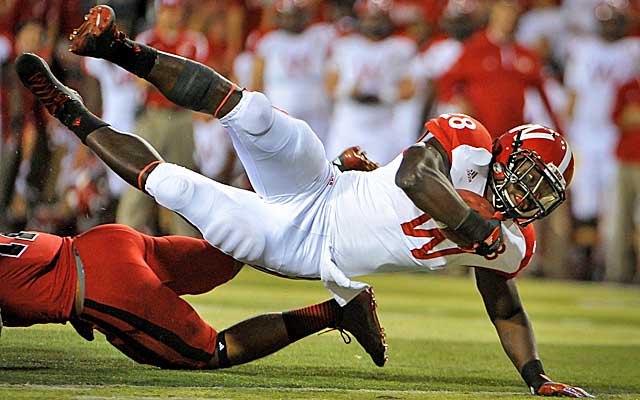 2011 Heisman finalist Montee Ball  hasn't found nearly as much running room this season. (Getty Images)
We'd highlighted some of the most pleasant surprises of the early season, so now that we're into October let's focus on the biggest disappointments for the season's first month in this week's Top 10:
1. Arkansas: Things went waaaay off the tracks in Fayetteville months before the season when Bobby Petrino embarked on his spectacular fiasco of a motorcycle ride. That embarrassment was compounded when AD Jeff Long tabbed John L. Smith as Arkansas' new head coach. Still, with an experienced roster, led by a star QB (Tyler Wilson) and running back (Knile Davis), Arkansas came into the season ranked No. 10 in both preseason polls. But after struggling some with Jacksonville State in the opener, things imploded in Week 2 when Louisiana-Monroe upset the Hogs, and it just keeps getting worse. That loss was followed by 52-0 thrashing at home by Alabama; another home loss, this one to a Big East team (Rutgers) and then a 58-10 rout courtesy of SEC newcomer Texas A&M. Mix in some creepy Smith press conference moments and the whole deal has been one long, well-chronicled national nightmare for the Hogs. Anything better than 4-8 at this point now seems overly optimistic.
2. Wisconsin's offense: The Badgers' M.O. of pounding people just hasn't been the same so far in 2012. A program that was 11th in the nation in rushing last season and returned star Montee Ball is just No. 96th in rushing and No. 109 in scoring. Bret Bielema was forced to re-shuffle his staff in the offseason but replacing his OC and O-line coach hasn't gone smoothly. After getting upset at Oregon State, Bielema fired the new line coach (Mike Markuson) and things haven't gotten any better. The Badgers, No. 12 in the preseason, have struggled in every game even against inferior competition. Best barometer of just how much this offense has struggled: Last year in 14 games, the Badgers were never held below 28 points in any game. This season, they've been below 28 in four of five games.
3. Virginia Tech Passing Game: We know Virginia Tech didn't have hardly any experience around QB Logan Thomas coming into the season, but no one could've imagined things would've been this shaky. In the offseason, some draft analysts were touting Thomas as the top QB prospect in the 2013 NFL Draft, while making comparisons to Cam Newton and Ben Roethlisberger. The reality, though, is the 6-foot-6, 260-pound Thomas hasn't shown he can be accurate enough to be a big-time pro prospect and those questions have only grown in recent weeks, as the Hokies have lost to a pair of Big East teams. And, in those games, he has misfired on too many open receivers. In the past three games, Thomas has a 4-6 TD-INT ratio while completing just 48 percent of his passes.
4. USF: When do the Bullsfinally take the big step up and become the elite team many had been predicting? It certainly isn't going to be this season. They barely beat Nevada and have since lost three in a row, including one to Ball State. Not good for a team some experts picked to be the Big East champ in 2012.
5. Michigan: I thought it was a bit surprising that the pollsters had the Wolverines as a preseason No. 8 team given the key guys they lost on both lines and how difficult the non-conference schedule was, but I still expected them to at least be competitive against Alabama (41-14) and manage more than six points against a Notre Dameteam with an inexperienced secondary. Denard Robinson appears to have no confidence throwing the football against good opponents and the D has struggled to force turnovers. The Wolverines are No. 114 in turnover margin.
6. Auburn offense: On the bright side, the Tigers gave LSU all Les Miles' team could handle last time out. That's the good news. The reality, Auburn , preseason No. 25 in the Coaches Poll, is still only 1-3. New OC Scot Loeffler's bunch is struggling big-time. They scored 19 against a Clemson team that allowed 70 its last time out. They were held to 10 by a Mississippi State team that barely beat Troy its next time out. The Tigers are No. 113 in total offense, No. 114 in scoring and rank near the bottom in every offensive category in the SEC.
7. Oklahoma: Last year, the Sooners were preseason No. 1 and flopped. This year, they were a preseason top five team and again, are looking very shaky. Their lone win over an FBS opponent was a big struggle against a UTEP team they had their hands full with for three quarters. Kansas State came into Norman and knocked off the Sooners, who just aren't making the kind of big plays you'd expect from this program. They are No. 107 in turnover margin. Shocking stat: One month into the season and Mike Stoops' D has forced just one turnover all season. It'll be interesting if Bob Stoops' squad can get some revenge at Texas Tech this weekend.
8. FIU: Mario Cristobal thought he had arguably his most talented team, but thus far, it certainly hasn't looked like it for the preseason SBC favorites. The Panthers are 1-4 and barely beat Akron . They also got blown out by Duke and Louisiana-Lafayette. The team that was No. 10 in the country in sacks last season is No. 119 this fall despite returning its' top eight tacklers from 2011. It is worth noting, though, they were also 1-4 in 2010 and that bunch went on to win the Sun Belt and win the Motor City Bowl.
9. USC Offense: I went back and forth of whether the Trojans merited a spot on this list. And, as I know my colleague Chris Huston would agree, they do. A team with the best 1-2 punch at receiver in Marqise Lee and Robert Woods; two 1000-yard backs in Silas Redd and Curtis McNeal, a four-year starting QB (Matt Barkley) and four starters back on the O-line should be a lot better than No. 44 in the nation in scoring. And yeah, I get that the team really, really missed center Khaled Holmes, its' best lineman against Stanford, but still you would've thought that the Trojans, with all of that firepower and experience, could do a lot better than 1-13 on third downs and getting shutout in the second half. The reason why I didn't have them on this list initially was after seeing them pile up almost 300 rushing yards and 500 yards of offense against Cal the next time out.
10. LSU's pass protection: Les Miles' QB has been sacked 11 times this season, which is as many times as his vaunted defense has taken down the opponents quarterback. Towson had four sacks against LSU in a game that was surprisingly competitive. In the opener against North Texas, Zach Mettenberger was knocked out by the Mean Green after getting blasted. Scarier still, the Tigers haven't faced any defense close to as talented as the one it will visit this weekend at Florida or the next week when it meets South Carolina. Miles' team has struggled replacing its' best lineman, LT Chris Faulk by shuffling things around. The new RT is true freshman Vadal Alexander. Their most experienced lineman, sixth-year senior Josh Dworaczyk, who had shifted from LG out to LT, had fits with Auburn DE Corey Lemonier and that prompted more shifting.
Just Missed the Cut: Cal; Southern Miss.
Getting Leavitt back was obviously high on Cristobal's list of priorities

Cristobal's first game at Oregon ended the same way Chip Kelly's did

Conner Manning and the Panthers dominated the Hilltoppers in the Cure Bowl
You can only go to the well so often before it dries up

The Trojans beat LSU earlier in the year and now have their first 11-win season as a FBS t...

Saban has never been a fan of the early signing period and made it clear that hasn't chang...