Top 10: Can Alabama really make it three in a row?
Now that the deadline for underclassmen going into the NFL Draft has passed and another National Signing Day has come and gone, it's time to take a look at the too-early Top 10 for 2013.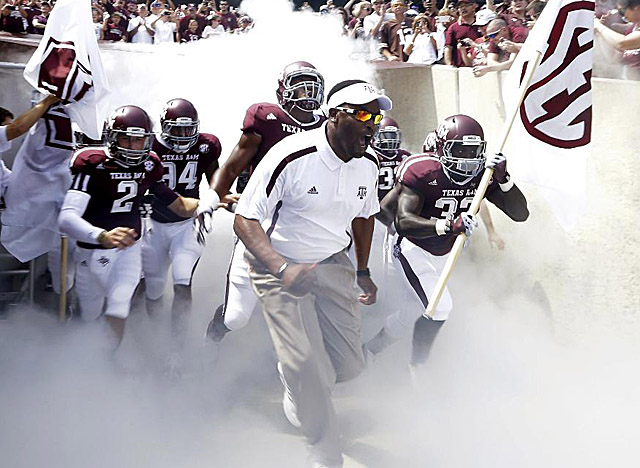 Texas A&M was a smashing success in its debut season in the SEC, with first-year coach Kevin Sumlin. (AP)
Now that the deadline for underclassmen declaring for the NFL Draft has passed and another National Signing Day has come and gone, it's time to take a look at the too-early Top 10 for 2013.
1. Alabama: I was tempted to go with a different SEC West team in the top spot, but it's hard not to give the benefit of the doubt to the program that has won three of the past four BCS titles. Nick Saban's team did lose the bulk of an excellent O-line along with five reliable guys on D (DLs Damion Square and Jesse Williams, LB Nico Johnson and DBs Dee Milliner and Robert Lester), but there are still many key players returning, starting with proven big-game QB AJ McCarron. The Tide also has some gifted young skill talent coming off breakout seasons in WR Amari Cooper and RB T.J. Yeldon. And even though this hasn't been a good week for Saban with four touted underclassmen involved in an ugly arrest story, including 2012's five-star DB Eddie Williams, this team is still loaded with rising talent pushing for playing time. The biggest hurdle for this team isn't complacency unlike almost every other returning champ. Saban has shown he can handle that. The biggest hurdle is facing Johnny Manziel and the fearless Aggies on Sept. 14 in College Station, but Bama does have two weeks to get ready after opening with Virginia Tech in Atlanta.
2. Texas A&M: It was quite a debut season for Kevin Sumlin taking over the Texas A&M Aggies: they notched their first top-five finish in 56 seasons; were the only team to beat the eventual national champs and did so in Tuscaloosa no less, and also produced the first freshman to ever win the Heisman. That frosh, Johnny Manziel now has to battle the "sophomore jinx" and managing expectations and all of the stuff that have come with him attaining rock-star status and visibility. The elusive QB also doesn't have OC Kliff Kingsbury (off to his alma mater Texas Tech as head coach) around to help the balancing act, but Sumlin hired Jake Spavital from West Virginia and the Kingsbury protégé is very sharp and a good stabilizing force. Perhaps more problematic is that the Aggies lost a couple of good O-linemen including star LT Luke Joeckel. A&M coaches are confident though that Jake Matthews, who opted to stay for one more season, can handle the shift from RT to LT while Cedric Ogbuehi will be fine going from guard to RT. Better still, A&M gets two talented RB transfers eligible in Tra Carson (Oregon) and Brandon Williams (Oklahoma) to go with a deep recruiting class highlighted by some explosive wideouts. Defensively, where the Aggies made big strides as the season wore on, they're losing DE Damontre Moore and that really stings as does the departure of two good linebackers. Moore learned to become an effort guy in 2012, but young Julian Obioha has impressed the coaches. Alabama looking for revenge in mid-September shapes up as the Game of the Year heading into 2013 while a road trip to LSU also figures to be challenging especially since it's in late November when a Tiger team replacing a record amount of departed underclassmen should be primed.
3. Stanford: Two seasons ago, this program showed it could handle Jim Harbaugh moving on. Last season it showed it could handle Andrew Luck moving on. Replacing a couple of excellent junior tight ends and standout RB Stepfan Taylor should be less of a challenge. QB Kevin Hogan blossomed last season although the guy who helped develop him, OC Pep Hamilton is now in the NFL as the Colts offensive coordinator, but David Shaw knows plenty about grooming QBs and handling a coaching staff. The D, which was great last season (just ask Chip Kelly), should shine again led by Ben Gardner, Shayne Skov and Trent Murphy. Adding in blue-chip recruit Peter Kalambayi, a big, explosive LB, should help. The O-line, which was infused with a great batch of talent last year, will be even better than in 2012. As for replacing Taylor, the Cardinal got some good news when Tyler Gaffney (449 yds and a 6.1-yard average to go with 7 TDs in 2011) opted to come back after a season playing pro baseball. He'll join speedy Anthony Wilkerson and Kelsey Young and promising Barry J. Sanders, who redshirted in 2012. Stanford does have two other teams from this Top 10 on its schedule, but at least Oregon and Notre Dame have to visit Palo Alto this year.
4. Ohio State: No one has beaten Urban Meyer since he's returned to Columbus and judging by the Buckeyes' 2013 schedule, there's a good chance no one will till maybe 2014. Meyer's got his dynamic QB in Braxton Miller and the Buckeyes did a good job upgrading the speed at WR this winter. (Beating his old school, UF for dangerous James Clark was a big add.) Miller's big challenge for this season is becoming a more polished passer, displaying more touch and accuracy. The junior QB spent some time in California with noted quarterback coach George Whitfield, who told him, "All your throws can't be flat-line rocketshots." A bigger question for this team will be replacing two standouts on the D-line in relentless John Simon and big Johnathan Hankins, but keep in mind last season Meyer had quite a haul in young defensive linemen. The non-conference schedule is favorable. The toughest game is a trip to Cal to face a team that just went 3-9. In Big Ten play, the Buckeyes have to visit a good Northwestern team, host Wisconsin and then go to Ann Arbor. As I've said a few times now, I'm not picking against OSU in Big Ten play until someone shows they can beat Urban Meyer.
5. Clemson: Tajh Boyd's back and that's great news for the Tigers, who also have been able to keep top OC Chad Morris around for another season. WR Sammy Watkins is back too, as are four starters on the O-line. The D got better under Brent Venables and Dabo Swinney landed some more studs on signing day to upgrade the talent. Keep an eye on CB Mackenzie Alexander. The program also has momentum coming off a nice win over LSU in the GeorgiaDome. There are three very tough spots for the Tigers: Georgia in the opener and FSU at home and South Carolina in Columbia. Of course, the question with this team is that the Tigers, much like FSU, have a tendency to look really good on paper but then fizzle on the field. Can Boyd and Co. avoid that in 2013?
6. Oregon: Even without Chip Kelly these Ducks are still dangerous. New coach Mark Helfrich retained most of the staff that helped elevate this program. Plus, he still has QB Marcus Mariota and RB/WR/KR De'Anthony Thomas and RB/TE Colt Lyerla and a handful of other weapons to exploit, including five-star RB Thomas Tyner. The D will miss two excellent linebackers though in Michael Clay and Kiko Alonso and DE Dion Jordan was also a force. The Ducks need to survive a tricky midseason double of UCLA and then going to Stanford, but they have the firepower to make a big run.
7. Louisville: The Cards have a bunch of momentum coming off their big win over Florida in the Sugar Bowl as well as for retaining Charlie Strong. QB Teddy Bridgewater is a legit Heisman contender although his O-line needs some rebuilding. The defense returns almost entirely from 2012 when the Cards ranked No. 23 in scoring D. The Big East path is hardly daunting. U of L ended up with a road trip to Temple in place of a road trip to Boise when the latest conference drama unfolded. Beyond that, the Cards have trips to Cincinnati, UCONN and USF plus a visit to Lexington. It's very possible this group could run the table in the regular season and still be behind a bunch of one-loss teams in December.
8. Florida: The SEC East is tough to get a handle on. Each of the top three teams lost a ton on defense, the Gators included, although UF didn't lose anywhere near as much as Georgia did. Dominique Easley and Ronald Powell should provide a good pass rush and there will be plenty of speed in the back-seven, which was really upgraded on signing day. Jeff Driskel had a solid second year especially playing under a new OC in 2012. Two quality transfers should boost the O-line. The Gators biggest concern is lack of big-time wideouts. Their schedule has a few tricky road spots as well. They have to go to an improving Miami squad before visiting the ominous settings at South Carolina and LSU.
9. Notre Dame: The BCS beatdown notwithstanding, this is still a good team with a couple of real studs on the D-line (Louis Nix and Stephon Tuitt) to anchor the defense. Everett Golson will continue to improve at QB, although he'll miss standout TE Tyler Eifert. The part of this that is a concern is it felt like so many things fell into place for a program that hadn't even been ranked in the Top 25 for years to get to a BCS title game that I wonder if the ball will bounce the other way for them in 2013. The schedule isn't cushy either with road trips to Stanford and Michigan plus games against Michigan State, OU and USC.
10. South Carolina: Steve Spurrier has the most dominant player in college football in DE Jadeveon Clowney, but the Gamecocks do have to replace almost the rest of the D around him. Then again, Clowney's presence will make everyone around him better. Spurrier also has two experienced QBs and four O-linemen back, but this group also has to show they can run the football a lot better (No. 89) and protect the passer (No. 102 in sacks allowed).
Just Missed the Cut: Michigan, Georgia, LSU, UCLA, TCU.
The Alabama QB has a new look after the Tide claimed another national title

Young was injured during Miami's Orange Bowl loss to Wisconsin

The movie will zero in on former Penn State coach Joe Paterno during the Jerry Sandusky sc...
Bidding for Salaam's trophy, which the auction house says was obtained legally, ends Satur...

Locksley has been the offensive coordinator at Illinois and Maryland during his coaching c...

Many NFL-eligible juniors ignore advice provided by the league and risk going undrafted each...