Top 10: Checking in on coaches' hot-seat rankings
We're getting closer to that time of the year when coaching firings and hirings crank up. Some guys (Oregon State's Mike Riley) entered the season on the Hot Seat and have won their way off. Others haven't been so fortunate. This week's Top 10 list: the hottest seats in the country.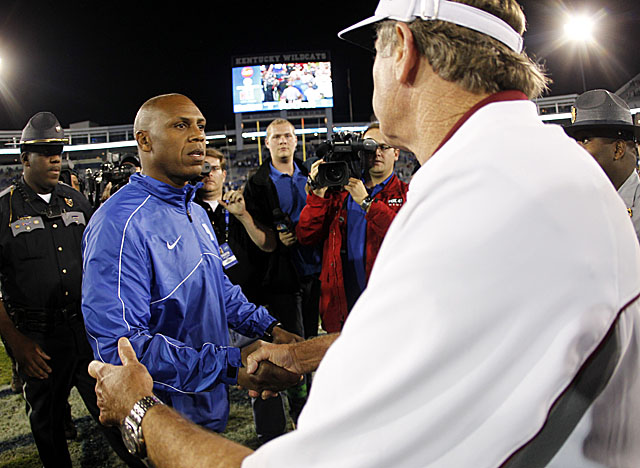 Joker Phillips meets South Carolina's Steve Spurrier mid-field after the Gamecocks' Sept. 29 win. (Getty Images)
We're getting closer to that time of the year when coaching firings and hirings crank up. Some guys (Oregon State's Mike Riley) entered the season on the Hot Seat and have won their way off. Others haven't been so fortunate. This week's Top 10 list: the hottest seats in the country.
1. John L. Smith, Arkansas: Hot seat? The seat here practically doesn't exist at this point. Smith left his alma mater and walked into an odd situation and made it worse. The Hogs, preseason No. 10, are 2-4 and still have three top-20 teams left on their schedule. Thus far, they lost to Louisiana-Monroe; Bama by 52; at home to Rutgers and then by 48 to Texas A&M. At least they did go to Auburn and blow out Gene Chizik's team. Still, Smith's creepy press conference moments and off-field bankruptcy issues have only added more negative attention to a program that already had more than its share of embarrassment thanks to Bobby Petrino's motorcycle ride.
2. Frank Spaziani, Boston College: A good program for decades has fallen off the college football map under Spaziani. Last year, the Eagles were awful. This year, they're even worse. Their one win this season was against FCS Maine. The Eagles just got beat by an Army team that had lost by 20 its last time out against Stony Brook. The Eagles will be lucky to win more than two games in 2012. Not good for a program that had won 30 games the previous three seasons before Spaziani took over. 
3. Joker Phillips, Kentucky: Three years is the new five years for coaches in college football. Even if you do some positive things in your first two seasons, if things go south in Year Three, it might become too much to recover from. And that appears the case here. Phillips' team has been decimated by injuries in the offensive backfield. Losses are piling up. They are 1-5 and have lost their first three SEC games by a combined margin of 103-31. Worse still, they got hammered by arch-rival Louisville 32-14. Short of Phillips winning five of his final six games, UK probably is hitting the re-set button again.
4. David Bailiff, Rice: This is one of the toughest places to win for any guy on this list. In his second season (2008), Bailiff went 10-3. But since then, the Owls have only managed to win a combined 11 games. If not for a Week 2 win at Charlie Weis' Kansas squad, the Owls would be winless this season. Last week, they lost to a previously winless Memphis team. Before that, they lost to a previously winless Houston team.
5. Derek Dooley, Tennessee: He inherited a mess and, no question, the Vols are in better shape now than when he arrived from La. Tech. That's the good news. The bad: his teams haven't beaten anyone good yet. He's 0-19 all-time against ranked opponents. Getting blown out in the second half at home by a young UF team last month really stings. The Vols had the place in Knoxville rocking that day. Their offense was loaded with upperclassmen and experienced starters. The upshot is UT fans -- and Vols brass -- have to wonder, "Iif we can't beat the Gators now, when?" This week is Dooley's best shot to lower the heat. They visit No. 19 Mississippi State, a team that hasn't beaten anyone yet. The Vols also have beaten MSU six straight times. A win over the three-point favorites won't definitely save Dooley's job, but at least it's a start. That, and winning the last four regular-season games plus a bowl win would seem like enough to get to 2013.
6. Dan Enos, Central Michigan: Butch Jones and Brian Kelly won big at CMU. Enos took over a program that had won 28 games the previous three seasons, but he has yet to win more than three games in a season. Winning at Iowa last month was the first really good news this program has had in awhile. But since then, Enos' team has surrendered 105 points in the next two games. Overall, he is just 8-21. The good news: CMU still faces UMass, EMU and Akron, which are a combined 1-16. 
7. Robb Akey, Idaho: The big man made a lot of fans when the Vandals had their big season, going 8-5 in 2009. Unfortunately, they've backslid ever since, winning only three of their last 18 games. Getting whipped 20-3 by FCS Eastern Washington in the opener makes the situation worse. The Vandals are coming off a win over New Mexico State, but they still have four solid teams left on the schedule. Anything more than 3-9 seems like a reach.
8. Jeff Quinn, Buffalo: Another really tough spot to win. Quinn won two in his first season, three last year and is just 1-4 so far with the Bulls' lone win over FCS Morgan State. If he can get two more wins, he might be able to hang on for another season. But the second half of the schedule is tough except for a trip to lowly UMass.
9. Bobby Hauck, UNLV: A big winner at Montana, Hauck has struggled to get any momentum going so far in Las Vegas. The Rebels lost 21 games in his first two seasons and are 1-5 so far. On the bright side, they close the season with three teams that are a combined 3-13.
10. Jeff Tedford, Cal: No one on this list has done more with his program for as long as Tedford has. He took over a one-win team and produced some double-digit win seasons. But the reality is, Cal came into 2012 three games under .500 in league play during the previous three seasons and they're 1-2 in Pac-12 play now. Losing to Nevada to open the year only made things worse. Last week's dominating performance over UCLA might be the start of bigger things for the Bears. Complicating things is the fact that it would cost the school a reported $10 million to bring in a new staff if it opts to go in a different direction. 
Aaron was reportedly shot while trying to protect his girlfriend when a fight broke out at...

An assistant-by-assistant look at changes Saban made to the Tide's staff ahead of 2018

Find out when Nick Saban, Kirby Smart and the rest of the coaches will speak ahead of the...
It wasn't only the massive $75 million contract that got Fisher to depart for College Stat...

Weinke was injured when Florida State lost to Tennessee in the 1999 BCS title game

It was one of the busiest offseasons for the assistant coaching ranks