Top 10: FSU's Winston leads a superb crop of freshmen
FSU's Jameis Winston leads an impressive crop of freshmen who have already made a big impact on the season. In addition this group features an unusually deep crop of elite DBs led by Florida's Vernon Hargreaves III.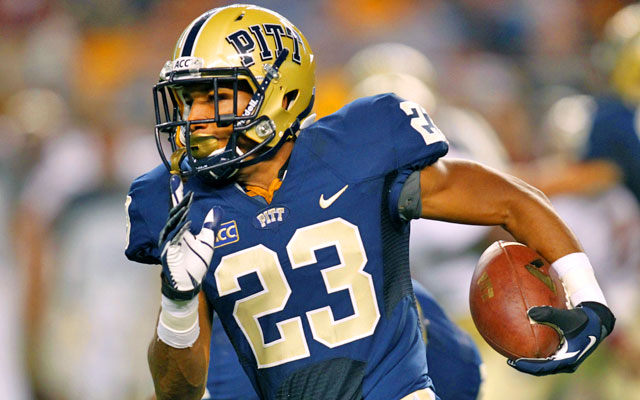 With the calendar flipping to October and more than a month of the season gone, it seemed like an ideal time to check in on the newest stars of college football. This week's Top 10: the biggest impact freshmen (both redshirt and true freshmen) in the country.
1. Jameis Winston, Florida State, QB: This off-season the hype surrounding the redshirt freshman seemed to be out of hand -- Winston's baseball exploits for the Noles only stoked things even more. Then, came his new flawless debut at Pitt on a Monday night prime time stage and it swelled even further. Truth is, Winston has been as advertised, and that is really saying something in this age of endless hyperbole. He's second in the nation in passing efficiency at 209.9. For some context on that metric, consider this: last year when Geno Smith entered the month of October and had a 20-0 TD-INT ratio his passing efficiency rating was 208.3.
2. Vernon Hargreaves III, Florida, CB: The reigning SEC Freshman of the Week has been about as close to a shutdown corner as any freshman's going to be, shining in the wake of Marcus Roberson's knee injury. The son of the longtime college LB coach already has three INTs and four passes broken up in four games for the country's No. 2 defense. Even more impressively: he's only allowed four receptions for 32 yards on 18 targets, as 247's Thomas Goldkamp noted.
3. Alex Collins, Arkansas, RB: The South Florida native whose soap opera signing day story made headlines last winter has been already proved to be well worth that drama. Collins became the first true freshman in NCAA history to roll off three consecutive 100-yard performances to start his career since the great Adrian Peterson had nine in a row to kick off his OU career. Collins is No. 6 in the country in rushing with 597 yards and also is averaging six yards per carry.
4. Tyler Boyd, Pitt, WR: The Panthers have some impressive freshmen driving them this fall and Boyd is the top one of the bunch. The 6-2, 185-pounder leads the ACC and is sixth in the country in all-purpose yardage with an average of 175.2 per game. He averages 19 yards per catch and 14 yards on his seven carries.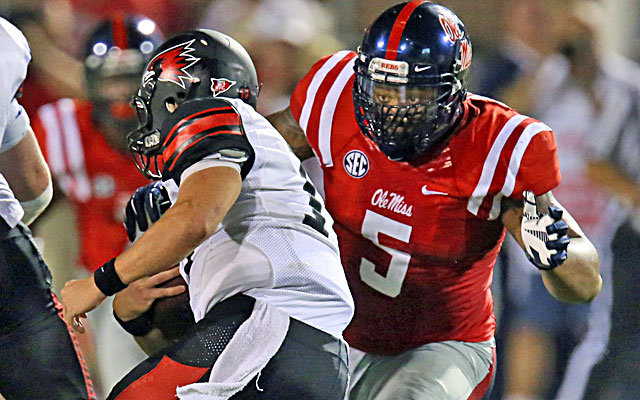 5. Robert Nkemdiche, Ole Miss, DL: The Rebels celebrated recruiting class has already paid big dividends and probably could've warranted a few guys making this top 10, but we'll go with the chiseled 292-pounder. Coach Hugh Freeze said the most underrated aspect of the group -- and Nkemdiche -- is these touted former blue-chippers have brought no egos to Oxford. The hulking former No. 1 overall recruit has been an anchor for the Rebels defensive line, notching 10 tackles and four TFLs along with two passes broken up while playing both tackle and end for Ole Miss. "He's been very good for us," said D-line coach Chris Kiffin. "He's going to be a monster when he figures it all out."
6. Su'a Cravens, USC, safety: The Trojans have had some great safeties over the years and the 6-3, 215-pound true freshman is the next great one. He's tied for fourth on the team in tackles (24) while leading in INTs (two) and also has forced a fumble.
7. Brandon Facyson, Va. Tech, CB: Bud Foster's D has a knack for finding--and-developing play-making young DBs and he's done it again. Facyson, who has four picks, leads a terrific CB duo and has wowed coaches and teammates with his football IQ. The lanky 6-2, 173-pound Georgia native, who says his goal is to become a heart surgeon, also has broken up seven passes and forced one fumble
8. Jalen Ramsey, FSU, CB: Any time Deion Sanders' name gets evoked, something special happened as was the case when Ramsey became the first true freshman corner to start an opener since Prime did it over 20 years ago. Ramsey is fifth on the team in tackles (19) and also has an INT and a sack for the nation's No. 14 defense.
9. Addison Gillam, Colorado, LB: An unheralded recruit who signed with San Jose State in 2012 and planned on gray-shirting, he ended up in Boulder this winter after Mike MacIntyre changed jobs and took over the Buffs program. The 6-3, 225-pounder, who actually hadn't played organized football till his junior year of high school, has been a revelation for CU. Gillem leads the Pac-12 in tackles by a sizable margin at 11.3 stops per game. "He is really good," said MacIntyre. "He's big, athletic, fast, smart and tough." Not bad for a former "two-star" recruit.
10. Eddie Jackson, Alabama, CB: The 6-1 younger brother of former blue-chip recruit Demar Dorsey is looking like a good answer to shoring up the biggest weakness of the Crimson Tide defense -- its cornerback play. After Bama was torched by Johnny Manziel and Mike Evans, Jackson was inserted into the starting line-up for the Colorado State game and responded well. Against Ole Miss last week, Jackson had four tackles, had two pass breakups, an interception and a TFL.
Just Missed the Cut: Leonard Floyd, Georgia, OLB; Dontre Wilson, Ohio State, RB; Christian Hackenberg, Penn State; QB; Scooby Wright, Arizona, LB; Jared Goff, Cal, WB; Laquon Treadwell, Ole Miss, WR: Daquawn Brown, Washington State, CB; Baker Mayfield, Texas Tech, QB; Stacy Coley, Miami, WR; James Conner, Pitt, RB; Zach Sanchez, Oklahoma, CB; Montravius Adams, Auburn, DT; Tony Conner, Ole Miss, safety; John O'Korn, Houston; QB; Myles Jack, UCLA, LB; Kendall Fuller, VT; DB; Janarion Grant, Rutgers, WR; Thomas Tyner, Oregon, RB; Davon Grayson, ECU, WR; Cam Sutton, Tennessee, DB; Trey Edmunds, VT, RB; Ben Weaver, Boise State, LB; Jerald Hawkins, OT, LSU; Jaylon Smith, ND, LB; Justin Davis, USC, RB; Colin McGuire, Fresno State, kicker; Darian Claiborne, Texas A&M, LB; Johnny Mundt, Oregon, TE.
Occidental College was reportedly down to 35 healthy players for the 2017 season

Midway through the season, we make some (more educated) predictions for the rest of the ye...

Babe Ruth supporting the Fighting Irish is one of the best photos of the week
Could two teams from the same conference make it into the College Football Playoff?

Given the schedule and recent performance, can anyone in the SEC stop Alabama?

SportsLine's Barrett Sallee has gone 29-14 against the spread the last two weeks and loves...