Top 10: Juiciest odds to win BCS title
With the NCAA basketball tourney in full swing, it's interesting to look at how some of these longshots, especially Florida Gulf Coast --a 1,000-to-1 shot just to win its region a week ago -- have done. In the same spirit, let's take a look at some of the juicier team odds to win the 2014 BCS title.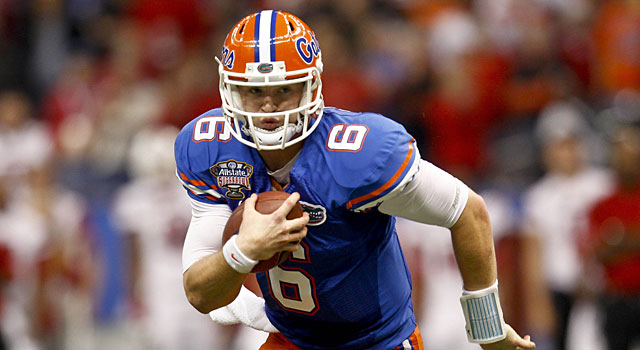 With the NCAA basketball tournament in full swing, it's interesting to look at how some of these longshots, especially Florida Gulf Coast --a 1,000-to-1 shot just to win its region a week ago -- have done. In the same spirit, let's take a look at some of the juicier team odds to win the 2014 BCS title. (The lines I got Monday night were from R.J. Bell of Pregame.com.)
1. Baylor (300-1): I don't think the Bears will win the Big 12 title, but at this point in Art Briles' tenure in Waco, I wouldn't be really that shocked if they did. The Bears are no fluke. They've won 18 games the past two seasons with two different starting QBs. They finished off 2012 in style, hammering No. 17 UCLA, 49-26 to end the season on a four-game winning streak that also included a 52-24 rout of No. 1 Kansas State and a victory over No. 23 Oklahoma State. The big reason for the surge was improved play from the defense, which has some playmakers back in safety Ahmad Dixon and linebackers Eddie Lackey and Bryce Hager. Towering Penn State transfer Shawn Oakman, a 6-foot-8, 250-pounder, also has been impressive this spring.
The key guy this fall for Baylor will be new starting QB Bryce Petty , a strong 6-3, 235-pounder with 4.6 speed. I expect him to have a terrific season. Petty raved about the Bears' skill talent when I spoke to him two weeks ago: Petty said in their five-wide package, four of the receivers clocked sub-4.4 40s, and that doesn't include incoming blue-chipper Robbie Rhodes, perhaps the nation's top WR recruit in the 2013 signing class.
"We have some freaks down there," Petty said.
They also have two big-time backs in Lache Seastrunk and Glasco Martin and an experienced O-line. The schedule also sets up favorably with Wofford, Buffalo and Louisiana-Monroe in the nonconference and they get Texas and Oklahoma at home. The most ominous part is a back-to-back double in late November visiting Oklahoma State and TCU. Again, I'm not saying the Bears are my pick to win the Big 12, much less be the squad to snap the SEC stranglehold on the BCS, but at 300-1, they're a tempting long, longshot.
2. Florida (25-1): Yes, the Gators are coming off a clunker of a showing in the Sugar Bowl against Louisville, but they have a budding star in dual-threat QB Jeff Driskel, a good O-line and lots of speed on defense. They do need to have a go-to guy emerge at receiver and having some key guys to replace up the middle of their defense, but by all accounts Will Muschamp has recruited very well. As for the schedule, they have to visit an improved Miami team in Week Two; play at LSU and at South Carolina, along with the game against Georgia before closing at home with Florida State. Not to mention a possible SEC title game. Those are some high hurdles, but at 25-1, the Gators are worth a long look.
3. Stanford (18-1): Kevin Hogan blossomed at QB in the second half of 2012, the O-line is loaded and the defense should be excellent again. The schedule for David Shaw's team isn't as imposing as Florida's. Stanford gets Oregon at home as well as Notre Dame. Only at Oregon State and at USC look tricky for the Cardinal.
4. Texas A&M (15-1): Only three other teams have tougher odds than the Aggies (Alabama, 3-1; Oregon, 7-1 and Ohio State, 8-1), but A&M's odds are a little tastier. We know the Aggies have to replace a great left tackle in Luke Joeckel, but the O-line still should shine with Jake Matthews shifting from right tackle to left tackle and Cedric Ogbuehi, another gifted holdover, going from right guard to right tackle. There's an influx of big, athletic wideouts to join Mike Evans.
Obviously, much of the focus with A&M goes to Johnny Manziel, their mercurial star. More seasoning in the system should help him as a passing threat, much in the way he made big strides from the beginning of last season to the end. His confidence is big for a young team and he's got as good a leader in Kevin Sumlin as he can have to keep things on track.
The Aggies will face a Bama team looking to avenge last season's loss but at least the game is in College Station. Later in the year, A&M goes to LSU, but the Tigers do have a lot of holes to replace and the Aggies will have two weeks to get ready to go to LSU.
5. TCU (100-1): Start with this: The Horned Frogs have nine starters back from the Big 12's best defense plus QB Casey Pachall is back from rehab. TCU was 4-0 before his issues blew up and he left the team. The Horned Frogs struggled after that, but they were an extremely young bunch led by stud DE Devonte Fields. They also get back Waymon James, who missed almost all of last season. He ran for almost 900 yards, averaging 7.2 yards a carry in 2011.
If Pachall has truly matured and is re-focused, Gary Patterson will have a dangerous team. They open in Arlington against an LSU team that is in reload mode and the timing might be ideal to knock off a big SEC name. Beyond that, the road isn't so kind with games at Oklahoma and Oklahoma State, but 100-1 still seems like a big number here.
6. Louisville (25-1): The Cards finished the year with a great performance jumping on Florida in the Sugar Bowl. QB Teddy Bridgewater emerged as a star -- and a great leader. The Cardinals should be favored in every game they play in the regular season. They also have five road trips and four of them come against teams going through coaching transitions: UK; Temple, USF and Cincy.
Of course, Louisville could go 12-0 and still not be ranked high enough to make the BCS title game. And do they have a defense that could hold up against a heavyweight opponent? That's doubtful although Bridgewater against any team sounds pretty compelling at this point.
7. Michigan (40-1): The Denard Robinson era is over, but new QB Devin Gardner looked pretty good in taking over as the starter late last season. The O-line is anchored by standout tackle Taylor Lewan. Blue-chip RB Derrick Green could provide a much-need spark in the power running game.
Losing Jake Ryan, a terrific linebacker to an ACL injury last week, though, stings. With him, I'd probably have the Wolverines a bit higher on this list. Brennan Beyer now moves from weakside defensive end to strongside linebacker.
The Wolverines schedule sets up pretty well: they host Notre Dame. Their toughest road is at Michigan State and they have two weeks to get ready for the Buckeyes.  
8. Clemson (25-1): I like this offense with Tajh Boyd back and the Tigers finished on a good note beating LSU in a bowl game. The schedule features two SEC heavyweights in the nonconference with Georgia early (at home) and then at South Carolina late. Both of those SEC teams have a lot of players to replace on their defenses though.
The ACC portion of things looks more favorable. They don't face either Virginia Tech or Miami and they get FSU at home.
9. UCLA (50-1): The dismal finish to 2012 notwithstanding, the young Bruins have a lot of reasons for optimism in Year Two under Jim Mora. His offense is led by a dynamic dual-threat QB (Brett Hundley) and the nucleus of a gifted young O-line returns. They do have to replace a good RB in Johnathan Franklin, but the coaches have told me they're really excited about speedy Paul Perkins, saying he's "the real deal."
Anthony Barr and Eric Kendricks are as good a duo on defense as anyone will have. The team also will play eight games in the state of California. They do have to visit Nebraska, but they'll have two weeks to get ready for the Huskers. The reason why the Bruins are not higher on this list is back-to-back road games at Stanford and Oregon, the most physical and then the fastest team in the league.
10. Florida State (40-1): Yes, I know the Noles have a history of underachieving and finding a way to fizzle out, but hey, they're a 40-1 pick! There's still athletes all over the field although there is more uncertainty at QB. Jimbo Fisher has some good options at quarterback, and everyone who has ever worked with uber prospect Jameis Winston thinks he can be fantastic. The road isn't easy either with games at UF and at Clemson.
The movie will zero in on former Penn State coach Joe Paterno during the Jerry Sandusky sc...

Bidding for Salaam's trophy, which the auction house says was obtained legally, ends Satur...

Locksley has been the offensive coordinator at Illinois and Maryland during his coaching c...
Many NFL-eligible juniors ignore advice provided by the league and risk going undrafted each...

Snyder died in Manhattan, Kansas, on Wednesday

Locksley joined Alabama's staff in 2016