Top 10 list: The Breakout Coaches of 2012
In 2011, we saw several coaches significantly raise their profiles and land bigger jobs. Among them: Kevin Sumlin, Larry Fedora, Hugh Freeze, Paul Chryst and Jim McIlwain. Who will be the biggest breakout coaches for the 2012 season? This week's Top 10 list has the answer.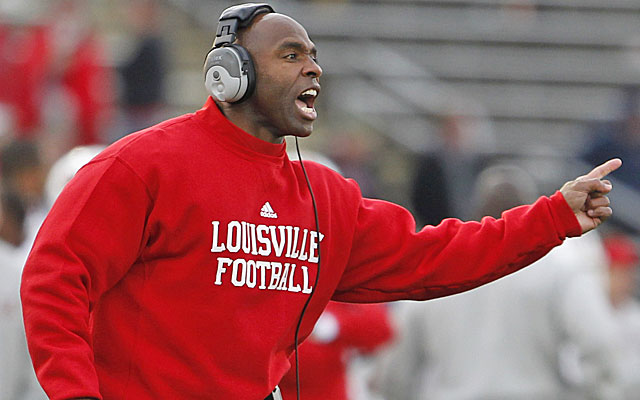 Onetime Urban Meyer assistant Charlie Strong has a favorable schedule this year at Louisville. (US Presswire)
Game week. There is no better time in the college football season than leading into Week One. Heck, there is no better time on the calendar. We all spend months speculating on what we might see on the field, as we're teeming with anticipation and anxiety about what we'll find out. There is, of course, so much more uncertainty with college football than with the NFL or NBA or even college hoops. College football has more turnover and more moving parts. All of that only makes it more unpredictable, more exciting and more special. New stars. New household names will emerge. In 2011, we saw several coaches significantly raise their profiles and land bigger jobs. Among them: Kevin Sumlin, Larry Fedora, Hugh Freeze, Paul Chryst and Jim McIlwain. Who will be the biggest breakout coaches for the 2012 season? This week's Top 10 list has some answers.
1. Sonny Dykes, Louisiana Tech: After going 5-7 in his rookie season at La. Tech, Dykes led LTU to an 8-5 mark in 2011 and has a lot of folks expecting a double-digit win season for the Bulldogs. "Our guys are hungry," he told me over the weekend. "They're the fat, ugly kid at the end of the table that eats lunch by themselves."
More on upcoming season
Related content
The Bulldogs, though, are starting to look pretty good. Dykes, who showed his versatility while shining as the Arizona OC when the former Air-Raid guy inherited a roster with five scholarship wideouts, five fullbacks and one gifted tight end (Gronk). Being in four-wide sets wasn't much of an option and then-coach Mike Stoops wanted to run the power. These days, Dykes still flings it around quite a bit and Tech goes up-tempo and does the three-back thing, like his pal Dana Holgorsen does.
Tech can get on the national radar early. The Bulldogs have four sizable challenges early in the season: at Houston; at Illinois and at Virginia. The original opener, scheduled for Thursday vs. Texas A&M, was postponed till Oct. 13 because of Hurricane Isaac. "We'll find out pretty quickly if we're worth a crap," Dykes said through a chuckle. "They know they have a chance to make a little noise. Honestly, they're excited about A&M but they've done a good job of not looking ahead."
A&M's staff, half of which was at Houston last year, knows Tech is pretty talented. The Bulldogs gave UH fits in 2011 and they figure to be even better in 2012. QB Colby Cameron is more comfortable in the system. "He anticipates throws a lot better than he did in the past," Dykes said, adding that his offense should now have the ability to sustain drives not just hit big plays. Tech returns four O-linemen; versatile RB Hunter Lee and perhaps the best-kept secret in the country in Quinton Patton, a 1,200-yard receiver.
The 6-foot-2, 195-pound former JC standout, who picked Tech over Troy, has been even better than Dykes expected. He is a dynamic player after the catch with the ability to break tackles and set up blocks.
Tech has the firepower, but if the D can step up, the Bulldogs could crack the top 20. And that could prove to be quite the springboard for Dykes given some of the potential vacancies this winter (Arkansas; his alma mater Texas Tech, where his dad coached; or Kentucky, where he was an assistant). Dykes agreed to a contract extension through the 2017 season -- although given the school's limited resources and suspect facilities, it might be too tempting if bigger schools come calling this winter.
2. Charlie Strong, Louisville: This is Year 3 for the former Urban Meyer assistant at Louisville and it's an interesting time since his program plays in a league that has been shoved into the margins of the sport by college football's power brokers. Strong's young team also is the favorite to win the Big East. Ranked No. 25, this is the first time U of L has been ranked in the preseason since 2007. Could the Cards be primed for a 10-win season? Sophomore Teddy Bridgewater has bulked up and looks like the league's top QB while most of the D returns. The schedule isn't daunting, either: A trip to FIU of the Sun Belt or a visit from UNC may be the toughest games. In conference, they have to visit Pitt and Rutgers. If Strong can keep the Cards in the Top 25, the Arkansas native might just be in line for the Hogs' vacancy or some other spot in a conference with better footing.
3. Pat Narduzzi, Michigan State defensive coordinator: The Spartans were No. 6 in the nation in total defense last year and that was with having to replace four of his five top tacklers from the previous season. MSU should be even better on D this fall with playmakers at every level. Narduzzi, also one of MSU's top recruiters, turned down opportunities at three major programs to stay as the DC in East Lansing. He probably won't be an assistant for too much longer.
4. Kirby Smart, Alabama defensive coordinator: Nick Saban is going to get most of the credit for the Tide D, but Smart's name is still getting out there. Given all of the high draft picks, 'Bama has to replace on defense this fall, if the Tide again fields a fierce D (which I suspect it will), Smart's stock can only continue to rise. It also probably wouldn't hurt Smart's cause if fellow Saban protégés Jimbo Fisher (FSU) or Will Muschamp (Florida) had strong 2012 seasons. Ironically, another Saban protégé -- Derek Dooley -- has a job for which Smart could be a candidate since Tennessee AD Dave Hart came to UT from Tuscaloosa.
5. Mario Cristobal, FIU: No coach has done more to transform a program in the past decade than what the former Miami O-lineman has done with FIU. Cristobal has stocked this program and is confident the Panthers are more talented than his teams that won 15 games the past two seasons that won a bowl game and beat Louisville on the road. He'd turned down opportunities at Pitt and Rutgers to stay in South Florida. If bigger jobs in better leagues arise this winter, he might not be able to say no this time around.
6. Chad Morris, Clemson offensive coordinator: All the former Texas high school coach did in his first season with the Tigers was save coach Dabo Swinney's job and help lead Clemson to the Orange Bowl. In the process, Morris also earned a raise to $1.3 million per. Morris won't have star WR Sammy Watkins to start the season, but he still has QB Tajh Boyd and some scary skill talent.
7. Manny Diaz, Texas defensive coordinator: Mack Brown may have some concerns about quarterback play, but UT's defense is pretty salty. It was the Longhorns' strength in 2011 and should be again. Diaz, the architect, produced equally impressive results when he sparked a big improvement at Miss State two years ago. Diaz is happy in Austin and will be very choosy if and when he leaves for another program.
8. Dave Doeren, NIU: Bret Bielema's former assistant produced an 11-win season in his first year as a head coach and comes into the season with the longest win streak in FBS at nine games. If the Huskies -- breaking in a new QB -- can knock off Iowa (a 10-point favorite) in Chicago in the opener, Doeren's stock will soar and they could be in line to make a Top 25 run.
9. Dave Christensen, Wyoming: One of the most underrated offensive minds in college football, he's taken the Cowboys to bowl games in two of his three seasons, impressive considering how challenging this job is from a location standpoint. They were 8-5 in 2011 while starting a freshman QB. Young Brett Smith looked very good last fall and should be much better this season.
10. (tie) Mike MacIntyre, San Jose State: He's only 6-19 all-time, but he's done wonders re-energizing a program in disarray. The Spartans went from 1-12 to 5-7 to perhaps eight wins this fall.
10. (tie) Todd Grantham , Georgia defensive coordinator: Like Narduzzi and FSU DC Mark Stoops, Grantham led a terrific defense last fall, which is expected to be even better in 2012. I almost included Stoops in this spot (the 'Noles actually have a few assistants who could springboard into head coaching jobs this winter if that team can live up to the hype), but went with Grantham. If the Dawgs can win the SEC, Grantham's stock may surpass that of Smart and every other assistant in the league.
College football bowl games were all announced on Sunday, and you can check out the entire...

SportsLine simulated every bowl game 10,000 times for pick'em leagues and confidence pools

Everything you need to know to watch and pick the Las Vegas Bowl on Saturday
Everything you need to know to watch and pick the Camellia Bowl on Dec. 16

Everything you need to know to watch and pick the New Mexico Bowl on Dec. 16

Everything you need to know to watch and pick the Cure Bowl on Saturday