Top 10 list: The loudest stadiums I've ever been in
This week's Top 10: The loudest college stadiums I've ever been in.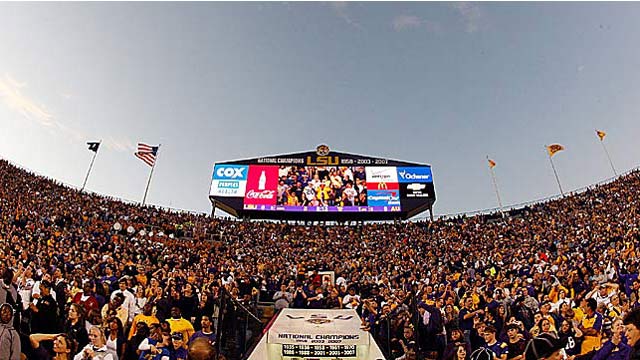 LSU is enjoying the nation's longest home-winning streak (18) thanks to these fans.
(Getty Images)
This weekend Texas A&M and Missouri both host their first SEC game. The Tigers get a visit from a top 10 team, Georgia, while the Aggies play Florida. I'm really excited for Saturday. I've been to a lot of stadiums over the past 15 years but have never been to Kyle Field for a game. I've heard great things. Whenever I get asked what the loudest stadium is, I have to couch it by saying that I haven't been to Texas A&M, Clemson, South Carolina or Auburn for a game and I've heard those places would be in the running if I had witnessed it.
The other part of that is it's all anecdotal and you're basically splitting hairs. It's not like we're out there with sound gauges. It also depends when you were at certain places. The old Orange Bowl was as raucous as any place I've ever been for a game, but that was primarily when arch-rival Florida State or Virginia Tech or Florida were visiting. If it was Boston College or UConn or Virginia, the place was half-empty. This week's Top 10: Loudest college stadiums I've ever been in.
1. Tiger Stadium, LSU: It's only the country's eighth-biggest stadium, with a capacity more than 17,000 less than Michigan Stadium, but "Death Valley" is the pound-for-pound king of noise in college football. The place is just mind-numbingly loud for a ridiculous amount of time, as if the visiting team is backed up against its own goal line facing third and long for four straight hours. No surprise the Tigers have a nation's longest 18-game home winning streak going. Good luck to Washington, South Carolina and 'Bama this fall in trying to get out of this place with a W.
2. Orange Bowl, Miami: The Orange Bowl was falling apart long before the plug was pulled. I talked to several college coaches who said this was the loudest, wildest place they've ever been to. The Orange Bowl certainly could be the loudest . . . at times. In truth, I'm not sure if you could really have much difference in many of these places, but Tiger Stadium was getting the top spot because the place was constant. Still, the old Orange Bowl's vibe was a big reason why the 'Canes went a decade here without losing a single game, setting a record with a 58-game home winning streak, which included them knocking off four No. 1 teams.
3. Lane Stadium, Virginia Tech: Of all the places on this list, Lane Stadium, is the one I feel like is the most overlooked by fans outside of ACC country. So what if it's only 66,000. Maybe it has something to do with how the building is tucked into the mountains and the sound just bounces all over the place. I've been to enough games there where it's gotten to the point whenever I watch a Hokies home game on TV and I hear them play the beginning of Enter Sandman, I get goose bumps. Happens every time. The entire place rocks and shakes. And then, 45 minutes after the game ends, you trudge back up the stadium steps to the press box and see empty little liquor bottles everywhere.
4. Bryant-Denny, Alabama: I've seen some lists which had a few other SEC and Big Ten schools above the Tide's home site. I've been to Bryant-Denny a few times in the past two years. I don't think I've been anywhere louder during a day game than this place was the day undefeated Cam Newton and arch-rival Auburn came to town. Last year's visit from LSU also was pretty hard to top.
5. Ben Hill Griffin Stadium, Florida: The Swamp, which surprisingly "only" holds about 89,000, ranks up there with Death Valley in terms of that per capita noise factor.
6. Neyland Stadium, Tennessee: Michigan and Penn State may have even bigger capacity than the Vols home (capacity: 102,455), but UT's place is louder and, in fact, much louder than Michigan's Big House.  
7. Ohio Stadium, Ohio State: Another 100,000-plus mega stadium, The Shoe might be a little higher on this list if night games were a staple. No question, Buckeye fans rival the SEC folks for their passion for their team and game atmosphere.
8. Sanford Stadium, Georgia: At almost 93,000, the Dawgs have the country's fifth-largest on-campus stadium. Mark Richt is 56-13 in home games.
9. Autzen Stadium, Oregon: It may only be a bit over 50,000, but it often sounds like it's twice that many in there. The Pac-12 doesn't have many places that get that loud. Even the big places (the Rose Bowl) seem very mellow. Not this one. Chip Kelly sure seems to feel comfortable there, where his teams are 20-1 at home. Husky Stadium, when Washington was really good, also could get very loud.
10. (tie) Camp Randall, Wisconsin: One of the cooler looking venues in college football, the place has become known for the Jump Around, in between the third and fourth quarters where Camp Randall literally shakes and the press box sways. "The stadium definitely shakes," Mike Oliva, a Wisconsin engineering professor who has studied Camp Randall's movement told the New York Times last fall. "People in the upper deck tend to feel like the motion is anywhere from 2 inches to 10 inches."
10. (tie) Beaver Stadium, Penn State: My first trip there was the season opener against Miami where Adam Taliaferro helped lead the Nittany Lions back on the field. Was a powerful moment.
Just missed the cut: Nebraska , Oklahoma , FSU and West Virginia
Everything you need to know to watch and pick the Camellia Bowl on Dec. 16

Everything you need to know to watch and pick the New Mexico Bowl on Dec. 16

Everything you need to know to watch and pick the Cure Bowl on Saturday
Everything you need to know to watch and pick the New Orleans Bowl on Dec. 16

Bowl games are unpredictable, which means teams need to be on upset alert

The award is becoming an afterthought and I want to change that