Top 10 recruiting battles
With only a week till National Signing Day, things have heated up on the recruiting front and there's still many elite prospects who are undecided with Alabama and FSU in the middle of a bunch of the big battles.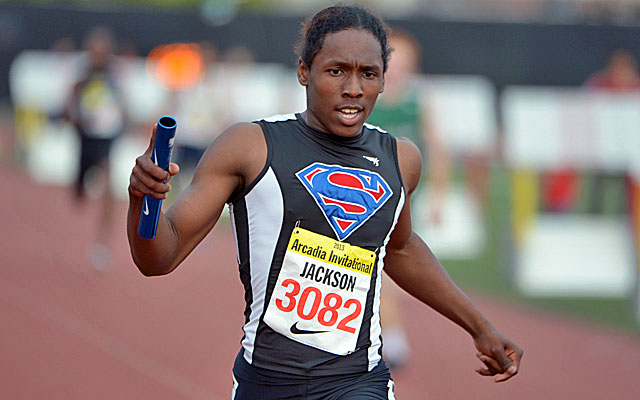 We're just a week from National Signing Day and there are still a bunch of elite recruits still uncommitted. This week's Top 10 list: Best recruiting battles.
1. California DB/WR Adoree' Jackson -- Florida vs. USC vs. LSU vs. UCLA
Ranked by 247Sports as the nation's No. 7 overall prospect, the 5-9, 182-pound speedster plays at a program (Serra HS) that sent Robert Woods, Marqise Lee and George Farmer to USC. Worth noting: Jackson is originally from the St. Louis area and is said to be open to leaving the West Coast. "He can be a game-changer," says one college coach from the Pac-12. "People try to compare him to De'Anthony Thomas but I don't think he's quite as quick, but he could become an NFL first-rounder as a cornerback."
Steve Wiltfong, a national recruiting analyst for 247, calls Jackson the biggest wild card down the stretch in this class because he "is capable of picking just about any of his finalists. The perceived favorites are Florida and USC, and with less than two weeks away from NSD, I'll throw out the Trojans as the landing spot with the right to change my mind."
2. Birmingham, Alabama CB Marlon Humphrey -- Alabama vs. FSU
The son of Bobby Humphrey, the former Bama star running back, is a 6-1, 175-pound corner who several of the college coaches I spoke to thought he was the best cornerback prospect in the country. "He's very similar to (Bama CB) Tony Brown but more of a football player and he plays in a much better program," says one SEC recruiting coordinator. "He has a faster 110 hurdle time than Tony Brown. Tony's thicker whereas Marlon is more slender and longer, and is further along than Tony, who was very physical in camps/combines. Marlon really does it in pads."
Humphrey reportedly likes FSU's track program, but Wiltfong notes that losing ace recruiter Jeremy Pruitt, an Alabama guy, hurts FSU. Ryan Bartow, another national recruiting analyst for 247, also predicts the corner ends up at Alabama, where, of course, Nick Saban has a big role in coaching the DBs.
3. Auburn, Alabama OLB Rashaan Evans -- Auburn vs. Alabama
The 6-3, 220-pounder from Tiger country is ranked as the No. 15 recruit in the 2014 class. "He has great film," said an SEC recruiting coordinator. "He's long and he's got the potential to grow into a big Alabama-type physical linebacker."
"It's looking good for Auburn for the nation's top-ranked outside linebacker and No. 2 in-state prospect," predicts Wiltfong, "but don't count out Nick Saban and Alabama making one last push this week before Evans decides."
4. New Orleans WR Malachi Dupre -- LSU vs. UCLA vs. FSU vs Ole Miss vs. Alabama
Dupre comes from a traditional powerhouse program (John Curtis) but it doesn't throw the ball that much and runs the Veer. "He's the best wide receiver prospect in the country," a Pac-12 coach said about the 6-3, 187-pounder, who is the state long jump and triple jump champ. "He's big, fluid, gets great separation."
"He's really raw, but so talented, so smooth," said an SEC coach. "He's a potentially dominant X."
Most assume he'll end up at LSU or FSU but don't discount UCLA. Word is, Dupre's godparents are very fond of Bruins coach Jim Mora.
5. Norcross, GA OLB/DE Lorenzo Carter -- Georgia vs. FSU vs. LSU vs. Florida
To say Carter's recruiting has gotten crazy would be an understatement. Just look at the picture in this AJC story. "He's a stud," said a college coach on the West Coast. "He has definite first-round tools. Can fly, long wingspan. I imagine this might've been what Bruce Smith looked like when he was young. Great kid too."
Bartow's prediction: "Georgia -- Scheme fit, instate, Jeremy Pruitt."
6. California WR/DB JuJu Smith -- USC vs. Notre Dame vs. Oregon vs. UCLA
Long Beach Poly has produced a ton of great athletes in all sports. Smith, a 6-1, 200-pounder, is the latest. He's a physical kid who reportedly would like a shot to start his career at wideout. Word is USC and Notre Dame are the favorites for this one.
Bartow predicts USC wins because of "distance, this past weekend's official visit went great, and USC keeping local talent at home."
7. Homestead, Florida WR Ermon Lane -- FSU vs. Miami
At 6-3, 193, Lane has excellent size and speed and is very similar to Dupre. He's ranked No. 24 overall.
"The five-star receiver has basically been a Nole for months now and it's telling his only official visit of the process comes this weekend to Florida State," said Wiltfong.
8. Texas DL Solomon Thomas -- Stanford vs. Arkansas vs. UCLA
Described as a tweener by an SEC recruiting coordinator, the 6-2, 260-pounder impressed all the college coaches I spoke to with his smarts and physicality. "He has great quickness but he is a little undersized," said one Pac-12 coach. "We loved this kid. He has been very, very well-coached in high school."
Both Wiltfong and Bartow predict Thomas ends up at Stanford.
9. Maryland OL Damian Prince -- Florida vs. South Carolina vs. Penn St. vs. Maryland
Coaches love Prince's frame at 6-3, 295, 247Sports ranks him as the nation's No. 2 OT prospect behind Bama-commit Cam Robinson. "Big, athletic kid who has tremendous upside but is still very raw," said one Big Ten coach. "He's not really a tackle though. He's more of a guard. He's a heck of a piece of clay."
Bartow calls it a toss-up between Florida and Maryland since the distance factor made the Terps the perceived favorite, but UF gets the last visit and Prince is tight with (Gator recruit) Jalen Tabor. Wiltfong also thinks the Gators win this one too.
10. Michigan DL Malik McDowell -- Ohio State vs. Michigan State vs. FSU vs. Michigan
Another D-line prospect that has college coaches drooling. "He's a monster with very good change of direction," said the Pac-12 coach. "He reminds me a lot of (former Tennessee star) John Henderson. So big, long and disruptive. He should become a first-round pick."
Wiltfong says the Spartans are the kid's leader, but reportedly, his parents aren't as sold on MSU. Bartow's guess: Michigan State. "Just had nation's best defense. Won the Rose Bowl. Hot team in that state now."
Cristobal's first game at Oregon ended the same way Chip Kelly's did

Conner Manning and the Panthers dominated the Hilltoppers in the Cure Bowl

You can only go to the well so often before it dries up
The Trojans beat LSU earlier in the year and now have their first 11-win season as a FBS t...

Saban has never been a fan of the early signing period and made it clear that hasn't chang...

Paul Tyson is a three-star quarterback prospect for the 2019 recruiting class