Top 10 sneaky contenders -- Michigan, Nebraska, K-State, Ole Miss, more
There are several teams outside of the national top 15 that might make a sneaky playoff run, including Nebraska, Virginia Tech, Michigan and many more.
• 3 min read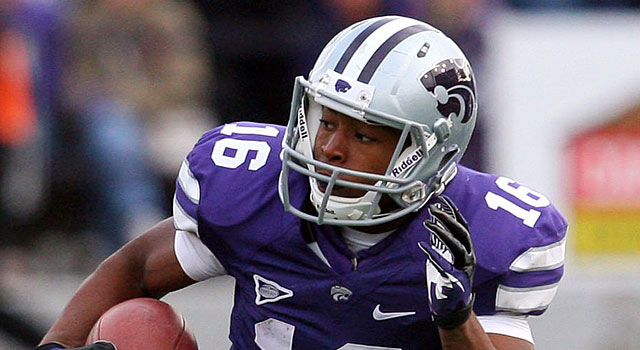 After eight months of unions, lawsuits, stipends, governance, NCAA waivers, arrests, unlimited meals, shoulder injuries, contract extensions and eight-game schedules, please -- for the love -- PLEASE kick off.
Time to put this offseason to bed.
Playoff ball welcomes you.
Speaking of the playoff, you might've heard all about the same contenders for the last months -- Alabama, Oregon, Ohio State (pre-Braxton injury), Oklahoma.
Playoff picks need a bit more creativity.
That's why I've got a list of 10 teams that probably have no business being in your top four, but they are just sneaky-good enough to hang around in late November, maybe snag a spot somehow.
Bo Pelini, the floor is yours ...
Nebraska: Got a feeling about Tommy Armstrong. Cornfield-sized intangibles. If the Huskers commit to Armstrong-Abdullah combo runs and a talented defense grows up, Bo Pelini might mess around and win the league.
Kansas State: Probably the third best team in Big 12 right now, which could change after a few surprise wins. Tyler Lockett is the best player no one's talking about. The offensive line is always solid. Defensive end Ryan Mueller and cornerback Danzel McDaniel will have your attention by season's end.
Michigan: Two of Brady Hoke's last three recruiting classes have finished in the top six nationally. There's a serious roster in place. The offensive line play was unbearable at times last year but new OC Doug Nussmeier will change that. Brady Hoke has pumped urgency into his locker room, knowing his tenure will either crash or soar in the next three months.
Ole Miss: Those vaunted freshmen from the 2013 class? Yeah, they are for real. All of them.  More than one assistant coach has told me there'd be no surprise if Ole Miss finished second in the West. Maybe Hugh Freeze will take that notion a step further.
Virginia Tech: If the offensive line can hold up -- still a big if -- Virginia Tech finally has the skill guys it needs to resurrect Beamer Ball. New quarterback Michael Brewer doesn't have to win games, just can't lose them. Defense is always good. In the ACC Coastal cluster, Virginia Tech's about as safe a bet as a Volvo conversion SUV or oatmeal.
Mizzou: So I see the SEC is still treating the Tigers like that house guest that doesn't shower. Auburn wins 12 games, garners universal praise. Mizzou wins 11 games, gets fourth-place projection in the SEC East. So what if the Tigers are thin at receiver? Maty Mauk can bust you up with running backs and tight ends in the passing game. Offensive and defensive lines are stocked with upperclassmen.
UCF: The Knights might be better at every position save quarterback. Of course, losing Blake Bortles is huge. With Mizzou, Penn State and BYU in non-conference play, maybe UCF has enough strength of schedule to squeeze into the playoff? Probably not, but I have to include at least one team from the Group of 5. Houston would be considered but its non-conference slate is too weak.
Arizona State: Arizona State wins 10 games and is still considered the fifth- or sixth-best team Pac-12 team on national scale. Well, don't be confused if the Sun Devils mess around and win the Pac-12 South for a second straight year. If Todd Graham gets a young defense ready, the potent offense will handle the rest.
Louisville: Thanks for three years of solid recruiting, Charlie. And the QB, Will Gardner. I really like him. Appreciate it, bro. I can win 10 or more games with this. -- Sincerely, Bobby P. (Though, admittedly, news that DeVante Parker being out 6-8 weeks makes this a tough inclusion).
Oklahoma State/Washington: A nice and tidy T-10 to finish off the list. Last year's defensive translation wasn't enough to put the Cowboys in a preseason top 25? Sure, the Cowboys lose a ton on defense and must replace a starting quarterback. But here's to betting on Gundy's system and high-level recruiting. Washington has quarterback questions, too. But several breakout stars on defense and a little Chris Petersen mojo could throw off Stanford or Oregon.
Byron Murphy reportedly sustained a foot fracture in practice

GoDawgs247 previews big-time college football recruits headed to Athens

Dig below the surface and you'll find a lot of intriguing matchups on the slate this Satur...
SportsLine tapped into its Vegas sources and found out pro bettors are all over No. 8 Michigan...

An early-season Big 12 game already has major conference and national implications

Top-ranked Alabama hits the road to take on upstart Vanderbilt in Nashville on Saturday