Top 10: Softest non-conference schedules
Who has the easiest non-conference schedules in the country? Arizona fans shouldn't be too stressed. Neither should a bunch of Big 12 programs.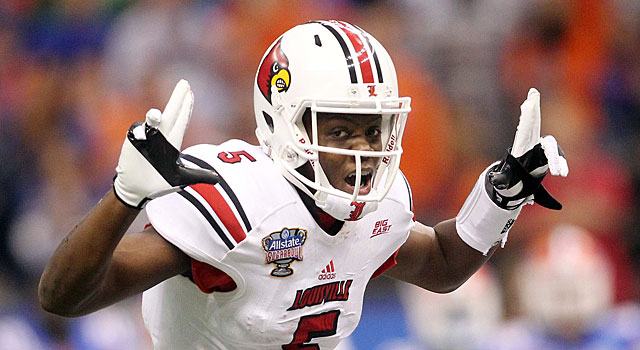 With conference media days now just about a month away, it's a good time to sift through some preseason schedule fodder. This week's Top 10 subject: teams with the softest non-conference schedules in major college football. As I've done in the past I've created a little formula as a gauge: Factored into it are each opponent's projected worth (done on a scale of 1-5) with each getting an additional half-point if it's a road opponent and .25 more if it's at a neutral site.
1. Arizona - Index: 1.33: Year Two of the Rich Rod Era sees the Wildcats face two of their three non-conference opponents coming off eight-win seasons, but it's FCS Northern Arizona and Texas-San Antonio, which lost its other four games by at least 20. Arizona's other non-con game is on the road but it's at UNLV, which was 2-11 last season.
2. West Virginia - Index: 1.42: The Mountaineers have a lot of key pieces to replace this season, starting with QB Geno Smith and standout WRs Tavon Austin and Stedman Bailey. Fortunately, for Dana Holgorsen, who in the past has had LSU in the non-conference, he gets William & Mary, which just went 2-9; Georgia State, which just went 1-10 and Maryland, which is 6-18 in the Randy Edsall Era. I suspect the Terps will be much improved from the past two dreadful seasons. Of course by just going 6-6 that'd be significant improvement, but still I think they'll be decent this fall and the game is in Maryland (at the Ravens stadium).
3. (tie) Auburn - Index: 1.50: New coach Gus Malzahn couldn't ask for a much better non-conference schedule. All four games are at home. The Tigers open with a visit from a Washington State team coming from the opposite side of the country and the Cougars have also won just 12 games in the past five seasons combined. Then comes an Arkansas State team from the Sun Belt that'll be playing for its fourth head coach in four seasons. Later in the season, the Tigers get one of the worst FCS programs in Western Carolina (1-10 last fall) and FAU, which is 4-20 the past two seasons.
3. (tie) Baylor - Index: 1.50: Art Briles' team gets a nice welcome to 2013 with four home games to start the season. First up is a visit from FCS Wofford. Then comes Buffalo, which has won a combined nine games in the past three seasons. The final non-conference game is against a respectable Louisiana-Monroe team coming off an 8-5 season, where the Warhawks did win at Arkansas and they almost also knocked off Auburn and the Bears (47-42). They also have an experienced, play-making QB in Kolton Browning.
3. (tie) Kansas State - Index: 1.50: Bill Snyder's had a history of favorable scheduling and this year's slate looks pretty tasty too. In addition to eight home games, the Wildcats' toughest non-conference test appears to be Louisiana-Lafayette, which is coming off a 9-4 season. ULL did give Florida all it could handle at UF before losing 27-20 last season. North Dakota State is a lower division powerhouse and went 14-1 in 2012 while UMass is among the worst teams in FBS.
3. (tie) Minnesota - Index: 1.50: It's hard to buy the Gophers opening 2013 worse than 3-0 when they start with UNLV (2-11 last season); at New Mexico State (1-11) and Western Illinois (3-8 in FCS). The other non-conference opponent is a pretty good San Jose State team. The Spartans were 11-2 last season and they have an outstanding QB in David Fales but they also are going through a coaching transition.
7. Louisville - Index: 1.63: No team in major college football has an easier overall schedule than the Cards. It's doubtful they'll face a top-40 team this season, much less one in the top 25. The non-conference slate is pretty tame as well. They open with an Ohio team that is coming off a 9-4 season and won at Penn State to start 2012. The Bobcats, though, are No. 98 in the country for most starters returning with just 11. After that, Louisville gets FCS Eastern Kentucky; then visits arch-rival Kentucky, which was 2-10 last season and then faces an FIU program that went 3-9, is in the midst of a coaching transition and returns only eight starters.
8. Alabama - Index: 1.69:  The only team on this list that faces a traditional power team. The Tide open the 2013 season with Virginia Tech, which has finished in the top 20 of the coaches poll in eight of the past nine seasons. Tech did just go 7-6, but the Hokies do have nine starters back on D. Even with a bunch of questions on offense, VT, at a neutral site, is more than a respectable draw. It's the rest of the Tide's non-con that brings the index way down. Colorado State has won only four of its past 20 games. Georgia State was 1-10 in 2012, and Chattanooga was 6-5 in FCS.
9. (tie) Cincinnati - Index: 1.75: The Bearcats open with consecutive games against Big Ten teams, but it's home against Purdue and then at an Illinois team that just went 2-10. After that, Cincy gets a visit from FCS Northwestern State (4-7) and from Miami of Ohio (4-8).
9. (tie) North Carolina State - Index: 1.75: The Pack have all four non-conference games at home. They open with a La. Tech team coming off a strong season, but it's also one that has changed coaching staffs and has the fewest returning starters (six) in the country. They get FCS Richmond in Week 2 and then Central Michigan at the end of September. Later in the season, NCSU faces a solid East Carolina team to round out the non-con slate.
9. (tie) Ohio State - Index: 1.75: Urban Meyer has never lost since taking the OSU job and it's doubtful his Buckeyes will get tripped up in the non-conference. They have a cupcake opener in Buffalo. Then OSU plays a solid San Diego State team before visiting Cal, which was 3-9 last season and has little experience with only nine starters returning. The Buckeyes cap off the four-game run with a visit from FCS FAMU.
9. (tie) Vanderbilt - Index: 1.75: James Franklin's program has gained momentum beating up on mediocre opponents and the Commodores have four more likely Ws here. They get FCS Austin Peay, UAB, visit hapless Umass before facing a decent Wake Forest squad.
A magic trick turned into a scholarship surprise for this Texas lineman

Michigan's notorious secrecy is getting called out again

Key was named a 2017 CBS Sports Preseason All-America selection this week
Our bowls expert looks at the toughest -- and weakest -- nonconference schedules in the na...

The new uniforms will be worn on Oct. 28 at Kyle Field vs. the Bulldogs

Kiffin's Owls have added myriad troubled players since he took over in Boca Raton