Top 10: Teams with the best shot at perfect regular seasons
Louisville, Alabama and Ohio State all look to have a decent shot to go undefeated in the regular season. Find out who else does in this week's Top 10 list.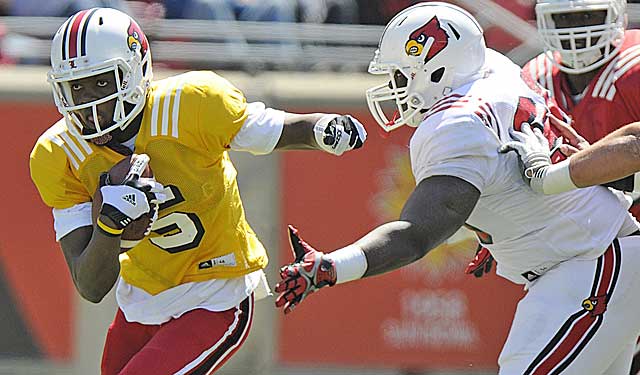 With the season only a few weeks away, we're all waist-deep in predictions about 2013. This week's Top 10 list: the teams with the best shot to run the table in the regular season.
1. Louisville Cardinals : Charlie Strong's team is coming off a great performance in the Sugar Bowl win over Florida and has star QB Teddy Bridgewater back with a gifted receiving corps, and almost the entire starting D returning from 2012. The schedule, as has been pointed out about 1,000 times already, is cushy. Louisville will be a double-digit favorite in its first 11 games before visiting Tommy Tuberville's Cincinnati team in its finale on Dec. 5. If anyone will trip up Louisville before the bowl game, it's probably up to Tub, who does have a rep for upsetting top teams.
2. Alabama Crimson Tide : The two-time defending champs play in what's been considered the toughest division in football, but the Tide may only have to get past two top 20 programs in the regular season, LSU at home and Texas A&M, which wouldn't seem anywhere near as tough if the NCAA investigation into Johnny Manziel keeps the Aggies star out of action. Beyond those two, the next toughest tests appear to be the opener against Va. Tech or road trips to Mississippi State and arch-rival Auburn. Given the talent Nick Saban has on defense, his proven winner at QB ( AJ McCarron ) and a great WR-RB combo in Amari Cooper and T.J. Yeldon , things are looking very promising in Tuscaloosa.
3. Ohio State Buckeyes : No one has beaten Urban Meyer since he got to Columbus and there's a decent chance it won't happen this fall. Braxton Miller is the most dynamic QB in the Big Ten, and he plays behind a seasoned O-line. OSU's front seven is young, but talented. The Buckeyes also have gotten faster since Meyer arrived (Hello, Dontre Wilson !) The nonconference slate is light, although a road trip to Cal shouldn't be overlooked. The Bears almost knocked off OSU last season and they should be better this fall. The two biggest tests will be road games at Northwestern and in Ann Arbor against a Michigan team should have star LB Jake Ryan back from injury by then.
4. Fresno State Bulldogs : Even though Boise State's the Mountain West program most folks know, keep an eye on Tim DeRuyter's club. They have a standout QB in Derek Carr , who merely won league player of the year honors despite playing the ENTIRE season with a torn abdominal muscle. He's terrific, as is NT Tyeler Davison , the league's best lineman. The Bulldogs open with a visit from Rutgers and visit Colorado before Boise comes to Fresno. Get through that and it's downhill till the season-finale at San Jose State. Two other potential hurdles: home against Nevada and at San Diego State.
5. Northern Illinois Huskies : Jordan Lynch is back and that's a great place to start. The old coaching staff felt like this team is more talented than the one that just went to the Orange Bowl. There are 16 starters back. The opener, at Iowa, may be the toughest test. At the end of September, they're on the road in the Big Ten again with a visit to Purdue. The preseason favorite from the East division, Ohio, isn't on the schedule. The toughest MAC test figures to be at a good Toledo team Nov. 20.
6. Stanford Cardinal : The good news: David Shaw's team returns the best D on the West Coast. Maybe the best O-line too, and a good young QB in Kevin Hogan. Better still, the Cardinal get Oregon Ducks at Stanford Stadium this year. UCLA, Notre Dame and Washington have to visit too. The downside: road trips to USC and Oregon State.
7. Oregon Ducks : Mark Helfrich's debut season should really heat up in mid-October with a visit to Washington. Then in late October, UCLA comes to Eugene before the Ducks travel to Stanford for a Thursday night game. The regular season ends with Oregon State coming over to Autzen.
8. Boise State Broncos : The Broncos open at the revamped Husky Stadium against Washington. Three weeks later BSU visits Fresno State. There are also road trips to BYU and Utah State in October.
9. Western Kentucky Hilltoppers : Bobby Petrino's back and don't be shocked if he knocks off two SEC teams to start the season. Kentucky's in major rebuilding mode as is Tennessee, which has good size but not much in terms of skill talent. WKU has the Sun Belt's best RB in Antonio Andrews and a defense led by linebacker Andrew Jackson, the league's Preseason Defensive Player of the Year and Florida transfer Jonathan Dowling. In conference, WKU will get stiff tests from Louisiana Monroe and Louisiana Lafayette.
10. Texas A&M Aggies : IF Johnny Manziel is on the field, the Aggies have a shot. He's that good and the talent around him on offense is too. The defense, though, is just average by SEC standards. Home against Alabama and at LSU in late November may be the only two games against ranked opponents.
Just bros being bros out on the football field

The battle of the Bulldogs will take place Saturday night between the hedges

Penn State hits the road to take on Iowa under the lights in both teams' Big Ten opener
Dig below the surface and you'll find a lot of intriguing matchups on the slate this Satur...

Bradley Chubb was the best player on the field against Florida State

The Wolfpack got a major ACC win on the road over the Seminoles