Top 10: The easiest nonconference schedules of 2012
This week's Top 10 list topic: Easiest non-conference schedules for 2012.
This week's Top 10 list topic: Easiest nonconference schedules for 2012. (NOTE: I didn't include transitional programs moving up such as UTSA.)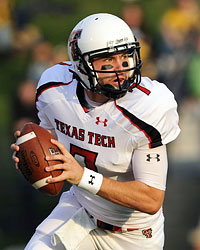 1. Texas Tech: The Red Raiders are coming off a dismal 2011, but should get off to a 3-0 start (they did open 4-0 last fall). They begin with FCS Northwestern State, who they essentially swapped on the schedule in place of Nevada, which has won 20 games the past two seasons. In Week 2, the Red Raiders visit Texas State, who Tech beat 50-10 last year. TSU is now in the WAC after going 6-6 at the FCS level last year and losing to its two FBS opponents by a combined score of 95-20. Then Bob Davie's New Mexico Lobos visit Lubbock. The Lobos have won three games combined the past three seasons and they're probably the closest thing to a test in the nonconference for Tech.
2. Miss. State: Dan Mullen's team has to visit LSU and Alabama this fall, and that is a brutal double, but the Bulldogs non-conference sure looks like four Ws. The opener is home against Jackson State, a good SWAC team, but still an FCS program. In Week Three, MSU visits Troy, who was 3-9 last year. Then South Alabama comes to Starkville. At mid-season, Middle Tennessee visits. MTSU was 2-10 last year.
3. Indiana: When you go 1-11, like Kevin Wilson did in his first season with the Hoosiers, you have to be really, really thankful for having a light non-conference schedule. Then again, when you're a 1-11 team, nothing is easy. Still, opening at home against FCS Indiana State, a program IU has beaten by an average margin of 40-3, sounds nice. In Week Two, the Hoosiers go on the road to face new MAC team, UMASS, which was 5-6 at the FCS level in 2011. Then, they get Ball State, which was 6-6 in the MAC last year but some experts are predicting BSU to be at the bottom of its division. The toughest test: in late October, at Navy, after back-to-back games against Michigan State and Ohio State.
4. Colorado: After a 3-10 debut season for Jon Embree, the Buffs hope to build some momentum with three very reasonable non-conference games out of the gate: Against Colorado State (3-9 last season); against FCS Sac State (4-7 last season) and then at Fresno State (4-9 last season).
5. Baylor: The Bears non-conference is much easier because, technically TCU, is now a conference game. Their toughest test is the opener against SMU, which was 8-5 last fall. The other two games are against FCS Sam Houston State, an excellent FCS team, and at ULM, a struggling Sun Belt program. 
6. West Virginia: The Mountaineers conference schedule got a lot tougher by moving from the Big East to the Big 12. The non-conference was the opposite: Out went LSU (and also Norfolk State). In comes JMU. Lowly Maryland, which beat one FBS program in 2011, remains. As does Marshall, which should be improved in 2012. The Thundering Herd were 7-6 last fall.
7. Colorado State: The Rams open with arch-rival CU, which is still in rebuilding mode, before getting a visit from FCS power North Dakota State. A Week Three trip to an improved San Jose State team should be tough as could a visit from a Utah State squad that just went 7-6.
8. Memphis: Justin Fuente's first season with the Tigers includes a schedule clear of any SEC opponents, unlike previous Memphis seasons. Instead, the Tigers open with FCS UT-Martin (5-6 last year). Week 2 means a trip to Arkansas State, which had a great 2011. After that, the Tigers host Middle Tennessee and visit what should be an improved Duke team.
9. UNLV: Facing teams from the Big Ten and the Pac-12 sounds hefty but keep in mind those teams are Minnesota (6-18 the past two seasons) and Washington State (9-40 the past four years). And both of those games are in Vegas, as is the game in between those two, against NAU. In Week Five, the Rebels visit a decent Utah State team.
10. (tie) Georgia: I'm sure you've already heard plenty about how favorable the Dawgs in-conference schedule is, but their non-conference is pretty cushy too. They open with Buffalo, a 3-9 team in the MAC last fall. Two weeks later, FAU, which was the worst team at the FBS level in 2011, comes to Athens. Then, they close against Ga. Southern, a good FCS program and home against a very solid Ga. Tech squad. Only Tech seems like much of a challenge here.
10. (tie) Tennessee: No question that Derek Dooley is on the Hot Seat in 2012, but his Vols have at least what appear to be three easy Ws from the non-conference. They have home games against Ga. State; an Akron team that just went 1-11 and a Troy program coming off a 3-9 season. The opener, in Atlanta, against N.C. State is tricky, though. The Pack was 8-5 in 2011 and does return a good QB in Mike Glennon.
Cristobal's first game at Oregon ended the same way Chip Kelly's did

Conner Manning and the Panthers dominated the Hilltoppers in the Cure Bowl

You can only go to the well so often before it dries up
The Trojans beat LSU earlier in the year and now have their first 11-win season as a FBS t...

Saban has never been a fan of the early signing period and made it clear that hasn't chang...

Paul Tyson is a three-star quarterback prospect for the 2019 recruiting class