Top 10: Toughest non-conference schedules of 2013
Good luck, Oklahoma. The Sooners have the toughest non-conference schedule in college football. The road isn't much easier for SMU, Nevada or Southern Miss as explained in this week's Top 10 list.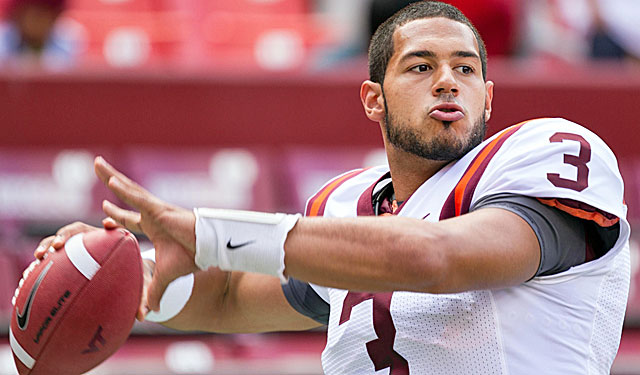 Since we focused on teams with the softest non-conference schedules in college football last week, time to look at those with the toughest. Same drill -- using a formula as my gauge: Factored in are each opponent's projected worth (done on a scale of 1-5) with each getting an additional half-point if it's a road opponent and .25 more if it's at a neutral site.
1. Oklahoma | Index -- 3.83: Louisiana-Monroe, the opener, is probably the easiest of the three games, and the Warhawks are coming off an eight-win season -- they won at Arkansas and almost won at Auburn and against Baylor. ULM also still has its standout QB Kolton Browning. Tulsa won 11 games last season, while the other non-conference game is at Notre Dame, a team that came to Norman last year and beat the Sooners en route to a 12-1 season. Unlike almost every other FBS team in the country, there is no "cupcake" non-conference game for the Sooners in 2013.
2. (tie) SMU | Index -- 3.5: The Mustangs load up on their old SWC foes, opening against Texas Tech then, visiting Texas A&M and TCU later in September. In Week 2, they get a really strong FCS opponent, Montana State, which won 11 games in 2012. Just going 2-2 before joining the new American Athletic Conference seems optimistic.
2. (tie) Nevada | Index -- 3.5: Congrats, Brian Polian. Not only are you following a football coaching legend in Hall of Famer Chris Ault at Nevada, but you take over and get just about as tough a non-conference schedule as there is in 2013. The Pack opens at UCLA before hosting UC Davis. After that, they're back on the road at Florida State. They close against a good BYU team on Nov. 30 led by one of the best players in the country, LB Kyle Van Noy.
2. (tie) Southern Miss | Index -- 3.5: Polian isn't the only new coach to debut against a brutal non-conference slate. Todd Monken takes over an 0-12 team that has three nasty road trips after opening against Texas State. The Golden Eagles have back-to-back visits to Nebraska and Arkansas. Then, after a week off, they go up to Boise State.
5. Virginia Tech | Index -- 3.30: No one has a more ominous opener than the Hokies, who face the two-time defending BCS champion Alabama Crimson Tide at a "neutral" site in the Georgia Dome. After the encounter vs. the Tide, Western Carolina visits Blacksburg. The remaining non-conference slate is at East Carolina (coming off an eight-win season) and then against Marshall.
6. Western Michigan | Index -- 3.25: Young P.J. Fleck's first season is heavy on Big Ten road trips, never as easy proposition for a rebuilding MAC program. WMU opens at Michigan State and later visits Northwestern and Iowa. Winning even one of those road trips would be a major coup. In between is a cupcake game against Nicholls State.
7. California | Index -- 3.17: Coming off a 3-9 season, the Golden Bears will be fortunate to win even two of their three non-conference games -- even though all three are at home. They open against a good Northwestern team before Portland State visits. On Sept. 14, things really get rough when Ohio State visits Berkeley. Combined record of those two visiting teams from the Big Ten: 22-3, and both are expected to be stronger in 2013.
8. Florida | Index -- 3.13: People like to knock the SEC's out-of-conference scheduling, but don't wag the finger at the Gators, who play arch-rival FSU, as always. This season, Florida also has to visit what should be an improved Miami squad. The Gators open against Toledo, which might be the MAC's best team. The other non-conference opponent is a good FCS team, Georgia Southern.
9. Arizona State | Index -- 3.08: The opener is hardly ominous against Sacramento State, and the Sun Devils actually get a few extra days to prepare for their visit from Wisconsin. Then, in early October, they play Notre Dame at Cowboys Stadium.
10. (tie) Clemson | Index -- 2.88: How exactly can a team have a tough non-conference schedule when it has not one but two FCS opponents? Start a season against Georgia and end it at South Carolina, a pair of likely top-10 teams from the SEC that won a combined 23 games last season. The Tigers' two FCS foes are South Carolina State and The Citadel.
10. (tie) Purdue | Index -- 2.88: The Boilermakers open against a solid Cincinnati team, then face an FCS team from Indiana State before hosting Notre Dame. The Boilers' fourth opponent is a Northern Illinois team that also played in a BCS bowl last year and returns standout QB Jordan Lynch. Combined record of those three out of conference FBS opponents in 2012: 36-6.
10. (tie) South Carolina | Index -- 2.88: The Jadeveon Clowney Show opens against a decent North Carolina team the week before it visits Georgia. South Carolina ends the month of September with its second non-conference game, a road trip to UCF, which won 10 games last season. Later in the season, the Gamecocks play FCS Coastal Carolina before finishing against a Clemson team led by star QB Tajh Boyd and primed for a top-10 season after finishing 2012 with a bowl win over LSU.
10. (tie) Virginia | Index -- 2.88: It won't be easy for coach Mike London to regain momentum in Year 4, when his team opens with games against BYU and mighty Oregon in the first two weeks. They get a week off after facing the Ducks before getting FCS Virginia Military. In October, UVA meets a Ball State team that won nine games in 2012. The bright side: at least all four games are in Charlottesville.
Stanford produces apps and Super Bowl participants

The Alabama QB has a new look after the Tide claimed another national title

Young was injured during Miami's Orange Bowl loss to Wisconsin
The movie will zero in on former Penn State coach Joe Paterno during the Jerry Sandusky sc...

Bidding for Salaam's trophy, which the auction house says was obtained legally, ends Satur...

Locksley has been the offensive coordinator at Illinois and Maryland during his coaching c...