Top prospects look sharp but can't top under the radar Greenlee at Las Vegas Elite 11
Top 100 recruits like Christian Hackenberg threw the ball well at Saturday's Elite 11 in Las Vegas but it was under the radar and lightly recruited quarterback Zack Greenlee who ended up taking home MVP honors.
LAS VEGAS -- The 100-plus degree temperature on the field at UNLV reflected the level of competition for the final Elite 11 regional on Saturday. With quarterbacks from 22 states vying for the one of the remaining invites to the final in Southern California, unknowns to top 100 signal callers were looking to leave a lasting impression.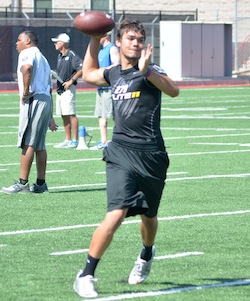 While the players who had already committed looked sharp as expected, it was someone without any offers in Stockton (Calif.) quarterback Zack Greenlee who made the most of his audition by nabbing MVP honors.

"I just wanted to come out here and show the coaches what I can do," Greenlee said. "It took a second to get used to the elements but you just have to stay cool no matter what is happening and make the throws."

With a strong arm and quick drop back, Greenlee made effortless throw after effortless throw all morning. He was one of the most accurate passers at the regional on intermediate routes and showed nice touch on deep balls that had coaches praising almost every throw. He made it to the final group at the Bay Area regional throwing much the same way but it was clear that Greenlee came into Vegas with a plan to get the golden ticket and succeeded.

"The coaches love the guys that compete so I came out here and did the best that I could and competed with every rep," he said. "I also tried to stay consistent all day."

The 6-foot-2, 190-pounder looked sharpest when going through the two minute drill at the end of the camp, hitting all of his targets in the hands including a nice final throw to the back of the end zone for a touchdown. Staying cool under fire is nothing new for Greenlee, who actually felt more comfortable running through what coaches dubbed the 'pressure cooker' than he did during some early drills.

"I like to stay poised and calm in the pocket because in football, stuff breaks down all the time," he said. "You just have to stay calm and make all the throws in the pocket."

Despite going head-to-head with some of the best quarterbacks in the country over the past two months and beating them out for an invite, interest from colleges has not picked up and translated into offers. Greenlee is hopeful that eventually coaches will come around on him as a recruit, especially when he makes it out to throw for them in person.

"I'm just trying to make it to camps and show these coaches that I can do it," said Greenlee. "I'm going to be at San Jose State and Fresno State pretty soon for one day camps and try and show the coaches I've gotten better and stronger. Whoever else I hear from, I'm just going to try and make it out to their camp."

Ideally the Lincoln High quarterback would like to stay out West but is willing to go across the country if he finds the right fit in a school. Because he's improved noticeably over the spring and summer, a big summer year could result in increased attention as some programs evaluate based on senior year film.

"Definitely," he said. "I'm going to keep working with my receivers and get better to have a great senior year. It's shaping up well."

What happens in Vegas may stay in Vegas but for Greenlee, he can start sending his film out with 'Elite 11 quarterback' stamped on it to let everyone know what he accomplished at the regional.

Hackenberg makes the most of the trip out West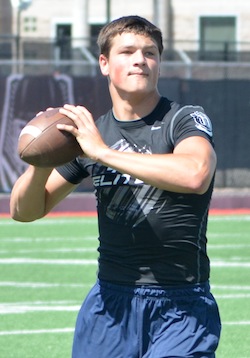 The highest ranked player in attendance at the regional was Fork Union (Va.) quarterback Christian Hackenberg and he certainly lived up to expectations despite falling just short of earning MVP honors.

"It felt pretty good," Hackenberg said. "I wanted to keep competing and to finish. Ultimately I think I did. I had a really good, consistent day but it got a little rough there at the end. I just need to work on my finish."

A big pro-style prospect at 6-foot-4, 215-pounds, Hackenberg ran through drills looking sharp and threw a nice ball during routes on air. Nestled in the middle of the top group surrounded by fellow quarterbacks who had made commitments was exactly where he wanted to be as he made the most of his trip to Sin City.

"The competition part is awesome. Just me being who I am - I'm a three sport athlete - I don't shy away from competition in any way shape or form," said Hackenberg. "I love it and eat it up. Today was a great opportunity to come out and compete."

Ranked No. 64 overall in the class of 2013, Hackenberg hasn't hit the camp circuit very hard this spring or summer with other sports like baseball taking up most of his time. The change to throw for over two hours despite the hot conditions seemed to be just what he was looking to do as the football schedule starts to pick up.

"This is really the first thing I've done all summer," he said. "Next week I have the Rivals Five-Star Challenge down in Atlanta. I just want to continue to get better and play a little baseball in between. I want to continue to work at my fundamentals and tweak things here and there. Ultimately I just want to have fun."

One of the first commitments in Penn State's recruiting class, there's little doubt that signal-caller is one of the big pieces for Bill O'Brien and his new staff in Happy Valley. Despite the Jerry Sandusky trial occupying most of the headlines regarding the Nittany Lions the past few weeks it has been players like Hackenberg that have looked at the positives the program offers as it moves forward over the coming years.

"All of the guys that decided to come up to Penn State took on a challenge and I'm happy they made that decision," he said. "We're going to do something pretty special up there after everything that happened. Even being up there now, you really can't tell that anything happened after that whole scandal and everything. Everybody's moved on and are ready to win football games."

O'Brien in particular was a big influence in Hackenberg committing to Penn State early. Given the lack of success quarterbacks have had the past few years in the program, the Virginia native is hoping to slot right in and contribute early while working closely with the first year head coach.

"It was really how personable he was and the fact that I get to work with him everyday," Hackenberg said of O'Brien's role in his commitment. "You really can't do that down in Alabama, Coach (Nick) Saban doesn't really do that. Pretty much no one else in the country has the head coach working one-on-one with the quarterbacks. It's just a great opportunity for me from that standpoint and then all his knowledge, he has a great knowledge base in the offensive game. I'm not saying everyone else didn't but he really sold me on it and I feel I fit really well in his system."

Tutoring Tom Brady to a few record-setting seasons with the New England Patriots also didn't hurt the pitch O'Brien gave either.

"It's another plus," Hackenberg said with a smile.

McLeod competes with the best of them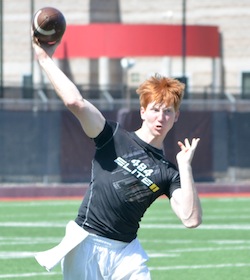 Marietta (Ga.) quarterback Parker McLeod is easy to spot on the football field because of his red hair and the way the ball just jumps off his hand while throwing. No stranger to the Nike/Elite 11 camps, he turned in a solid performance on Saturday but was hard on himself for a few missed throws that cost him a chance for a finals invite.

"I wasn't too pleased with how I did but it was fun going against some good competition," McLeod said. "I think it's fun to see how I stack up. I'm a competitor and every chance I get I love to do it."

The 6-foot-2, 190-pounder is still developing as a quarterback and his underlying skill set has his coaches in high school and in his future coaches in college excited about what he can become. With a quick release and good footwork, it's not the fundamentals McLeod is trying to work on but the intangibles off the field he's trying to hone in on right now.

"You have to be really fierce," he said. "I'm kind of quiet in nature but I think I've learned how to compete against other guys and be more outgoing and stuff like that."

Eight days before the Elite 11, McLeod made his commitment to Alabama and it is easy to pick up on how excited about the Crimson Tide he is when asked about the program.

"I loved everything about it. I love the program and how coach Saban runs things," said McLeod. "I think the offense is very fitting for my abilities and similar to what we do in high school so it should be a good transition. I also just love Tuscaloosa."

The tough part about making the pledge was not calling other coaches to tell them he wasn't coming but breaking the news to his mother, an Auburn graduate. While she knew it might be a possibility once the Alabama staff started recruiting McLeod - and by extension her - it certainly didn't make the process of a commitment any easier.

"Yeah," he said with a laugh, "she didn't really give them the benefit of the doubt. She always loved Auburn and wasn't too sure about it at first. But once she got over there, she really like it too and she's comfortable with my decision."

Crimson Tide coaches made it clear to McLeod that the program would be taking two quarterbacks this class and as a result he is the second pledge at the position along with Salt Lake City (Utah) quarterback and top 100 recruit Cooper Bateman. While some players might shy away from going to a school taking two signal-callers, the staff made it clear that McLeod was still one of their top choices and he'd be given an equal shot at starting down the road.

"They had been talking to me for a while, since last fall," he said. "Coach (Doug) Nussmeier came to see me in the spring and really loved me. I called him that night and he said he really wanted to see me in camp. The next day they got a commitment from Cooper (Bateman) and I was kind of disappointed about that. Then we started talking and said they were going to take two and still wanted me to come to camp.

"A week after that Coach Saban offered me and wanted me to come to camp. I threw for them and they just really loved me and wanted me to be their second quarterback."

McLeod had good things to say about Bateman and has talked with him off and on over the past couple of weeks. Both play the game with a similar style and appear to be a good fit as the offense takes a new offensive identity under a new coordinator.

"I think it's very similar to what their last offensive coordinator did but (Nussmeier) will open things up a little bit more," McLeod said. "I think they're going to stretch the field a little more vertically in the passing game so it should be fun."

After commitment, Williams still comes out to impress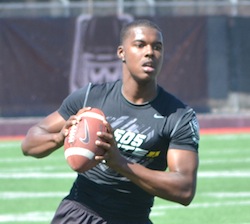 Harbor City (Calif.) quarterback Troy Williams recently made his commitment to Washington so it would have been just fine if he had skipped the Elite 11 regional and stayed in the cooler weather of Southern California. A dual-threat player that wasn't as adept at dropping back five or seven steps, the talented QB still managed to impress with some nice passing that resulted in him making the final group

"It was alright," Williams said. "I was out here having fun and getting good competition. We all know each other well from other camps and stuff so it's real fun to hook up with these guys and have fun and compete."

Down to Arizona and UCLA among others, a late unofficial visit to Seattle to see Washington and meet with the staff seemed to be key in making a decision in the middle of the summer for Williams.

"I just had a great time up there when I went to visit," he said. "I had a great time with Coach (Steve Sarkisian) and the whole coaching staff. Also the players I knew before going up there, players that I grew up with and went to my school. It feels just like being at home."

The Huskies signed quarterbacks Cyler Miles and Jeff Lindquist with their last class but their spot on the depth chart didn't seem to sway Williams away from committing to the program.

"Not at all, it's just like the competition out here today," Williams said. "You just have to go out there and show everybody who is the best."

Williams picked up a nice weapon earlier in the day after Oakley (Calif.) wide receiver Darrell Daniels committed to Washington via Twitter. The quarterback was already recruiting the wideout before he made his pledge so being told of it added to a very good day in the desert.

"I have to congratulate him," Williams said excitedly. "I was talking to him the other day about committing and he told me he was going to go down there this weekend. I guess he pulled the trigger."

Quarterbacks tend to be one of the program's top recruiters that don't have coach preceding their name and Williams expects to fill that role for the Huskies over the coming months. Already working on a few of his fellow 7-on-7 teammates, the signal-caller is also trying to bring one of his favorite targets into the class as well.

"I just talked to Xavier Shepard from Lakewood (Calif.), he's actually my cousin," Williams said. "He lives down the street from me and said he'd come with me the next time I go up. I'll probably go the 27th or 28th when they have their little camp. I'll let the coaches see him and hopefully he gets a scholarship from them."

Williams still has plenty more to do this summer as the quarterback of Keyshawn Johnson's 1925 All-Star team. Among the notable competitions they'll head to is the IMG championships in Bradenton, Fla. at the end of the month.

Notes

- Christian Hackenberg also earned an invite to 'The Opening' next month.

- Purdue commit Danny Etling, Texas Tech pledge Davis Webb, Rutgers commit Chris Laviano, Newport (Wash.) quarterback Isaac Dotson, Los Angeles (Calif.) quarterback Jihad Vercher, Maryland commit Shane Cockerille, Greenlee, Hackenberg, McLeod and Williams were the finalists put through the paces of the two minute drill.

- One of the golden gun award winners was Sherman Oaks (Calif.) quarterback Kelly Hilinski. At 6-foot-6 he's always easy to spot and threw well for most of the day. He pressed at times and that might be why he wasn't named a finalist but he's still had a good few weeks after being named MVP of the Oregon Nike Camp. With the quarterback dominoes falling, he's been seeing a lot more interest from schools and will hit the road to camp at Harvard next week. He's still trying to commit by the summer and said several Ivy League schools, Duke, Arkansas and Florida were recruiting him.

"It's great to compare yourself against the top quarterbacks in the nation and it was great to go up head-to-head and show that I really belong out here and that I compete," Hilinski said after the Elite 11. "That doesn't bring them down at all, they're amazing quarterbacks, but it just shows I can compete and it's a great feeling coming out here."

- Among the notable underclassmen at the event were 2014 quarterback Brandon Dawkins, who could really spin it and was accurate. Fellow rising junior Christian Chapman was one of the other sharp passers at the event and will camp at BYU, Stanford and USC over the coming weeks along with several 7-on-7 tournaments. Chapman was more accurate on Saturday but Dawkins looked and threw the part of a quarterback that had offers from Notre Dame and Utah already.


Everything you need to know to watch and pick the Las Vegas Bowl on Saturday

Everything you need to know to watch and pick the Camellia Bowl on Dec. 16

Everything you need to know to watch and pick the New Mexico Bowl on Dec. 16
Everything you need to know to watch and pick the Cure Bowl on Saturday

Everything you need to know to watch and pick the New Orleans Bowl on Dec. 16

Bowl games are unpredictable, which means teams need to be on upset alert