Top Recruiters: An Overview
Georgia's Bryan McClendon edged USC's Tee Martin for the No. 1 spot in the 247Sports national recruiter rankings for the 2014 cycle, but there were other big efforts, including one ACC assistant who may not be done and an SEC assistant who had a hand in 17 signees.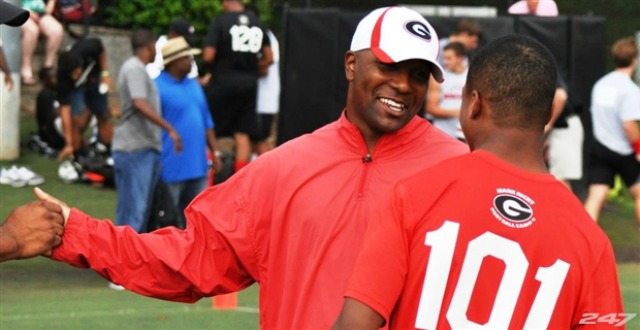 Georgia running backs coach Bryan McClendon finished No. 1 nationally in the 247Sports recruiter rankings for the 2014 cycle and was the National Recruiter of the Year. But he wasn't the only recruiter that had a great run. There are other assistants who were outstanding in 2014 (including one who may not be done just yet) and some who are making early noise for the 2015 cycle.
Here's a quick glance...
Class of 2014: Top-ranked by conference (AQ)
ACC -- Tim Brewster, Florida State: The Noles' recruiting coordinator and former Minnesota head coach had a hand in seven pledges for the Noles and was the primary for five-star running back Dalvin Cook (Miami, Fla./Central) and five-star receiver Ermon Lane (Homestead, Fla.) -- both of whom flipped from rival Florida. Brewster still may not be done, as five-star defensive end Mailk McDowell (Southfield, Mich.) still has not signed a letter-of-intent with Michigan State, where he verbally committed. The Seminoles are in the thick of things and have some support within McDowell's family and very well could land him when all is said and done (Ohio State and Michigan also are in the mix), which would make Brewster's haul even more impressive.?
Big Ten -- Mike Locksley, Maryland: Locksley had the best individual effort in the Terps' new league, playing a part in seven verbal commits, including five-star offensive lineman Damian Prince (District Heights, Md./Bishop McNamara) and U.S. Army All-American defensive end Jesse Aniebonam (Olney, Md./Good Counsel). Locksley, Maryland's offensive coordinator, is one of the best in the country at landing DC-area talent, which is good news for Terps fans as the metro area figures to be a huge Big Ten battleground with Larry Johnson now at Ohio State and former Maryland assistant James Franklin leading the Penn State program.
Big 12 -- Kendal Briles, Baylor: There is a strong argument to be made that the Bears signed the best class of receivers in the country in 2014 -- and Briles, Baylor's recruiting coordinator, was the primary recruiter of record for the headliners, including KD Cannon (Mount Pleasant, Texas), Davion Hall (Texarkana, Texas/Liberty-Eylau) and Ishmael Zamora (Houston, Texas/Alief Elsik). Briles, the son of Baylor head coach Art Briles, is one of the best in the country at early identification of elite talent. The Bears annually are the first scholarship offers of many for the best in the state of Texas.
Pac-12 -- Tee Martin, USC: The Trojans finished the 2014 cycle with a bang -- sweeping the "Los Angeles Three" -- cornerback Adoree' Jackson (Gardena, Calif./Serra), safety/athlete John "JuJu" Smith (Long Beach, Calif./Poly) and offensive lineman Damien Mama (Bellflower, Calif./St. John Bosco). Martin was the primary recruiter of record for all three and finished No. 2 nationally behind McClendon in the national recruiter rankings. No single recruiter had as big of a national signing day as Martin.
SEC -- McClendon: Landing five-star defensive end Lorenzo Carter (Norcross, Ga.) on signing day pushed McClendon to the No. 1 spot. He was in contention the entire cycle, however, as the primary recruiter for both of Georgia's five-star running back signees- Nick Chubb (Cedartown, Ga.) and Sony Michel (Fort Lauderdale, Fla./American Heritage). He also landed four-star receiver Isaiah McKenzie, Michel's teammate, on signing day without McKenzie making an official visit and two more Florida four-stars- defensive end Keyon Brown (Wauchula/Hardee) and offensive guard Isaiah Wynn (St. Petersburg/Lakewood).
Class of 2014: Top 10 nationally
Seven of the top 10 2014 classes were from SEC programs, so it only stands to reason that coaches from that league dominated the top 10 in the recruiter rankings at the same pace.
1. McClendon (84.18 points): Two five-star running backs and Carter on signing day sealed the deal for McClendon.
2. Martin (83.28): Martin had the best single signing day of any recruiter -- landing three highly-regarded prospects, including two five stars and a high four star, for USC.
3. Kirby Smart, Alabama (82.36): Smart was the recruiter of record for top outside linebacker Rashaan Evans (Auburn, Ala.), who surprisingly picked the Tide over Auburn on signing day.
4. Frank Wilson, LSU (81.30): Wilson was the recruiter of record for the No. 1 overall prospect -- running back Leonard Fournette (New Orleans, La./St. Augustine).
5. Billy Napier, Alabama (81.27): Napier led the Tide's charge in northern Louisiana this cycle -- No. 1 offensive tackle Cameron Robinson (West Monroe, La.) was a huge get.
6. Corey Raymond, LSU (79.82): Raymond landed elite safeties Jamal Adams and Edward Paris out of Texas and swiped elite defensive tackle Travonte Valentine (Miami, Fla./Champagnat Catholic) out of south Florida late.
7. Brewster (78.91): Brewster's run may not be over as McDowell looms, but Cook and Lane were both impressive gets.
8. Chip West, Virginia (78.12): West topped the ACC for a good chunk of the cycle- he landed No. 1 safety Quin Blanding (Virginia Beach, Va./Bayside), No. 1 defensive tackle Andrew Brown (Chesapeake, Va./Oscar Smith) and four-star receiver Jamil Kamara (Virginia Beach, Va./Bishop Sullivan Catholic) for the Cavaliers, who went 2-10 last season.
9. Dameyune Craig, Auburn (77.96): The man responsible for recruiting Jameis Winston to Florida State (he was an assistant there until this season) continued his recruiting prowess at his alma mater -- the nation's top junior college prospect, receiver D'haquille Williams (Mississippi Gulf Coast College) and five-star linebacker Tre' Williams (Mobile, Ala./St. Paul) were among his gets.
10. Tommy Thigpen, Tennessee (74.76): Thigpen was involved as either the primary or secondary recruiter with a whopping 17 prospects in the Vols' class. One of his biggest gets- warding off Florida State, Georgia and Clemson for in-state receiver Josh Malone (Gallatin, Tenn./Station Camp), who could make an impact this coming season.
Class of 2015: Early Top five
It's never too early to start looking at which recruiters have the early makings of a solid run in the current cycle. Here's a look at the top five nationally according to Class of 2015 247Sports recruiter rankings.
1. B.J. Anderson, Texas A&M: Five-star defensive tackle Daylon Mack (Gladewater, Texas) is the top commit thus far for the Aggies' offensive line coach.
2. Smart: A Georgia native, Smart is always active in the Peach State. Defensive end Mekhi Brown of Columbus Carver leads four early Georgia pledges for the Tide's defensive coordinator.
3. JaJuan Seider, West Virginia: Four-star safety Kendrell McFadden (Hollywood, Fla./MacArthur) is one of three early south Florida commits for the Mountaineers running backs coach.
4. Barry Lunney, Jr., Arkansas: The former Razorbacks quarterback (and current tight ends coach) has three big-time in-state commits, including four-star quarterback Ty Storey (Charleston, Ark.).
5. Burton Burns, Alabama: Burns has been making some noise in east Texas for the Tide of late. Four-star safety Deionte Thompson (Orange, Texas/West Orange Stark) is the headlining commit thus far for Burns this cycle.
Locksley has been the offensive coordinator at Illinois and Maryland during his coaching c...

Bidding for Salaam's trophy, which the auction house says was obtained legally, ends Satur...

Many NFL-eligible juniors ignore advice provided by the league and risk going undrafted each...
Snyder died in Manhattan, Kansas, on Wednesday

Locksley joined Alabama's staff in 2016

Saban reportedly wants to hire Freeze, but there may be things keeping that from happening