Top ticket for first playoff $650; believed to be most expensive ever
The College Football Playoff is still in the process of pricing its new toy but this much is known -- the top ticket for the first championship game will go for $650 at AT&T Stadium in Arlington, Texas.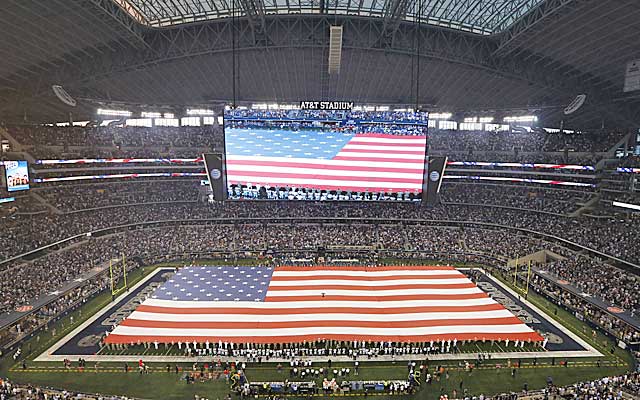 How much would you pay to watch the first College Football Playoff championship game?
Try $650 for club seats in AT&T Stadium. Try what is believed to be the highest-priced face-value ticket in the sport's history.
While CFP championship game ticket pricing has been out there for a while it's not widely known. And there are qualifiers.
The $650 price for the CFP championship game on Jan. 12 is only for the stadium's 15,000 high-end club seats. The general seating in the 80,000-seat stadium is $450. Student seating and standing room is $200. The participating schools will each receive approximately 20,000 seats for the game. Last year's final BCS championship game tickets topped off at $385.
"The price is a bargain for the most important, most talked-about, most in-demand college game of the season," CFP executive director Bill Hancock said in an email, "arguably the most compelling game ever."
CFP officials have said all along that the playoff will produce -- and be conducted with -- a Super Bowl-like atmosphere. Perhaps, but not in regard to tickets. Those top-end CFP tickets will be a quarter the price of February's Super Bowl at Met Life Stadium in February. Club-level seats topped off at $2,600 (approximately 9,000 seats) but the next tier of seats went for $1,500. Low-end seats were priced at $500.
Ticket prices for the semifinal games at the Rose Bowl and Super Dome (New Orleans) have not been set. Each participating team will receive 12,500 tickets. Hancock said the maximum price for those tickets will not exceed $175. Including in that 12,500 allotment there will be 500 student tickets available for each semifinal at $75.
As far as being the highest-priced ever, we've come a long way. The first BCS championship game tickets in 1999 went for less than $200. The original Super Bowl ticket in 1967 averaged $12.
CFP officials already have admitted there are concerns about selling out the semifinals. Fans will have to make financial decisions about attending a conference championship game, national semifinal and championship game.  
Some players are more easily replaced than others

The 2017 season is in the books, and several big-name stars are jumping early to the NFL

Love was second in the nation in rushing with 2,118 yards in 2017
It looks like Jennings is slowly making his way back to the Vols after being dismissed last...

Offensive coordinator Brian Daboll's departure to the NFL has left a void at Alabama

Wilkins was considered a potential first-round pick in the NFL Draft