Tough guy Carr hoping to follow brother into the first round
Fresno State QB Derek Carr has already shown he can live up to his big brother David's legacy with the Bulldogs. Now that the younger Carr is finally healthy Derek expects to do some really big things for FSU thanks to some very sage advice from big brother.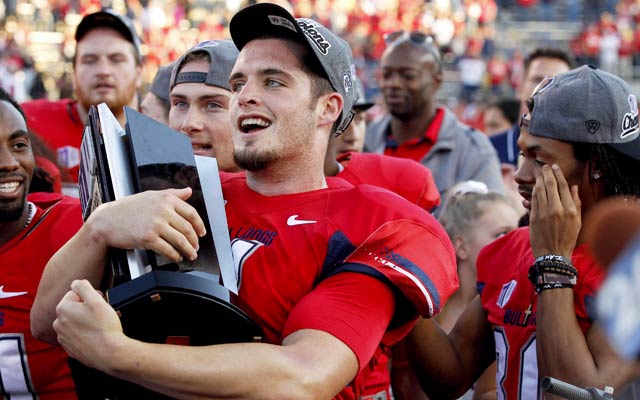 LAS VEGAS -- As a little kid, Derek Carr learned a lot about being a quarterback from his big brother David. He is 12 years younger than David, but says he remembers "everything" from his brother's playing career. Listen to Derek, now the starting QB at his big brother's alma mater, Fresno State, and it doesn't take long to realize he's still David's biggest fan.
"Knowing what I know about football now and looking at his film, he's just as talented as Peyton Manning and Tom Brady," said the younger Carr of David, the first overall pick in the 2002 NFL Draft, "but it's harder to throw the ball when you're on your back. He had a rough deal [as a young starter with the Houston Texans, where he was sacked 249 times in 76 games], but he never complained or pointed the finger at anybody. And that says a lot about his character."
Folks inside the Fresno State program rave about Derek's character, too. His coach, Tim DeRuyter, is also a big believer in the 6-2, 215-pounder's skills. The former Texas A&M defensive coordinator says Carr's arm and athleticism is every bit as good as Dolphins first-rounder Ryan Tannehill's. The only noticeable difference is the former Aggie is probably an inch or two taller.
In 2012, Carr threw for over 4,100 yards and 37 TDs while leading the Bulldogs to a share of the Mountain West title. Oh, and he did so all while playing the entire season with a torn abdominal muscle. The only ones who knew about it though at Fresno were the Bulldogs coaches, trainers and his wife. Carr didn't want his teammates to know because he didn't want it to be a distraction. Sneezing was excruciating as was every hit he took. Throwing a football wasn't easy either. Also, he said when teams blitzed him last season he struggled to swerve out of trouble due to his injury and was limited in the QB run game and on play-action. Yet he still managed to put together a record-setting season and won MWC Offensive Player of the Year honors.
After undergoing surgery, Carr's healthy again and one of his big goals for this season is staying healthy for all of 2013. That, another MWC title and becoming the first quarterback taken in the draft. "That's been my goal since I was a little kid," Carr said at Mountain West media day Monday.
As for the comparisons to his older brother, the younger Carr, who said he clocked a 4.56 40 last year, is faster than David, who is now a backup to Eli Manning with the Giants. "But he's stronger than I am."
Best advice his big brother ever gave him?
"'Don't be an idiot,'" he said. "To us, that means so many different things. On the football field, it means don't make stupid throws. Have a reason. Off the field, it's really self-explanatory. Just be a good citizen."
Anything else?
"He also told me, 'Be Bruce Wayne, but be Batman when the play makes you put the cape on.' Being Bruce Wayne means be boring. Take the easy hitch, the easy throw. Until you have to put the cape on and then go make that 80-yard throw.
"When I was little he told me I tried to be Batman every play and do something like I was a super hero. He said, 'That's not how you play the position.' It's really helped me to make smarter decisions."
The Tide, as usual, are dominating everything already

Jim McElwain won't rule out Luke Del Rio, Feleipe Franks or Malik Zaire as the starter

The three rule changes for 2017 are focused on player safety
There are new names to learn every season, and here are five to keep an eye on from the Big...

Can the Big Ten produce a champion capable of scoring points in the College Football Playoff...

Taking a close, detailed and opinionated look at the Big Ten a week before the start of the...