Tracking Jarrett Guarantano: What is the Tennessee QB's ceiling?
.
Will Jarrett Guarantano be a difference-maker for the Vols this season?
Jeremy Pruitt praised his quarterback's leadership qualities last fall, but wanted to see one primary area of improvement during the spring and especially this month as the Vols battle through fall camp — consistency.
The fourth-year junior took a pounding last season and rarely played from a clean pocket, dancing around SEC pass rushers throughout a 5-7 finish. At times, Guarantano was gun shy and knowing this, defenses would back off the line of scrimmage and keep everything underneath.
Pruitt has grown close to his quarterback during his short tenure in Knoxville and called him a "gym rat" with a great work ethic earlier this summer. What is priority No. 1 for Guarantano as the Vols try and exceed outside expectations this fall?
"He has instincts as a player and a lot of talent," Pruitt said thing spring. "He's a good athlete. So he's working on the thing that all players do, consistency."
The ceiling for Guarantano under new OC Jim Chaney's offensive system is limitless if Tennessee's offensive front can get through the season injury-free.
Reddit user and Vols fan Marshall Stephens charted every throw from Guarantano's sophomore season, a comprehensive look at his passing chart with varying levels of success. Broken into nine categories from completions, to miscommunications to poorly thrown passes, the in-depth data revealed Guarantano's strengths and weaknesses behind an offensive line that largely under-performed.
Like most starting quarterbacks in the SEC, Guarantano was terrific near the line of scrimmage. You can view all of his passing charts here, but the common theme is that he was most comfortable on short routes and began his struggles with inconsistency at the second level and when throwing into the teeth of the secondary.
On the graphic below, the columns — from left to right — represent the following throws: 0 yards, 0-4 yards, 5-9 yards, 10-14 yards, 15-19 yards, 20-24 yards, 25-29 yards, 30-34 yards, 35-39 yards, 40-plus yards and the grand total.
Stephens tells 247Sports, "the throw distance is from the LOS to the spot where the ball was caught. I didn't include any yards after reception in the data, because I didn't want to skew the numbers with receivers' abilities."
The low-risk, relatively easy throws were simple for Guaratano: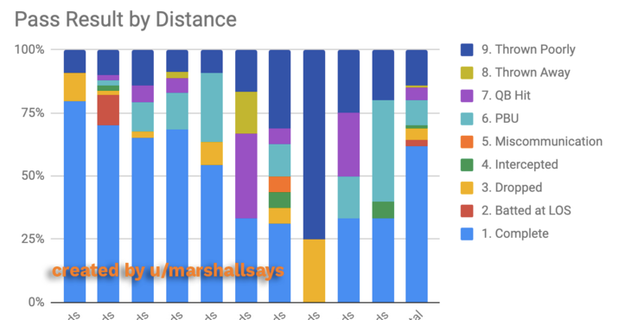 His completion percentage of 64.6 on third down helped keep the Vols on the field, but Tennessee's struggles in the run game decimated drives and led to a last-place finish in the SEC in total offense for the second straight season.
More data — Guarantano completed 130 passes from 0 to 14 yards. Past the sticks, spanning 15 yards or more however, Guarantano managed just 22 completions. The lack of big plays in the passing game was noticeable.
Pruitt tapped Chaney to reverse fortunes through the air and help the Vols find some semblance of a rushing attack.
At SEC media days, Guarantano said he expects to have "full control" of the Tennessee offense on the field this fall. Jake Fromm had it in Athens last fall and Chaney feels Guarantano has reached a level of confidence within the scheme needed to find success.
"It's a lot — it's a lot different," Guarantano said of the improved offense in Hoover. "I think Coach Chaney really trusts me with the offense, and I think — well, I don't think, I know — that he has me really calling protections. He has me calling plays, calling my own plays at the line.
"Just meeting with him every day, I get a feel for what he wants and I get a feel for what I really like to do. He's given me a lot of different things that I'm very happy that I get to take on."
Guarantano didn't have the ability to freelance — so to speak — as a sophomore, an element that should benefit the Vols in 2019.
"He can change plays at the line of scrimmage, and he can get us in the right protections," Pruitt said. "But the most important thing is Jarrett has the respect of his teammates and his coaching staff. And he's been a fantastic leader for us over the last six months or eight months as we started this offseason and works out about his future."
Guarantano is one of several SEC quarterbacks vying for the No. 3 spot within the league behind the likes of Fromm and Tua Tagovailoa. Few enjoyed his 4:1 touchdown to interception ratio last fall, but Tennessee's passing game didn't strike fear in opponents the way they had hoped.
With the return of Marquez Callaway, Jauan Jennings and Josh Palmer, Guarantano has the weapons around him to be a premiere passer in a new scheme should his development continue and the Tennessee offense matures into a downfield threat.
CBS Sports HQ Daily Newsletter
Get the best highlights and stories - yeah, just the good stuff handpicked by our team to start your day.
Please check the opt-in box to acknowledge that you would like to subscribe.
Thanks for signing up!
Keep an eye on your inbox for the latest sports news.
Sorry!
There was an error processing your subscription.
Ohio State's former star is taking a leadership role attempting to pass name, image and likeness...

Day led the Buckeyes to the College Football Playoff in his first full season at the helm

With more than 80,000 confirmed cases around the world, Michigan has opted to cancel its yearly...
Faulk has been on the LSU staff since 2018 and previously served as the director of player...

Cochran has been one of the staples of the Alabama staff under coach Nick Saban

Dorrell served a Colorado assistant for six seasons back in the 1990s
CBS Sports was with you all day covering National Signing Day as the Class of 2020 wrapped...

Complete analysis, highlights and coverage of the 2020 College Football Playoff National Championship

Live scores, highlights and updates from the Miami (OH) vs. Louisiana football game