Trials at Ohio State fueling Houston's resurgence under Tom Herman
Tom Herman's success and decision making at Ohio State led to his first head coaching job at Houston. The Cougars are now rolling almost entirely due to their new leader, explains CBS Sports senior columnist Dennis Dodd.
HOUSTON -- A smile crosses Tom Herman's face. Houston's coach gets the irony regarding his third-string quarterback.
Shortly after arriving from Trinity Valley Community College, Cougars quarterback Kyle Postma went from backing up starter Greg Ward Jr. and graduate transfer Adam Schulz to moving to wide receiver.
Four days after making the switch, Postma caught four balls for 82 yards in Houston's season opener against Tennessee Tech. Herman, the man largely responsible for Ohio State's 2014 quarterback magic, suddenly had the mini-me version of Braxton Miller.
A deposed quarterback who agreed to a position switch."We were thin at wideout," explained Herman, the Cougars' rookie coach. "Kyle was a really good athlete, a 10-foot broad jumper with decent size and strength.
"He doesn't have a redshirt year, so I thought, 'Why do we have this kid standing on the sidelines holding a clipboard when he can probably helps us at backup X receiver?'"
Herman has earned his way to being paid handsomely for such decisions. Ten years ago, he was at Texas State making $40,000. Two years ago, as Ohio State's offensive coordinator, he was still paying off student loans.
Now 3-0 in his first season as a head coach, Herman continues to be a cerebral and offensive wizard. That's why he was hired following that Ohio State national championship. It was his coaching -- on and off the field -- that allowed Cardale Jones to vault from third-string nobody to national title-winning signal-caller. That was after J.T. Barrett, a reserve behind Miller, was named the Big Ten's Offensive Player of the Year.
Herman still regularly texts his former Buckeyes.
"All the time," he said. "My wife … calls Cardale, 'Dale' or 'Cheeks.' …
"We've got great relationships. The neat thing about mine and J.T.'s and Cardale's relationship, out of 1,000 people that talk to him, 999 of them want to talk about the quarterback situation at Ohio State. When I call, I say, 'How's your mom and dad? Cardale, how's Chloe, your daughter? How's school going?'"
Along with Florida's Jim McElwain, Herman is the only undefeated first-year coach heading into October. Houston is receiving votes in both polls for the first time since 2011 and is considered a Golden Ticket favorite -- best of the Group of Five -- for a New Year's Six bowl.
The coach agrees that some of those poll votes are as much a product of his rep as the accomplishments of his new team.
"He changed the culture of our football program," Houston athletic director Hunter Yurachek said. "That started to stretch across our campus. And now it's starting to stretch over the city of Houston."
It wasn't so much that Houston chose Herman, rather the other way around. Herman, 40, had deep Texas roots and figured he could continue mining the potential that Kevin Sumlin had unlocked from 2008-11.
"It wasn't Sumlin who made the decision to make the budget the way it was," Herman corrected. "It wasn't Sumlin who made the decision to build the stadium and all that stuff. There's got to be something beyond that to make it what it is."
Herman tapped into that passion, labeling his coaching administration the "H-Town Takeover." He has thrown out the first pitch at an Astros game (an 0-2 slider, he called it). Rapper Drake paid a visit to the campus for a celebrity softball game.
A sign bearing the name of every Houston student accompanies the team on road trips. That included the Sept. 12 upset of Louisville.
"I know Louisville is 0-3. You can say what you want," Herman said. "That's a top 10 defense. We went into their house and scored 34 points."
A youthful staff, with a combined 126 years recruiting experience in Texas, has a social media directive from Herman. Be on it -- a lot. There's where current and future recruits hang out.
Herman has taken a program that had stagnated under Tony Levine to one that is top 10 in both rushing defense and offense. Ward is tied for the conference lead in touchdown passes (eight) and is the most accurate passer in the AAC at 75.3 percent.
Contrary to Yurachek's statement, Herman said he could "walk through the Galleria in a Speedo" and not be recognized when he first arrived at the school. It's a bit different now. Herman revels in going to high school games to recruit on Friday nights where there are 28-minute halftimes, just because.
"I was a communications major in college," Herman said. "That probably always helps. When people are genuine and feel like they can talk to you, it can only help."
His office is decorated with memorabilia from last season's national championship. One framed picture shows the recent quarterback lineage together before game. It is signed by Kenny Guiton (now a Houston grad assistant), Barrett, Jones and Miller.
There is also a framed reminder of Iowa State's 28-21 upset at Texas in 2010. Cyclones coach Paul Rhoads signed the keepsake for his former offensive coordinator.
Herman keeps that piece hidden, though, from his offensive coordinator, former Texas quarterback Major Applewhite.
Like Miller, Postma's position switch was conducted in virtual secrecy -- for different reasons. In the Houston sports landscape, few paid attention as Postma emerged as the Cougars' leader in yards per catch (24.2). (He has since moved back to quarterback due to an injury.)
Meanwhile, Miller's plight was a daily story at Ohio State. He reportedly bought into the switch from quarterback in May when his throwing shoulder hadn't sufficiently healed from two labrum surgeries.
"I had no say, no real knowledge other than I knew for Braxton to be a real player in [the quarterback battle] that the shoulder was going to have to get better and get better a hurry," Herman said. "To say that you're a quarterback and have gone through two surgeries on your throwing labrum, to me that would have taken a minor miracle for him to do any real damage in that race.
"Obviously, I think he prolonged his pro career exponentially."
Similarities between the Buckeyes and Cougars are few. Ohio State operates with one of the biggest athletic budgets in the country. Houston has been labeled a commuter school resting in the city's Third Ward area.
As much Texas talent as there is -- Herman's first class was ranked 91st by 247Sports -- this is still life below college football's Mendoza Line.
Left guard Ben Dew went down last week, leaving the Cougars with seven healthy offensive linemen. As the coach pointed out, there's not an eighth waiting in the wings.
"If Texas or Ohio State or Alabama sign 25 guys, 23 of them are probably going to pan out," Herman said. "At Houston, you're taking a little more risk and chance in recruiting. You're trying to project some guys and diamond-in-the-rough type of guys. There's this big void between your ones and your twos."
The 1,200 miles between Houston and Ohio State make the Buckeyes grow increasingly distant for Herman.
"It's not, 'Who's going to start?' and 'Who's playing better?' [anymore]," Herman said of the fishbowl in Columbus. "I don't care. It doesn't matter to me. I want to see both those guys be successful off the field. The one the field stuff, that's not my department anymore."
But on Labor Day night, the coach couldn't help watching Miller and his now famous spin move against Virginia Tech.
"If that's not an NFL receiver's body," Herman said, "I don't know what is."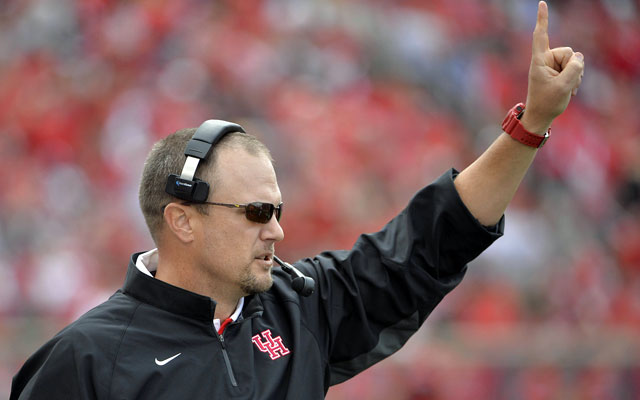 Barrett Sallee is 12-6 on his best bets and says Oklahoma State will prevail this week

Let's pay some respect to a couple of overlooked teams in this week's college football ran...

Jones has been with the program since its inception for the 2009 season
SportsLine's computer model simulated every Week 13 rivalry weekend game 10,000 times with...

Mayfield grabbed his crotch and shouted expletives at Kansas on Saturday

The statue will go up in 2019 after Illinois completes its new football performance center