Tuesday Tweetbag: Florida State's schedule, Big Ten woes, Notre Dame's BCS road
Week 4 is over, so it's time to fire up the Tuesday Tweetbag and tackle the burning topics that are being talked about in the college football sphere. Will Florida State's schedule keep the Seminoles out of Miami in January? Is Texas Tech's defense really improved?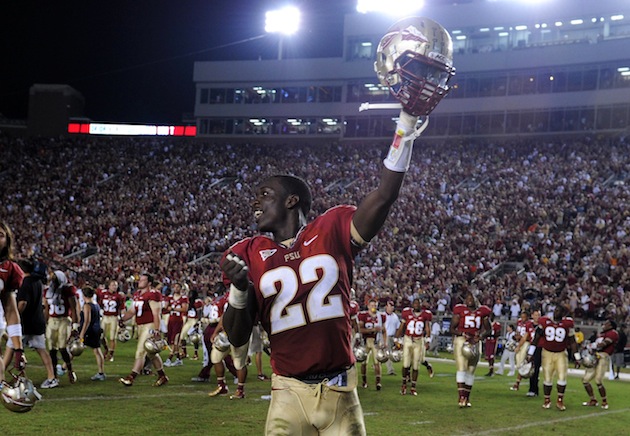 The big home win over

Clemson Tigers

has Florida State thinking BCS championship game. (US Presswire)
Week 4 is over, so it's time to fire up the Tuesday Tweetbag and tackle the burning topics that are being talked about in the college football sphere. I'm here to answer questions tweeted to me, so make sure you follow me on Twitter at @BryanDFischer. Without further ado, let the smorgasbord of questions commence.
How much do you think FSU's soft schedule will keep the Noles from BCS championship game? - Kelly Morgan (@InstiGatorUF)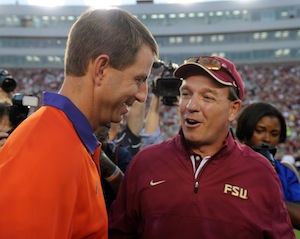 Jimbo Fisher has a good reason to smile after passing the Seminoles biggest test early in the season. (US Presswire)
The toughest game of Florida State Seminoles 's schedule ended with a 49-37 win at home over Clemson, and from here it looks all downhill until the finale against Florida to end the regular season (which is also at Doak Campbell) and the ACC Championship game. They leave the state just three more times and the only ranked teams figure to be Virginia Tech Hokies and Florida Gators with an outside shot that Miami sneaks into the Top 25. The slate of games the Seminoles had to face was one reason they were a trendy preseason pick to get to the national title game, and after the show they put on against Clemson, there's a reason why CBSSports.com expert Jerry Palm has moved them into the game this week.
All that said, let's quiet the talk that they're back because it still is early. We've seen teams slip up before after big wins and the Seminoles are one of the programs that have tended to do so the past few years. Injuries often play a part in a national title run and what Florida State has to do is get lucky more than anything. If the 'Noles do wind up undefeated at the end of the year, I doubt they'll be kept out of the title game unless Oregon Ducks and an SEC team are also undefeated, given the Ducks will play in a stronger league. I think more folks will vote FSU in the top two because they're a big name brand and that might be enough to overcome the computers dropping them. The win over Clemson is big and one over Florida will be a nice boost, but it seems a tad early to be talking about this after Week 4.
"What the heck is going on in the Big 10 that makes it resemble a dumpster fire?" - Tom @(Husaria)
There's bad, and there's Big Ten bad this season. Heck, the MAC and Sun Belt have been more exciting to watch in 2012. When Ball State Cardinals has as many BCS AQ wins as everybody in the conference except Northwestern Wildcats -- Northwestern -- then there's an issue. It's not just an issue of losing a few marquee games but this is a top-to-bottom problem that is bringing down the entire conference. There's no elite team, and Ohio State Buckeyes is as close as it comes but they're ineligible. The Leaders division in particular seems appalling as two teams can't go to Indianapolis and the likely favorite, Wisconsin Badgers , has serious issues that not even the firing of an assistant will correct. 
The biggest issue is one everybody has harped on for years: lack of speed. There are some solid offensive lines and good running backs but nobody is out there stretching the field. The highest-ranked wide receiver from the conference in receptions per game is Purdue Boilermakers 's Antavian Edison and he's behind two Ball State players. Penn State Nittany Lions 's Allen Robinson is the only Big Ten player to crack 100 yards receiving per game and only one other is hauling in more than 75 yards a game. That's a massive issue that's not limited to just one team. Throw in the fact that the quarterbacks have been so-so early on (with the exception of Braxton Miller ) and you can see why the reputation of the league is in the dumps.
Jeff Sagarin's ratings have the Big Ten narrowly ahead of the ACC and Big East but it's not by much. Only Nebraska Cornhuskers is worthy enough to crack the Top 20 and as conference play begins, it may not get much better for the league if teams start beating each other up. Maybe a few programs can turn it around, but for now not even Jim Delany could pay enough people to think the Big Ten is good this season.
"With games at OU and USC not looking as tough as previously thought, does

Notre Dame Fighting Irish

have a realistic shot at a BCS bowl?" - John (@SchlenTastic)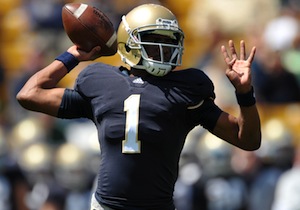 Notre Dame will have to keep relying on its defense until the offense improves. (US Presswire)
Seems like this question is asked after every week but I still don't think Notre Dame can make a BCS bowl this season even though the Irish are no doubt better than we thought to begin the year.
I've been impressed with the unit Brian Kelly has built on defense and, as we saw against Denard Robinson and Michigan Wolverines last week, the secondary is holding up thanks to the front seven led by Manti Te'o . Turnover margin (fifth in the country) has really keyed the resurgence and if the Irish can keep that up, even the anemic offense (96th overall) won't hold the team back from navigating that tough schedule.
All that said, both the Oklahoma Sooners and USC games are on the road, and though each looks vulnerable, that doesn't mean Notre Dame will roll in as a favorite in either contest. Having seen the Sooners up close on Saturday, I definitely think they're a team that the Irish could beat. I'm not sure that a Southern California Trojans squad with all year to jell up front (or even Stanford Cardinal in a few weeks) are teams Kelly can get a win over but at this point, with this defense, you never know. I'm going to disagree with my colleague Jerry Palm and say they finish with a decent bowl but are just out of the running for a BCS game.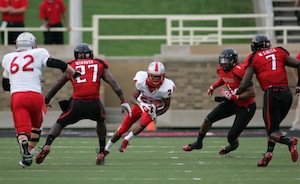 The

Texas Longhorns

Tech defense seems like an improved unit but we'll find out just how much when Big 12 play begins. (US Presswire)
"I know

Texas Tech Red Raiders

has played no one, but how much has their defense improved? Currently have #1 total defense in NCAA." - T.J. Moore (@tj_moore3d)
Wait, I thought mighty Northwestern State and New Mexico Lobos would be good tests for the Red Raiders. It is true that Tech has had one of the softest schedules in the country -- 164th toughest according to Sagarin -- but even then it's impressive to wind up with the top unit in the country, statistically. At this point last year, the defense was ranked 95th in the FBS against a somewhat comparable schedule.
We'll find out if defensive coordinator Art Kaufman's unit is for real with a road trip to Iowa Hawkeyes State and a mad, revenge-minded Oklahoma team coming into town the following week. The coordinator spot has been a revolving door ever since Tommy Tuberville took over in Lubbock, but he's worked with Kaufman before and it appears the two are on the same page this season. Big 12 play will obviously cause the numbers to go down, but the addition of several Juco players in the offseason has shored up depth and made this a better unit overall. The defense is better, but how much so remains to be seen.
"What will it take to revoke the helmet rule since it is causing more harm than good?" - (@LoneTweeter)
Nothing.
Yes, the new rule requiring players to leave the field for a play if their helmet comes off seems silly in a few cases, but given the emphasis on player safety I very much doubt that the rule will go away anytime soon. So far, we really haven't seen the rule become a major issue to the point where it costs a team a quarterback or key defender on the last play of the game, but even if that were to happen -- and I'll bet it will happen sometime in the future -- I can't see a scenario where it gets revoked.
At the recent athletic directors meetings in Dallas, one of the hot topics for everybody was concussions, and from the NFL to high school football, the concern keeps growing regarding head injuries. It would be hard for the NCAA rules committee (or any other group) to come out and say a rule designed to promote safety should be taken out after we're only beginning to see how it affects the game. Could there be tweaks to it at the end of the season? I would have to bet there will be, but removed? That's something I just can't see.
The Tide, as usual, are dominating everything already

Jim McElwain won't rule out Luke Del Rio, Feleipe Franks or Malik Zaire as the starter

The three rule changes for 2017 are focused on player safety
There are new names to learn every season, and here are five to keep an eye on from the Big...

Can the Big Ten produce a champion capable of scoring points in the College Football Playoff...

Taking a close, detailed and opinionated look at the Big Ten a week before the start of the...