Twenty questions on the road to Signing Day
We're halfway through the college football season and less than four months from Signing Day. What better time to look at the recruiting landscape and the burning questions before recruits start signing letters of intent.
We're halfway through the college football season and less than four months from Signing Day. What better time to look at the recruiting landscape and what the burning questions are before recruits start signing letters of intent.
Where the No. 1 recruit will wind up is the question on everybody's mind. 
(CBSSports.com)
1. Where does Robert Nkemdiche wind up?
Things are getting interesting regarding the recruitment of the country's top recruit. He has remained committed to Clemson Tigers , but Ole Miss Rebels has made a strong push as of late and Nkemdiche's brother, Denzel, is having a strong season for the Rebels' defense. His mother wants him to go to school in Oxford and isn't sold on Clemson, meaning this one could be a long ways from over. Don't expect this to wrap up soon as it seems like drama follows the defensive end around.
Early answer: Nkemdiche winds up decommitting from Clemson and flipping to Ole Miss before dragging things out around Signing Day by taking late visits.
2. Is the race for the No. 2 spot in the team rankings Alabama Crimson Tide 's to lose?
Southern California Trojans pretty much has the top spot in the team rankings locked up, so the race becomes who can wind up right behind them. Michigan Wolverines got out to a huge start, but the field has quickly caught up. Nick Saban has been a terror plucking the right kids for his system, and Alabama is up to No. 2 with plenty of time to add several top prospects. Florida Gators , Georgia Bulldogs and even Michigan could close strong and make a run at things though.
Early answer: It will be tough to unseat the Crimson Tide, who will have one of the more athletic classes that Nick Saban has gotten during his time in Tuscaloosa.
3. Which team benefits most from a new conference?
Conference realignment was in the news just about every day for the past few years, but the landscape has seemed to settle. With a number of schools beginning life in new leagues, recruiting has started to take shape appropriately. Pac-12 programs like Utah Utes and Colorado Buffaloes have already expereinced what it's like to step up out West while Texas A&M Aggies and Missouri Tigers are selling the chance to play in the SEC to players they normally may not have gotten. West Virginia Mountaineers is in a stable position in the Big 12, and TCU Horned Frogs will benefit from being the only BCS conference team in the talent-rich Dallas-Fort Worth area.
Early answer: Being the only SEC team in the state of Texas and having a great start to the season has propelled the Aggies to No. 7 in the team rankings. They seem like a shoo-in to wind up as the top team that has changed addresses at this point.
4. The USC numbers game, how many do they wind up with and who decommits?
What? How can the Southern California Trojans have 18 commitments. I thought the NCAA beat them back to the stone age? Well, thanks to playing with the numbers and some extra spots left over from last year's smaller-than-expected class, USC can take more than the limit of 15 that many expected them to wind up with. Half the class is ranked in the top 100, and nobody has assembled a full recruiting class like what Lane Kiffin's staff has done under duress. Still, the addition of transfer Silas Redd at running back from Penn State Nittany Lions called into question of how many the program can take come Signing Day.
Early answer: USC takes 17 on Signing Day with athlete Sebastian LaRue becoming the first of three decommitments of the group. Look for the Trojans to also add one (or possibly two) safety in the form of a commitment out of Tahaan Goodman and/or Leon McQuay III.
Reuben Foster is the crown jewel in Auburn's recruiting class
(CBSSports.com)
5. What happens to Auburn Tigers 's class?
The terrible start to the season has put the Tigers' top-heavy class in jeopardy as other programs have started to circle like vultures. No. 3 prospect Reuben Foster goes to high school in Auburn, so he might be safe. But others are hearing from coaches that they need to bail on the sinking ship before it's too late. If Chizik and staff are fired, all bets are truly off.
Early answer: Foster and defensive end Carl Lawson stick unless the staff is fired while the Tigers suffer one high profile defection and fail to close late on a few prospects.
6. Can surprise teams like Oregon State turn bounce back years into recruiting success?
Every year a team exceeds expectations on the field and gets in with a few recruits they might not normally have been in on before. Oregon State Beavers is one team that is in the top 10 after a bad season but not the only surprise. UCLA Bruins isn't tearing things up in the rankings but has looked better than most thought early in the year under a new staff and that's translated into a very strong recruiting effort so far. Notre Dame Fighting Irish 's hot start is perhaps the most noteworthy member of this group and that's one reason why the Irish find themselves in the top six in the team rankings.
Early answer: While Oregon State likely won't change its recruiting efforts, Notre Dame is reaping the rewards of being "back" in the national spotlight. They've already grabbed a great group of prospects, and it wouldn't be surprising to find Brian Kelly talking about a top five class in February.
7. Will somebody make an early move for top 2014 prospect De'Shawn Hand?
It's still early, but Hand figures to be most experts' No. 1 recruit for 2014. A smart kid with an impressive skill set, the defensive end is being chased by just about every major program in the country. Alabama will be a threat, but somewhat local programs like Virginia Tech Hokies , Clemson and North Carolina Tar Heels are making a solid run at him. He has taken unofficial visits this fall, but one wonders if he'll keep things close to the vest and make a decision in 2013 instead of getting things out of the way early.
Early answer: Don't expect a commitment, but plenty of programs will leave an impression on him.
8. Plenty of rivals are working to flip commitments; who will succeed?
Guard David Dawson already decommitted from Michigan and could wind up at Florida after opening things back up. Notre Dame has also made a run at USC commitments Max Redfield and Chris Hawkins. There of course are plenty of recruiting battles going on, but none more interesting than those in which major players are chasing hard.
Early answer: Florida might be able to flip a Florida State Seminoles commitment, but the interesting recruit to keep an eye on is if Redfield, who is feeling Notre Dame more after visiting for the win over Stanford Cardinal , ends up flipping to give the program a big recruit at a position of need.
9. Can Florida close on elite players late?
Last year, the Gators put together a very solid class but missed on a few recruits down the stretch. With a big year on the field so far, things might change in that department for Will Muschamp and staff. There are several elite prospects, such as safety Marcel Harris, who are considering Florida. But it remains to be seen if the staff can actually close a deal that should be done.
Early answer: Florida does close late and winds up with a top-three class.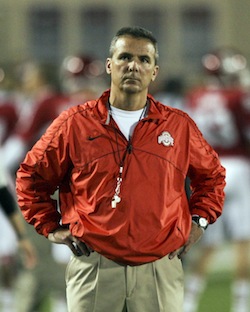 Look for Ohio State to make a late run at a top class. 
(US Presswire)
10. Will Urban Meyer wind up back in the top five with a late surge?
Everybody knew it was only a matter of time before Meyer would get things rolling in Columbus, but things have been going even better than expected. A big-time class last year and an undefeated season have the Ohio State Buckeyes looking like the class of the Big Ten once again. Still, they are a tad behind others in terms of number of commitments and should be looking to have a big run after the season is over.
Early answer: Never count out Meyer on the recruiting trail. He should indeed lock up a top class when the staff hits up recruits early on because they don't have to worry about a bowl game.
11. Where will Derrick Green, Greg Bryant and other top running backs wind up?
There are only a handful of uncommitted top-100 recruits, but no position has as many questions as the running back spot. Auburn is in on both Green and Bryant and left a positive impression, but the issues with the staff and bad season will no doubt weigh on both.
Early answer: Green heads to Michigan, Bryant winds up at South Carolina Gamecocks , Alvin Kamara heads to Georgia and a number of other tailbacks filter in from there.
12. Does linebacker Matthew Thomas leave the state of Florida?
The four-star linebacker is one of the top players left who hasn't made a commitment, and plenty of top programs are on him. His top three seems to change weekly but Florida State appears to be the favorite with Alabama and Miami close behind. Nick Saban would love to plug the athletic outside backer into his system, and a late push could wind up sealing the deal.
Early answer: Despite Alabama's best efforts, Thomas heads to Tallahasee.
13. Will Leon McQuay III pick anytime soon?
There might not be a top prospect who keeps to himself like McQuay. He keeps his recruitment closely guarded, but the five-star seems like he understands his options are dwindling as classes fill up. There's no question he's one of the top talents in the country,but where he winds up is still anybody's guess.
Early answer: Florida State has emerged as an option, and he has visited both the Seminoles and the Gators in recent weeks. Still, it seems like USC and Vanderbilt Commodores are two of the top options with Oregon being a dark horse.
14. Did Texas miss out on Ricky Seals-Jones?
The Longhorns are going through a ton of issues and, while recruiting isn't one of them, they have curiously dropped out of the running for the five-star athlete who can be a game-breaker in college. Also a talented basketball player, Seals-Jones could make Texas regret dropping out of the running for him as Texas A&M and LSU Tigers will likely snatch up a very good player.
Early answer: The rival Aggies snag the two-sport star and turn him into a big part of the explosive Air Raid offense the team is running.
15. Does Max Brown challenge for the No. 1 ranking?
Consensus No. 1 recruits don't come along very often, but Nkemdiche is just that. Still, Brown is probably the only one who can challenge him at this point as the USC commit is off to another impressive start to the season and putting up big numbers. With a strong arm and the most polish out of any of the 2013 quarterbacks, this race is closer than many expect.
Early answer: Though he won't wind up taking the top spot, things will get interesting if Brown has a big week at the Army All-American Bowl against some of the best recruits in the country early next year.
16. The best position group in the country will belong to ...?
Right now it's hard to beat what USC has assembled in the secondary, defensive line and at wide receiver. But plenty of other programs are looking very strong, such as Notre Dame and Stanford at linebacker.
Early answer: Too close to call at this point with plenty of players possibly getting flipped.
17. The steal of the 2013 class belongs to ...?
South Florida Bulls would be wise to do everything it can to hold onto quarterback Asiantii Woulard. A former wide receiver, he has made significant progress over the past year and a half as a passer and wowed folks by winning the Elite 11 MVP with a strong arm and lots of upside. As things wind down to Signing Day and the Bulls suffer from another disappointing season, one wonders if they can keep him.
Early answer: Skip Holtz does all he can and keeps Woulard in the fold to give the program a great get that fits what they do on offense.
18. Who has a chance to wind up in the top 100 who's outside it right now?
This one's easy: Auburn pledge and defensive end Carl Lawson.
19. What is going on at Florida State?
The Seminoles have experienced a number of decommitments in recent weeks, and things have been slow going on the recruiting trail. It isn't the season that is having a big effect; the staff just hasn't gotten around to locking up guys like it should.
Early answer: Jimbo Fisher and company will be just fine and wind up with a top-15 class.
20. Outside of the SEC, which conference will do the best on the recruiting trail?
Though the ACC and Big 12 look to be having strong years, no league is doing as well as the Pac-12 is with four teams in the top 25 and plenty of others right on the cusp of being ranked. Every program in the conference is grabbing better guys than expected, and USC has pretty much locked up the top team spot.
Early answer: The SEC will be loaded in terms of recruiting rankings on Signing Day, but the Pac-12 should be right there with it. In addition to USC, look for Oregon to close strong with a very good class to help boost the conference.
The 2021 Chick-fil-A Kickoff Game will feature Louisville and Ole Miss

The Fornelli 50 ranks teams based on nothing but their performance in 2017

Penn State better have its eyes wide open with a trip to Iowa City on deck this weekend
Ohio safety Javon Hagan has a rather unique personal tradition during games

Mississippi State has been good to Mullen, but he should be the next Bulldog to upgrade

Cowart was the No. 3 overall recruit in the 2015 class but has not panned out yet for the...