Typecasting: comparing the class of 2013 to previous stars
Who do the brightest lights in the class of 2013 remind us of?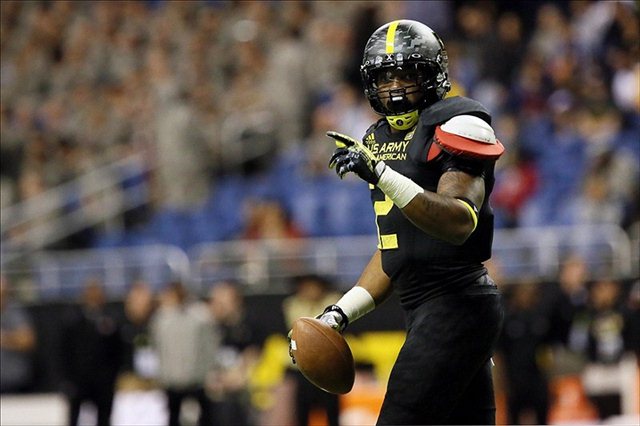 Not many top-caliber running backs have been as big as Derrick Henry. (US Presswire)
It's a game as old as sports itself: Player X is the next Player Y. Whether it's the next Jordan in basketball, the next Mantle in baseball, the next Maradona in soccer, up-and-coming stars are always compared to the stars that came before them. 
So who would we compare the top players in the 247Sports top 247 to? Here's 10 best-case scenarios:
Robert Nkemdiche. (247Sports)
1. DE Robert Nkemdiche could be the next: Jadeveon Clowney. This maybe isn't a perfect 1-to-1 comparison where the 2011 and the 2013 consensus No. 1 overall recruits are concerned, at least from the physical standpoint; Nkemdiche is a hair shorter and several pounds heavier than the Gamecocks' Heisman candidate, and is perhaps more suited to straight-up strongside run-stuffing with a little less of Clowney's all-world explosiveness. But that might be picking nits: both are freakish athletes whose first step and quickness is flatly outrageous for players of their immense size and strength.
But away from the on-field comparisons, there's also the fact that both were defensive ends anointed the No. 1 player in their respective classes early in the evaluation process, never relinquished that designation, and, for most of the recruiting process, had one the SEC's non-traditional powers as their leader. Clowney eventually stuck with South Carolina and helped maintain Steve Spurrier's team's entrance into the SEC East elite; could Nkemdicher propel Ole Miss to similar heights?
2. OT Laremy Tunsil could be the next: Walter Jones. Reproducing the career of the former Seahawks star and one of the best left tackles to ever play the game would be quite the accomplishment, but it might not be impossible for Tunsil, who, at 6-6 and 295 pounds and boasting already stellar pass-protection technique, seems born to play left tackle. Tunsil has work to do at developing his weight, strength and rush-blocking skills, but so did Jones when he left rural Alabama for junior college and then Florida State.
Vernon Hargraves III. (247Sports)
3. CB Vernon Hargeaves III could be the next: Morris Claiborne. Hargreaves's career trajectory won't mirror that of the former LSU All-American, who arrived at LSU as a three-star recruit and took a season to crack the Tiger lineup; Hargreaves is, by all accounts, the most polished, immediate-impact cover corner in the class and should see the field for Florida this fall. But by his junior year, Claiborne was the kind of corner who compensated for a lack of elite size or world-class speed -- at 5-11, 185 pounds, Claiborne and Hargreaves are listed at the exact same height and weight -- by simply being smarter, more technically sound and better than other corners. A coach's son, Hargreaves could become that same sort of player ... only even faster.
4. OLB Jaylon Smith could be the next: Derrick Johnson. Outside linebackers who can rush the passer are nice; those fluid enough to rush the passer, make plays in pursuit on running downs and drop into coverage when necessary are much, much nicer. Assuming the 6-3, 218-pound Smith can add 20 to 25 pounds without sacrificing his exceptional change-of-direction skills, speed, or fluidity, it's not difficult to see him emerging -- eventually -- as an all-over-the-field playmaker in the mold of the current Kansas City Chiefs All-Pro and former Texas Butkus Award winner.
Eddie Vanderdoes. (247Sports)
5. DT Eddie Vanderdoes could be the next: Richard Seymour/Vince Wilfork. The 6-2, 310-pound California five-star's greatest attributes are his massive raw strength and motor, qualities that paired with some technical refinement could make him either an immovable rush-defense obstacle or a penetrating bull-rusher, depending on alignment and scheme -- much as the Patriots' two great defensive tackles of the Belichick era flashed their versatility from down-to-down.
6. QB Christian Hackenburg could be the next: Kerry Collins. If we're talking about a blue-chip pocket-passing prospect wearing the Nittany Lions' navy and white, we have to talk about Collins, right? The 6-4 Hackenburg has both the height and arm strength to remind Penn State fans of their early 1990s All-American, not to mention just enough athleticism to keep plays alive in the pocket.
7. RB Derrick Henry could be the next: Brandon Jacobs, but potentially better. Scouting services vary relatively widely on Henry, with 247Sports ranking the all-time high school rushing leader as the No. 1 back in the class and No. 12 overall and other services generally preferring Michigan commit Derrick Green. But Nick Saban doesn't often choose poorly when it comes to running backs, even when they're a towering 6-3 and 240 pounds. Jacobs has proven that a back of Henry's size can work even at the highest levels of football, and, by many accounts, Henry's agility could set him apart -- even from the likes of the New York Giants star.
Reuben Foster. (247Sports)
8. ILB Reuben Foster could be the next: Dont'a Hightower. This assumes that Foster sticks with his (re-)commitment to Alabama, which after a tense announcement Monday night remains a matter of speculation. But if he does, the comparison point is easy: five-star seek-and-destroy inside linebacker goes to Tuscaloosa to play for Nick Saban means only one outcome, doesn't it?
9. S Su'a Cravens could be the next: Troy Polamalu. Hey, just because the comparison seems obvious doesn't mean it's wrong: like Polamalu, Cravens is heading to USC as a linebackeresque headhunting safety, and like Polamalu, Cravens will arrive with enough athletic skills (and toughness) to have also excelled as running back in high school. Obviously, setting the bar at the Polamalu level also means setting it outlandishly high, but the consensus top safety prospect in his class will have as good a shot at reaching it as anyone else in 2013.
10. TE O.J. Howard could be the next: pro-style Chase Coffman. A five-star freak of an athlete with the raw potential to play multiple positions, Howard's height (6-6) and lean build (221 pounds) means he's most likely to settle in as a possession-first-yards-after-catch-second pass-catching tight end in the vein of Missouri's recent 6-6 All-American  ... even at Alabama, where the tight ends make only sporadic appearances in the passing game. But Howard's immense potential means that even the Tide may not be able to resist splitting him out (a la Coffman in Mizzou's spread) and creating mismatches against undersized defensive backs or underslowed linebackers.
Drevno had been running the Michigan offense for three seasons

Aaron was reportedly shot while trying to protect his girlfriend when a fight broke out at...

An assistant-by-assistant look at changes Saban made to the Tide's staff ahead of 2018
Find out when Nick Saban, Kirby Smart and the rest of the coaches will speak ahead of the...

It wasn't only the massive $75 million contract that got Fisher to depart for College Stat...

Weinke was injured when Florida State lost to Tennessee in the 1999 BCS title game