UAB signs coach Bill Clark to new incentive-laden 5-year contract
UAB's first coach following its resurrection will be the same coach who guided it to a surprising 6-6 record in 2014.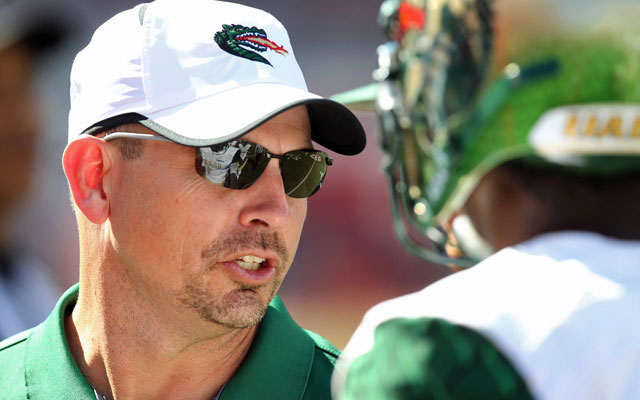 When UAB announced in June it was reversing its decision to shut down its football program, the assumption was that Bill Clark would return to coach the Blazers after producing a stunning 6-6 mark in his 2014 debut season, a campaign without which UAB fans might not have been able to drum up the support necessary to save the program.
For those Blazer diehards, there couldn't be any sweeter news than Tuesday's: Clark has officially agreed to a new five-year contract to continue as UAB coach.
We are doing this and doing it right -- today's announcement sends that message loud and clear," Clark said in a statement. "To all UAB supporters and family, thank you. I appreciate each and every one of you, what you've done, and continue to do, to support our program and I am proud to be your coach. We need you now more than ever to help write the next chapter of UAB football."
Clark will receive a guaranteed $605,000 each year with the ability to make more through incentives, according to a term sheet agreement provided Wednesday to Jon Solomon of CBS Sports. Clark's base salary will be $555,000 and he will get $25,000 for a radio and talent fee and $25,000 for a promotional and fundraising fee.
In addition, Clark can receive up to $200,000 more based on fundraising efforts. For instance, if donors raise $1 million, Clark's incentive is $10,000. The fundraising target numbers are $1 million, $3 million, $5 million, $7 million, $10 million, $12 million, $15 million and $20 million (which would result in a $50,000 bonus for Clark). The term sheet says only contributions in which Clark had "material participation" will be included in the calculation of contribution targets. The cumulation targets are cumulative.
A key factor in Clark agreeing to the deal was his confidence in boosters launching a new non-profit foundation that would allow donations to go directly to the football program for its longterm viability. "In the event a foundation is formed to support UAB athletics, UAB will work with such foundation in its efforts to raise funds for UAB Athletic facilities as well as operations consistent with UAB's rules and procedures," the term sheet states.
Clark will be paid a $25,000 longevity bonus for each year he remains employed, beginning in February 2016 and running through February 2020. The longevity incentives are dependent upon Clark working with athletic director Mark Ingram "in a financially responsible manner," according to the term sheet.
In addition, Clark gets bonuses for ticket sales. If UAB sells between 5,000 and 7,499 season tickets, Clark receives $20,000; between 7,500 and 9,999 tickets, Clark gets $35,000; for more than 10,000 tickets, he gets $50,000. This bonus excludes sales to municipalities, meaning the city of Birmingham's annual season ticket purchase won't count toward the figure.
Clark will get bonuses for wins -- $25,000 for six wins, $30,000 for seven wins, $35,000 for eight wins, $40,000 for nine wins. Any win over a Power Five team or a final top 25 finish is worth $10,000. Postseason bonuses are in play, including $50,000 for reaching the Conference USA championship game.
If Clark terminates the contract without cause prior to expiration, he owes $600,000 prior to Jan. 1, 2017; $500,000 prior to Jan. 1, 2018; and $350,000 prior to Jan. 1, 2019. UAB agreed to waive Clark's buyout if the program doesn't play a complete Football Bowl Subdivision schedule as a full member of C-USA in 2017.
If UAB fires Clark without cause, UAB owes him his base salary, radio and talent fee, promotional and fundraising fee and longevity incentives for the remaining term of the agreement. UAB's obligation would be offset by any amounts Clark earned as a coach elsewhere prior to June 1, 2020.
As recently as late last week, there was a serious impasse between Clark and UAB and concern the coach could soon leave. Even though football doesn't return until 2017, UAB was working on a short clock to get a deal done because it was possible Clark could have left for another job when the coaching carousel starts in November.
UAB had been discussing with Clark a one-year extension and a salary close to his current $500,000, but Clark believed he needed more years to restart the program, sources told Solomon.
Pressure by Birmingham business leaders changed the contract conversation, just as their pressure helped bring UAB football back in June. Boosters produced $2.4 million in cash when they were quickly asked by the University of Alabama System to have $2 million by Sept. 1 on a shorter timetable than originally scheduled.
Clark responded to Tuesday's development on Twitter.
I AM UAB!!! #WTD

— Bill Clark (@CoachBillClark) September 15, 2015
UAB was ecstatic as well.
Our LEADER is in the boat! Now it's time to get some recruits signed, sealed, & delivered. #WhosNext #theReturn pic.twitter.com/eW7BArrgoi

— UAB Football (@UAB_Football) September 15, 2015
The Blazers have targeted the 2017 season for the program's return to FBS football. UAB president Ray Watts announced last December that the program would be shut down due to budget concerns, only for vocal protests and an outpouring of financial support to lead to the program's reinstatement some six months later.
"Like our fans, I wanted to light the scoreboard much sooner," Clark said when the 2017 target date was announced. " but doing it right is more important than doing it fast, and this was our best option.
"We want a program that is here to stay. We have to start by building a new, stronger foundation. We need to take our time to do it right, then we can compete for conference and bowl championships."
Clark's six wins in his first season since arriving from Jacksonville State represented one more win than the Blazers had managed the previous two seasons combined, and earned him Conference USA Coach of the Year honors.
CBS Sports national college football writer Jon Solomon contributed to this report.
CBS Sports HQ Daily Newsletter
Get the best highlights and stories - yeah, just the good stuff handpicked by our team to start your day.
Please check the opt-in box to acknowledge that you would like to subscribe.
Thanks for signing up!
Keep an eye on your inbox for the latest sports news.
Sorry!
There was an error processing your subscription.
Daniel Faalele is still growing into becoming a high-caliber college football player

LSU just one-upped the rest of the SEC in the facilities battle

Jim Harbaugh releases a statement after many criticized comments he made during a recent i...
Harbaugh and Michigan are joining the RPO generation to fire up the Wolverines' offense

Harbaugh might have spilled the beans a bit early at Big Ten Media Days

Harbaugh said every player should get to transfer once without sitting a season