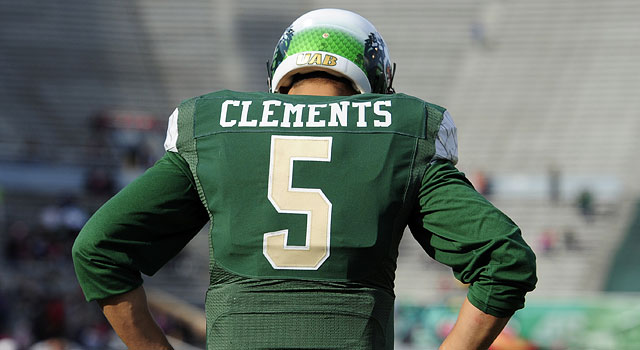 Facing intense scrutiny from his faculty, University of Alabama at Birmingham president Ray Watts announced Friday an independent re-examination of financial figures from a study used to justify the elimination of the football, bowling and rifling programs.
CBSSports.com found several discrepancies in the full report produced by consultant Bill Carr. Watts, who would not discuss specifics about the report, said at a news conference he still believes the initial study's data is as accurate as when he eliminated the football program last month. Watts faces a no-confidence vote from UAB's faculty senate next week.
"I would be foolish if I weren't concerned," Watts said.
Watts announced the formation of a committee to select a firm to review the initial Carr report. UAB paid Carr's company, CarrSports, $79,536 for its work over the course of a year.
Watts said UAB will not field a football team in 2015 and "any further comment is premature" beyond next season. Many UAB football players and coaches have left for other schools since the decision last month.
"I'm sure a question is: Will you reinstate football?" Watts said. "The answer is simply that we agree with our alumni leaders and others that an independent review of the numbers that led to the athletic department decisions is needed. Only then will we have the ability to have credible and constructive dialogue about moving forward."
The Carr report showed UAB changed course in its athletic department study last April. On Friday, Watts declined to say who directed CarrSports to change focus and consider killing football. A UAB spokesman has previously said the shift occurred because initial numbers showed an increase in subsidies to fund football.
Carr's study projects that 79 percent of UAB's athletic department will be subsidized by the university or student fees next year, up from 67 percent in 2014-15. UAB vice president for financial affairs Allen Bolton said last month the decision wasn't about finding cost savings, but reinvesting into sustained excellence.
CBSSports.com's review of the full Carr report found other questions:
• Carr's methodology on how allocated donations differed from how UAB reports donation amounts to the NCAA. Carr's report projected 70 percent of athletic donations go to men's basketball and 20 percent go to football. That's essentially the complete opposite of how UAB has reported athletic donations in its annual NCAA reports for many years.
For instance, Carr listed $351,126 in total football contributions for 2012-13, but UAB's NCAA financial report showed $1,136,522 for that year. Bolton has said the NCAA reports allocate gift money differently based on scholarship expenses for each sport. However, an outside economist has questioned that explanation and pointed out the reported donation numbers proportionally don't add up to the actual team-by-team scholarship expenses.
• A calculation error occurred in Carr's worksheet that didn't count $645,000 over a five-year period in projected football donations. Bolton acknowledged the mistake and said it wasn't relevant to the final decision.
• UAB has no financial model for what happens if the school can't stay in Conference USA. Watts said Friday he will make a presentation to C-USA presidents at the end of January about staying in the conference. C-USA bylaws require members to play football.
• Carr projected a $287,000 loss in athletic donations in 2015-16, before contributions quickly increase again by 2016-17. The study projects a 10-percent increase in Blazer Club donations and a 4-percent increase in Champions Club giving in 2016-17. That may be wishful thinking given the backlash UAB has faced since cutting football.
Also, the Carr report didn't take into consideration the impact of no football on the university as a whole. CarrSports official Richard Konzem was asked about that at a December committee meeting on UAB athletics after the study was produced.
"Concerns were raised regarding the impacts to recruitment and retention of students, development (capital campaign), and general student experience; specifically, were these factored into the analysis?" committee notes from the meeting state. "Konzem stated that these factors were not within the scope of the CarrSports agreement and were not considered in the analysis."
Last week, AL.com reported that private recordings showed UAB's football search committee believed in January 2014 its next coach had to "save" the program. The recordings showed then-UAB athletic director Brian Mackin felt it was necessary to run the committee's choice for its next coach by University of Alabama System Chancellor Robert Witt and two key trustees, Paul Bryant Jr. and Finis St. John.
Bill Clark was selected as UAB's coach and led the Blazers to bowl eligibility for the first time in 10 years. Mackin said on the recordings that he initially favored hiring South Alabama coach Joey Jones, a former Crimson Tide player, in part because of his relationship with Bryant.
"So Paul Jr. is probably a fan of his," Mackin said on the recording. "But Paul Jr. does nothing for me. We've just got to tolerate him. No coach is going to make him change his position on UAB football."