UCF, Penn State in talks to play in Ireland in 2014
UCF and Penn State could play in Ireland in 2014, the 'Orlando Sentinel' reported. Bill O'Brien had already said the Nittany Lions were looking for a game in Europe.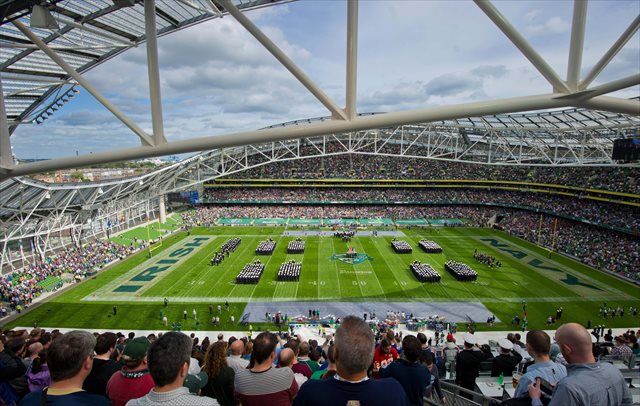 Bill O'Brien already told the world that Penn State was looking (and looking hard) at a potential game in Ireland. Now the world reportedly knows who the Nittany Lions would face across the pond. 
The Orlando Sentinel reported Friday that Penn State has entered preliminary discussions with American Athletic Conference newcomer UCF about playing in Ireland to open the 2014 season. UCF athletics official David Hansen confirmed that the sides are in discussion but that nothing is official yet.
"We are far from an agreement," Hansen said. "Logistically, it's not easy."
Among the details still to be determined would be where in Dublin the game would be played, with options including Croke Park or the same Aviva Stadium that hosted Notre Dame's 50-10 victory over Navy last year. UCF would also have to reschedule its planned 2014 opener against FIU.
But there don't seem to be any reservations on the part of the Nittany Lions; O'Brien has touted the trip as an important recruiting tactic while the school waits out its bowl ban, and the Irish ancestry of both head coaches involved (UCF is coached by George O'Leary, of course) would make the game something of a fit for the Emerald Isle -- even if not nearly as natural as Notre Dame-Navy.
UCF has a major reason for balking, though. With the Knights scheduled to visit Beaver Stadium in 2013 as the first game of a home-and-home agreement, playing the second game in Dublin could cost the Knights a home game -- and one against a prominent opponent at that.
That talks have progressed far enough for UCF to feel comfortable confirming them in the media is a positive sign, though, and UCF would of course receive much of the same exposure and recruiting benefits the Lions would. An agreement still seems more likely than not -- it's just not time to book those flights to Dublin just yet.
McElwain will coach receivers and help coordinate the offense for the Wolverines

Nathaniel Watson Jr. was involved in a car accident that injured a passenger in early Febr...

The honorable Tom Fornelli presides over the ASU vs. UM case
Arkansas State is seeking $650,000 for a canceled home game last September due to Hurricane...

Friday Five is tackling the big questions this week

Two unnamed players are being investigated for an incident at an off-campus apartment