UCF's Houdini season takes Knights within a win of BCS
No team in the country has been better at wriggling out of a tight jam than the Knights, and now they need just one more escape.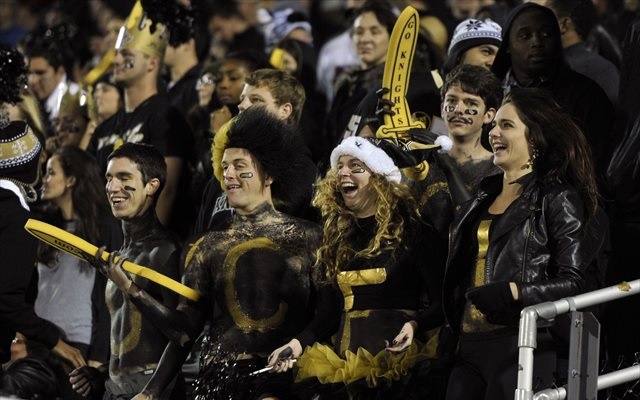 First things first: it doesn't matter how many terrible teams UCF beats by less than a touchdown, how many times they need a game-saving big play late in the fourth quarter, how many Houdini acts they've needed to reach 11-1 and clinch at least a share of the inaugural American Athletic championship. After beating USF 23-20 Friday night, the Knights need only a win at SMU next Saturday or a Cincinnati loss to Louisville this Thursday to clinch the conference's final automatic BCS berth*.
But none of those things should also obscure the fact that no team in the FBS has led a more charmed life this season than the Knights, who have played seven one-possession games in their last nine outings and won six of them. Four of those six required a fourth-quarter comeback, even though three of those four opponents -- Memphis, Temple and now USF -- boast a combined record of 6-26.
Here's the up-to-date, comprehensive rundown of exactly how sticky the situation has gotten for the Knights in those six wins, and how they escaped each time:
at Penn State (34-31): The Knights watched an 18-point lead early in the third quarter dwindle to three on a Nittany Lion touchdown with 2:51 to play, but Blake Bortles was able to complete a 13-yard pass on 2nd-and-9 to run out the clock. By UCF's future standards, a total yawner.
at Memphis (24-17): Here's where the fun begins. Down 17-10 with 3:11 to play, the Knights faced 4th-and-10 at the Memphis 28. Bortles found Breshad Perriman for 16 yards, and a play later it would be 1st-and-goal at the Tiger 1. Storm Johnson fumbled into the end zone, but UCF recovered for the tying score. Memphis then fumbled the ensuing kickoff, with UCF's Drico Johnson returning the loose ball for a second touchdown in nine seconds.
Memphis would then go 69 yards in 7 plays to set up 3rd-and-goal at the 6. But UCF's Terrance Plummer made a game-saving interception in his own end zone with 35 seconds to play.
at Louisville (38-35): Down 28-7 in the third quarter, the Knights rallied for a 31-28 lead, then trailed 35-31 when they took over with 3 minutes to play. Bortles led an 11-play, 75-yard march for the winning score, hitting Jeff Godfrey on third-and-goal with 23 seconds left.
vs. Houston (19-14): Houston scored with 4:14 remaining to cut UCF's lead from 12 to 5, then forced a quick three-and-out, and drove 55 yards to set up 3rd-and-goal from the 7 with 24 seconds to play. But John O'Korn threw incomplete twice to seal the UCF victory.
at Temple (39-36): UCF's wildest escape yet. The 1-8 Owls scored and converted a two-point conversion to move ahead 36-29 with only 2:04 to play. But Bortles took the Knights 70 yards in only 4 plays, the touchdown coming on a 30-yard J.J. Worton grab with 1:06 left that stands as one of the plays of the year. With the game tied 36-36, Temple made one first down, but was forced to punt. After taking over at their own 30 with just 28 seconds on the clock, Rannell Hall pulled in a 64-yard first-down completion to set up the game-winning field goal on the game's final snap.
vs. USF (23-20): The Knights already trailed 20-16 when Bortles was intercepted at his own 28-yard-line with 6:42 to play -- UCF's fifth turnover of the night. But the Bulls lost five yards in three plays, settling for a 51-yard field goal attempt which missed. Three plays later, Bortles found Perriman for a 52-yard touchdown and three-point lead. The Bulls would move 47 yards to the UCF 39 before Mike White was intercepted on 3rd-and-6 with 1:20 to play, icing the UCF win.
So if you're keeping track: that's four different games in which UCF either had to score or had to keep an opponent that had first-and-goal from scoring in the final 90 seconds, and they went four-for-four. And all of them occurred before Friday's game, in which the Bulls had a four-point lead and the ball inside the UCF 30 with under 6:30 to play ... and lost.
So: do you give UCF credit for their ability to make the season-saving plays they had to to keep their BCS dreams alive? Or do you slap them with demerits for needing season-saving plays against the hapless likes of the Tigers, Bulls and Owls?
Ultimately, that question will be answered if/when the Knights go toe-to-toe with a BCS heavyweight (most likely Auburn in the Sugar Bowl). But that the question won't be answered until then tells you how little it matters -- barring the truly bizarre next weekend, they're going to the BCS, and that's all anyone in Orlando has to worry about.
*UCF may not actually need either of those results, which would lift the Bearcats into a tie for the AAC title with the Knights at 7-1; with the teams not playing each other this season, the tiebreak would go to the BCS standings. UCF would have to drop substantially in those standings and Cincy would have to rise substantially for the BCS berth to switch hands, a scenario that's hardly guaranteed even in the event of a UCF loss/Bearcat win.
The Tide, as usual, are dominating everything already

Jim McElwain won't rule out Luke Del Rio, Feleipe Franks or Malik Zaire as the starter

The three rule changes for 2017 are focused on player safety
There are new names to learn every season, and here are five to keep an eye on from the Big...

Can the Big Ten produce a champion capable of scoring points in the College Football Playoff...

Taking a close, detailed and opinionated look at the Big Ten a week before the start of the...