UCF's O'Leary: SEC 'sounds like the South during the Civil War'
UCF's George O'Leary made a not-at-all-loaded analogy to describe Mike Slive's threat to break the Power 5 conferences away from Division I.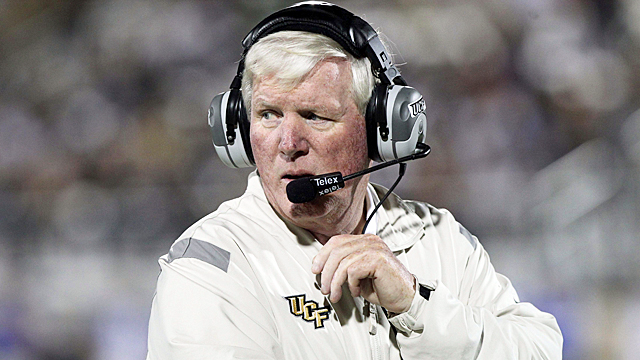 More college football: Jon Solomon | Dennis Dodd | Jeremy Fowler | Latest news
Mike Slive said at last week's SEC spring meetings that if the NCAA reforms targeted by the SEC and the other Power 5 conferences -- like, say, the equally-angsty Pac-12 -- weren't put into place, the league would support the movement to break those conferences off into a new NCAA Division 4.
That stance wasn't really anything new, of course; the Big Ten's Jim Delany was subtly hinting as much three years ago. But it's rarely (maybe never) been stated so boldly by any Power 5 commissioner, and so far Slive's saber-rattling has drawn more than a few responses from the other side of the so-called have-have-not divide. The most recent, and possibly most, uh, attention-grabbing of those responses is George O'Leary's, who in a Tuesday interview with the Orlando Sentinel compared the SEC to the antebellum South.
"They sound like the South during the Civil War," O'Leary said. "If they don't get their way, they're going to secede and start their own country … I think college football is in real trouble."
"The thing that's disturbing is that college football has been fighting for years to create a level playing field and now they're trying to go the other way and create an even wider gap between the haves and have-nots," O'Leary added. "I think some of these schools have forgotten where they came from."
We're sure no one in SEC country will find these kinds of remarks inflammatory at all! And without getting into the political-historical angles of O'Leary's not-at-all-loaded analogy, it's worth remembering that the Power 5 aren't discussing a split in order to keep their dragon's hoard of TV money away from the UCF's of FBS; they're doing it in an attempt to share that money with the athletes that make it possible. Florida president Bernie Machen may not have made a lot of friends in the "Group of Five" conferences when he argued for a Division 4 in the event of more failed reforms, but he's not wrong when he points out the unfairness of the SEC being sued for not providing full cost of attendance scholarships when it was prevented from offering them by schools who (mostly) aren't being sued.
O'Leary is welcome to his opinion. But when that opinion ultimately amounts to arguing for fewer benefits for the athletes that have helped make O'Leary's career and is phrased in one of the most provocative fashions possible, it's one we'd argue O'Leary should have kept to himself.
College football bowl games were all announced on Sunday, and you can check out the entire...

SportsLine simulated every bowl game 10,000 times for pick'em leagues and confidence pools

Everything you need to know to watch and pick the Las Vegas Bowl on Saturday
Everything you need to know to watch and pick the Camellia Bowl on Dec. 16

Everything you need to know to watch and pick the New Mexico Bowl on Dec. 16

Everything you need to know to watch and pick the Cure Bowl on Saturday