UCLA enjoying spotlight as winning team in Southern California
The city of Los Angeles loves a winner and the UCLA Bruins have been that and more under coach Jim Mora. But QB Brett Hundley and the Bruins have a huge mountain to climb in the tough Pac-12.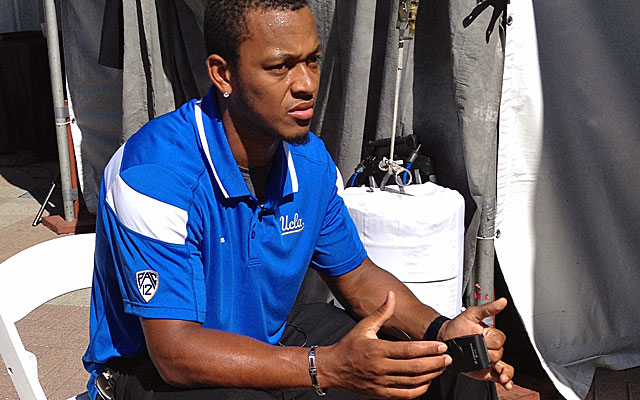 More college football: Jon Solomon | Dennis Dodd | Jeremy Fowler | Latest news
HOLLYWOOD -- There's something about ruling this town. They love you anywhere when you're on top and all that, but when you're on top in LA anything seems possible.
Even at UCLA.
Yeah, it's been a while hasn't it? As the Pac-12 celebrates a reawakening, UCLA just now has stopped hitting the snooze button. For years, the cross-town rivalry with USC wasn't. The Bruins have won the last two meetings, and posted a 10-win season for the first time in eight years. Brett Hundley was asked Thursday at the Pac-12 media days if UCLA runs the city.
"I do, personally," the redshirt junior quarterback said without hesitation.
Why stop there? In an eat-your-own conference the Bruins are attempting to appear in their third Pac-12 championship game in four years. Hundley and his grinding coach Jim Mora are the faces of the program.
With apologies to hockey fans, the Bruins at least are sharing the L.A. sporting landscape.
Sealing the deal is another thing. UCLA hasn't been at this point since 1998 when it last won the league and had a USC winning streak. It is also coming off a 10-win season with a top-10 preseason ranking and a high-level NFL pro prospect at quarterback. That year the Bruins rode Cade McNown within a game of the first BCS title match.
Aside from momentary spike in 2005 (10-2), UCLA hasn't been as good since. Next base camp to the mountaintop: Stanford. The Bruins are 0-3 against the Cardinal under Mora. 
"From where we were two years ago, it's been a huge jump," said Hundley, a redshirt junior. "I remember when I got here my freshman year, there was nothing."
That was 2011. The program was in the final days of Rick Neuheisel going 6-8 and qualifying for the conference champ game only because USC was on NCAA probation. That's the same guy who recruited Hundley out of Chandler, Ariz., in what seems like a lifetime ago.
"Absolutely," Neuheisel said. "They're re-arming. You're going to have some downturns but you know where football is on the importance meter at USC. At UCLA you can't lament that. I love where the Bruins are right now."
It is a year of the comeback in Westwood. Hundley earned the love of Bruins everywhere when he announced a return for his fourth season of eligibility shortly after the bowl game. Mora turned down interest from Washington and Texas. He continues to bring an NFL sensibility to a program that was stuck in neutral (19-8 in two seasons).
"Anybody can go to Alabama and be just another player," Hundley said, "I wanted to go where I could be part of something special. I wanted to go where nobody said we could get this thing done."
Fast forward to sun-splashed media days and once again anything seems possible in July. Under Mora, UCLA plays with a toughness not seen in a while in Westwood. Hundley is the first quarterback to lead the Bruins in rushing since 1964. How many teams have the freshman offensive and defensive conference player of the year? Linebacker/running back Myles Jack goes both ways, actually leading the team in rushing touchdowns.
Mora has aggressively pursued facilities upgrades, well, aggressively. If a shovel doesn't get stuck in the ground on a new football building by Oct. 1, 2015, he can walk without paying a buyout. The assistant coaches salary pool has grown from $1.6 million to $4 million.
That's the leverage winning brings anywhere but especially to a dormant power.
"Let's not kid anybody," Mora said. "I wasn't the most popular hire in the history of college sports, I can promise you that."
Mora's arrival in December 2011 smacked a lot of the Pete Carroll track at USC. At the time of their hirings, both were sort of average NFL head coaches. UCLA is in the early stages on following through on a renaissance that, for USC, morphed into a dynasty.
"I think Jim has a great pulse for this. I also think he has an advantage," Neuheisel said. "He's not from that [UCLA] system ... He brought with him outside perspective. When I got there I was just an old Bruin."
The former Bruins coach has transformed into a world-class analyst on the conference's network. His credibility is bolstered by his experience at three Pac-12 schools -- and his objectivity. Neuheisel will fairly analyze all three -- Colorado, Washington and the Bruins -- with no hint of being a homer.
Plus, Neuheisel knows what it's like to be on top in LA. As a player he beat USC and went to a couple of Rose Bowls.
"If you embrace that rivalry you'll understand why all the work and blood and sweat and tears are worth it," he said. "That day you get to celebrate that rivalry is unlike anything else."
That's where Hundley's game and head is at right now. The Bruins have won those last two meetings after losing 12 out of 13 to the Trojans.
"Even fans were crying," Hundley said of the turnaround. "Just be able to see all that excitement is special. "
His dual threat abilities have him on that NFL radar.
"I can tell you unequivocally that Brett Hundley is a first-round draft choice," Mora said. "He's got every tangible and intangible quality you can think."
In the offseason, the coach hooked up his quarterback with the likes of Philip Rivers and Tim Tebow. Hundley rubbed elbows with the greats at the Manning Passing Academy.
This is how the great ones go out in L.A. On top or otherwise, Hundley already has said he will drop the mic after a final performance. This is his final season.
"We've done, I guess, something at UCLA," Hundley said. "It won't mean that much if we don't finish what we started."
Three straight titles makes it seem like 'Alabama and everybody else' in the SEC

Some early-season Big Ten games could shake up the national standings

Trust the Process as Tom Fornelli leads you toward his best bets in Week 4 of the season
The Crimson Tide basically have to be perfect these days ... or else

Guice is dealing with a 'minor injury' that has not been specified by coach Ed Orgeron

Professional college football bettors are loving Jim Harbaugh and Michigan against Purdue