UCLA's band broke out its Trojan War halftime show again, with Cal's help
This halftime show is entirely unrelated to any other Pac-12 schools. We're sure of it.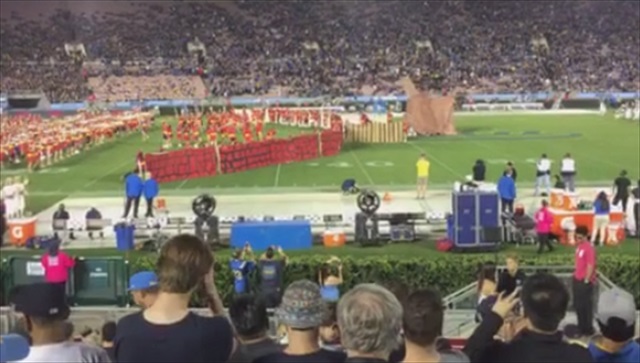 UCLA's band has its own Olympic tradition: every four years, it performs a halftime show depicting the Trojan War and the entrance of the Trojan horse inside the city walls, bringing about the fall of Troy. 
Surely, surely, this is unrelated in any way to any other Pac-12 schools and their nicknames, mascot, program imagery, etc. Which is why it's perfectly OK that other Pac-12 bands occasionally help UCLA's out with the performance, which was the case Thursday night with Cal in town. Here's a Vine of the climactic horse-entrance:
And even better, via Fox Sports, here's a clip of the full re-enactment:
That's great stuff, good enough that if I'd have been there in person I'd have wound up cheering myself ...
...
hoarse.
Spurrier is among those thinking Saban can coach well into his 70s

The alliance includes including scheduling, training, development, recruitment, retention and...

Power Five home-and-homes have been a priority for UCF AD Danny White
Greg Byrne and Danny White had some words about what it means to be national champions

The team at TheMichiganInsider.com have an exclusive look at Michigan's spring practice

The 'Conference of Champions' won't be in the Round of 32 for the time since 1986