UConn becomes season's first FCS victim (Sorry, Louisville)
Paul Pasqualoni's Huskies lost at home to FCS Towson 33-18 Thursday, an embarrassing loss not only for UConn but the whole AAC.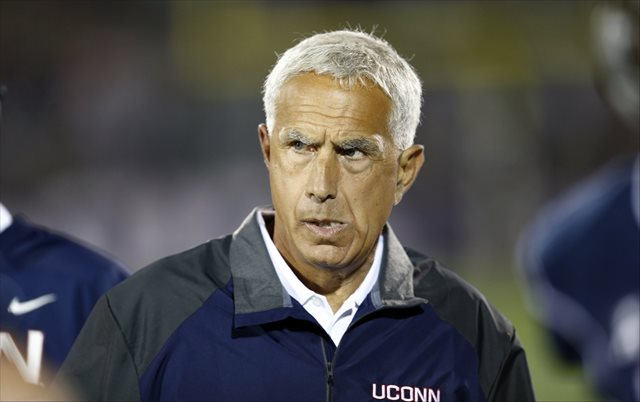 UConn's decline from their 2010 trip to the Fiesta Bowl was made complete Thursday night when the Huskies lost 33-18 to the FCS Towson Tigers. But it won't just be Paul Pasqualoni that feels the pain.
The new American Athletic Conference is already fighting uphill to be taken seriously as a major conference in 2013 -- after all, come 2014 and its relegation to the "Group of Five" leagues without dedicated College Football Playoff bowl contracts, very few college football fans will consider it one. But for this season, the AAC is still a BCS league, and it has what its supporters feel is a legitimate national title contender in top-10 Louisville.
But the whispers about the Cardinals' schedule being unworthy of a BCS championship berth started ... oh, about five minutes after they'd finished beating Florida in last year's Sugar Bowl. Charlie Strong won't want to hear about any what-if's related to an undefeated season, but in the event his 12-0 Cardinals do need to short-circuit off voter preference for a one-loss champion from any other BCS league -- much less the poll-beloved SEC -- they need the AAC to appear as strong as possible. (For that matter, given that UConn beat the Cards in Louisville just last season, it would help if UConn looked as strong as possible.)
To state the obvious: losing 33-16 at home to an FCS team won't help those issues a single bit, and it won't help anyone else in the AAC who might need the league's image burnished before Louisville leaves it for the ACC next season. Remember: it's the top-ranked "Group of Five" team that gets an automatic berth to one of the big-money bowls starting in 2014. In Cincinnati, and Tampa, and Houston -- and, yes, in Storrs -- the polls will matter.
To be fair to UConn, Towson was never supposed to be cannon fodder; the Tigers are No. 11 in the preseason FCS poll and pushed LSU for a while last season. And a single game won't change that many pollsters' perceptions that forcefully. (It may, however, substantially change the perception around UConn as to the direction of Pasqualoni's program.)
But there was little evidence on display Thursday that UConn will do anything to undo whatever amount of damage they did against the Tigers. The loss wasn't a fluke; Towson outgained the Huskies 393-287 and gashed the proud Husky defense -- which seemed to miss departed coordinator Don Brown, now at Boston College -- for more than 200 of those yards on the ground.
It'll get better than this for UConn, and for the AAC this season; it can't get a lot worse. But it may not get a lot better, either, and it may not get good enough for Louisville.
Let's pay some respect to a couple of overlooked teams in this week's college football ran...

Jones has been with the program since its inception for the 2009 season

SportsLine's computer model simulated every Week 13 rivalry weekend game 10,000 times with...
Mayfield grabbed his crotch and shouted expletives at Kansas on Saturday

The statue will go up in 2019 after Illinois completes its new football performance center

The junior injured his finger diving for the pylon late in the first quarter of the loss to...