UConn RB hospitalized after surviving fatal car accident
Senior Martin Hyppolite's career could be in danger after an accident that claimed the life of a New Hampshire man.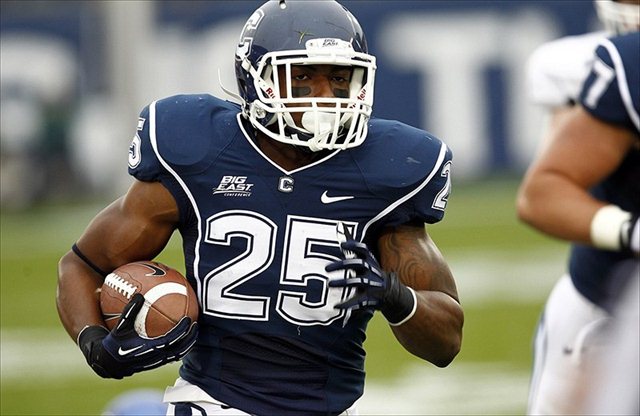 A Saturday morning car accident that claimed the life of a New Hampshire man also left senior Connecticut running back Martin Hyppolite in the hospital in serious condition.
The Hartford Courant reported Monday evening that according to local law enforcement, Hyppolite was a passenger in a vehicle driven by 22-year-old Ryan Marchant which collided with a Buick driven by 74-year-old Bruce Larson outside of Durham, N.H., Saturday.
While the Courant reported the "extent of Hyppolite's injuries are unknown," he remained in serious condition at the Portsmouth Regional Hospital Monday, with a UConn official saying the school has been in touch with medical personnel and that Hyppolite should be released this week. Per the Courant, the official added that Hyppolite's football career "is in doubt."
In an update on the situation Wednesday, however, UConn head coach Paul Pasqualoni specified that Hyppolite had suffered a hip injury and said he did not believe the injury to be career-threatening. He added that he expected Hyppolite to be discharged from the hospital and back on campus by Thursday.
"The doctors here have gotten all the x-rays and our doctors here and trainers here have spoken with the people in New Hampshire at the hospital," Pasqualoni said. "You know, it's just going to be a matter of how fast he heals. At this point, I'm not clear on what the timeline on that is but the information I've gotten is, once it heals, it heals."
Larson was pronounced dead at the scene. Marchant's current condition is unknown, though the AP reported that he had been initially hospitalized in critical condition. Police have said an investgiation into the accident is ongoing and that criminal charges have not been ruled out.
Hyppolite had played tailback and linebacker at UConn before spending much of his junior season at fullback. His 69 rushing yards on 19 carries were good for fourth on the team. He appeared in all 12 Huskies games and scored one touchdown.
Trust the Process as Tom Fornelli leads you toward his best bets for Week 13 of the season

This edition of the sport's greatest rivalry will go down in history as one of the most im...

Dennis Dodd makes his prognostications for the last and most important week of the regular...
Kelly is presently deciding whether to start anew with the Gators or Bruins

There are a handful of conference championship games still to be determined

SportsLine's top college football expert, on a 30-18 run, locks in his top picks for a loaded...