UMass football alums ask coaches to 'stop improper treatment' of players
A video showing UMass players wrestling and boxing each other has helped lead to an online petition asking Charley Molnar to stop player mistreatment.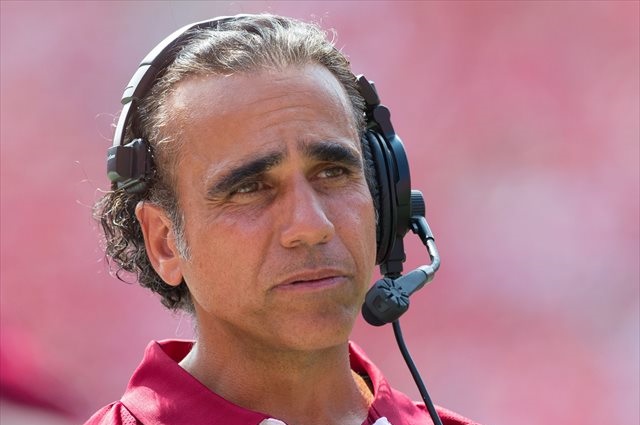 A group of UMass football alumni started a petition asking Minuteman coach Charley Molnar to "stop the improper treatment of the current players," the Hampshire Daily Gazette reported.
The petition circulated online after being posted to a private Facebook group for Minutemen football alumni. Along with the petition, the original posting included a UMass-produced video showing the team's 2012 winter workouts, which included wrestling matches and boxing matches -- complete with football helmets and boxing gloves -- between teammates.
The video was republished by the Gazette:
Former UMass quarterback Brandon Hill, now at Monmouth, said he suffered a dislocated shoulder and a torn labrum in a wrestling match with a linebacker -- a so-called "combative" drill that the NCAA rulebook has since termed a violation. 
Molnar defended himself in statements to the Gazette, saying he used the exercises to remove the players' "self-doubt."
"We did all these activities with safety in mind. I'm a fanatic about player safety," he said. "I thought it aided in team-building. Guys faced the fear and fought through it. That was the objective."
UMass athletic director John McCutcheon voiced his support for Molnar, saying that he had not heard any "objection" from the players over the drills. But chancellor Kumble R. Subbaswamy issued a statement "asking the Compliance Subcommittee of our campus Faculty Senate Athletic Council ... to conduct a thorough investigation of the circumstances surrounding the video to determine whether such exercises constituted either physical or mental abuse of our student athletes."
In the end, with no NCAA rules violated and current players seemingly less worried about the drills than the alumni or transfers, the video and controversy likely won't hurt Molnar nearly as much as his 1-15 record as UMass's head coach -- a record that includes a 24-14 Week 3 home loss to Maine. But whether the alumni are complaining because of player treatment, Molnar's personality, or strictly wins and losses, their support (or lack thereof) is one more positive Molnar won't be able to rely on as he attempts to right the Minutemen's ship.
HT: Deadspin.
Guice was ruled out for Saturday but convinced Ed Orgeron to let him play in a limited rol...

Greg Huegel suffered a knee injury during Wednesday's practice

The Wildcats and Utes open conference play on Friday night
Eichorst's firing on Thursday sets Riley's seat ablaze, even if a decision won't be made i...

Eichorst had been at Nebraska since 2012

Three straight titles makes it seem like 'Alabama and everybody else' in the SEC