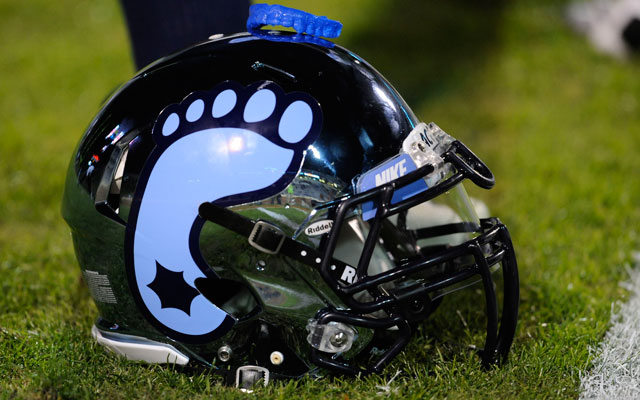 One particular stain in the North Carolina scandal won't go away.
No matter how many passes the NCAA takes on what still has to be labeled the largest academic fraud scandal in major-college history; no matter how many coaches and championships are walled off in denial of a history of paper classes that went back 18 years, North Carolina's reputation as a highly-regarded top-level research school -- not just the athletic department -- is being questioned by a higher power.
Belle Wheelan can tell you. The president of the regional accrediting agency charged with approving North Carolina's academic credentials remains troubled.
In her 11 years as head of the Southern Association of Colleges and Schools Commission, she has never seen anything like it -- a school this prominent being put on probation by her organization.
"It was devastating, it really was," Wheelan said. "Everybody keeps saying this is an athletic issue. This is much more than an athletic issue."
True, this is an entire University of North Carolina issue. Boiled down, it's an issue of whether the entire system is about handing out degrees or actually educating its students.
Last June, Wheelan's organization put North Carolina on probation for alleged "non-compliance with the principle of … academic integrity." Of course it stemmed from the ongoing NCAA investigation that seeks to determine whether there was systemic academic fraud for almost two decades in the Tar Heels' athletic department.
The school has instituted a series of sweeping reforms. A UNC update to Wheelan's organization appears here.
While the NCAA hasn't come close to putting the words "academic" and "fraud" in the same sentence, for the commission, there was no tip-toeing around the issue. The school could lose federal funding because that's what accrediting agencies do.
They're watchdogs, making sure schools aren't defrauding the public and students in accepting those federal funds. Basically, accreditation tells the public if their degree from State U is worth a damn.
"Employers want to know, 'What good is this degree if parts of it are in question?' said Wheelan, Virginia's former education secretary. "It creates havoc, no doubt about it."
There is no argument in this discussion about whether Roy Williams knew or should have known. There shouldn't be. The institution's higher-education rep is much more important.
The NCAA can take away scholarships, wins and championships. On a completely different level, North Carolina is looking at having its soul ripped out.
The school's current probation is considered the "most serious sanction" short of being kicked out by the commission.
The SACSCOC and Higher Learning Commission are the two largest regional accrediting agencies in the country. The two entities oversee a combined 30 states and tens of thousands of schools.
Wheelan said her knowledge goes back 11 years. For the Higher Learning Commission, there is no such case similar to North Carolina's in the last 40 years. That's as far as the commission's records reach according to a spokesman.
In that sense, the country's first public university is now, and forever, an outlier. It's not necessarily guilty, but it's not the same as it was. This historic probation has seen to it.
"Students simply would not attend the university if it were not accredited," said Gerald Gurney, an Oklahoma assistant professor long involved in college athletics reform. "To be placed on probation is a very serious matter."
In fact, eight months before UNC was put on probation, SACSCOC questioned the school's commitment to investigating "degree integrity." In this letter on North Carolina's website, a commission vice president says UNC appeared to narrow the scope of the scandal to "the unethical actions by two people."
Presumably, one of those persons is former administrator Debbie Crowder. The letter goes on to conclude there was a "failure" by UNC to "examine the full impact of these 'academic irregularities.'"
There is an expectation in some spaces the probation will be lifted when the SACSCOC board meets in June. But the commission also has the option in two months to extend the probation a year or even revoke North Carolina's accreditation.
"If we get a second year we'll be in the Perils of Pauline," said Jay Smith, a North Carolina history professor who has been at the school since 1990. "We'll be playing chicken with our accrediting body. Who knows how it's going to go?"
North Carolina must prove it provides "a coherent course of study," according to SACSCOC. It must show the organization it has "appropriate administrative control over … athletics."
These are sobering issues for a school that views itself as so much better.
"We have seen enrollments decline," Wheelan said. "Parents are saying, 'If you can't be accredited, I don't want to send my child. I don't want to invest my money there.'
"It can have a devastating effect, certainly on the reputation of the institution."
To be clear, there is no evidence of an enrollment decline at North Carolina. But Smith says from his view the UNC faculty has been "remarkably apathetic" in the face of the scandal. He added most of the outrage has come from retired professors.
Some of that may have to do with tenure. Smith, a tenured professor himself, has written a book with former UNC instructor Mary Willingham -- "Cheated" -- examining the scandal.
"You certainly would not expect a respected Research I institution to be on academic probation for academic fraud," Smith said.
For now, no one knows what to expect.
"They've done all they can at the particular point," Wheelan said. "Now it's just waiting to see if our board feels what they've done is sufficient."