UNC investigation: Athletes pushed into fake classes by counselors
A new report into the North Carolina academic fraud scandal details how it happened. Also shows 47.4 percent of the students in the paper classes were athletes.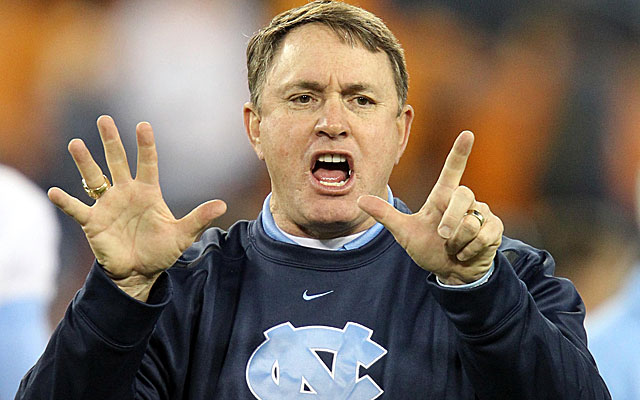 Academic counselors in North Carolina's athletic department pushed athletes into a system of fraudulent, no-show classes that was used to keep players eligible, a new investigative report released Wednesday shows.
The report by Kenneth Wainstein, a former top US Justice Department official, found that North Carolina athletes made up 47.4 percent of the more than 3,100 students who took the "paper" African-American Studies classes during the 18-year period of the scheme. North Carolina athletes comprise 4 percent of the university student body.
The report paints a picture of the classes being organized by Debbie Crowder, the student services manager of the African-American Studies department. She was such a big Tar Heels basketball fan that she sometimes missed work after a loss. Yet students never had an interaction with a faculty member and only dealt with Crowder, who was not a part of the faculty and assigned grades without considering the quality of work.
A good number of the athletes were "steered" to the paper classes by certain academic counselors in North Carolina's athletic department, the report said.
"Those counselors saw these paper classes as 'GPA boosters' and steered players into them largely in order to help them maintain their GPAs and their eligibility under the NCAA and Chapel Hill eligibility rules," the report states. "At least two of those counselors went so far as to suggest what grades Crowder should award to their players who were taking her paper classes."
For 81 students, the grade-point average boost in paper classes was the margin that gave them a 2.0 GPA that allowed them to graduate at North Carolina. The average grade for all Tar Heels athletes in the AFAM paper classes was 3.55, compared to 2.84 in regular AFAM classes. AFAM is short for the Department of African and Afro-American Studies.
Ten of the 15 players on North Carolina's 2005 national championship men's basketball team were AFAM majors. North Carolina coach Roy Williams told investigators he was "uncomfortable" early on about his players' heavy use of AFAM classes, but he denied knowing the paper classes existed without an instructor.
Williams said he asked assistant coach Joe Halladay to make sure players were not steered to the AFAM classes, and by 2007 their enrollments in the paper classes had decreased. According to the Raleigh News & Observer, Williams previously suggested publicly in October 2012 that players may have stopped enrolling in the AFAM classes because they have had other interests.
Wayne Walden, an academic counselor for basketball, told investigators he sent some players to Crowder and knew that she graded some papers.
Last June, former  North Carolina star basketball player Rashad McCants told ESPN that he had papers written for him and that no-show classes helped keep him eligible. McCann's transcript showed that in his African-American classes he had 10 A's, six B's, one C and one D, and in his other classes he got six C's, one D and three F's, according to ESPN. McCant did not respond to interview requests by investigators.
"[Former North Carolina athletic director Dick] Baddour recalled that Williams asked Baddour whether the number of independent studies McCants had taken troubled him, and Baddour replied that it did trouble him and that he wondered how the college had allowed it to happen," the Wainstein report said. Baddour said he did not recall when that conversation with Williams occurred.
There were 54 basketball player enrollments in AFAM independent studies during Dean Smith's 36 years, 17 during Bill Guthridge's three years, 42 during Matt Doherty's three years, and 167 in Williams' 11 years. Doherty told investigators that although he felt free to make significant changes to the rest of North Carolina's coaching staff upon being hired in 2000, he was told by Smith and Guthridge not to change the academic support system. That system was being handled by Burgess McSwain, an academic counselor with close ties to Crowder.
Among the athletes who were enrolled in the paper classes, 50.9 percent were football players, 12.2 percent were men's basketball players, 6.1 percent were women's basketball players and 30.6 percent were Olympic and other sport athletes. 
The report said that football academic counselors were "painfully aware" that Crowder's retirement in 2009 "would require the whole football program to adjust to a new reality of having to meet academic requirements with real academic work." There was even a PowerPoint presentation in November 2009 by two academic counselors to explain to North Carolina's football staff that Crowder's retirement meant no more paper classes. One slide read:
"What was part of the solution in the past?
* We put them in classes that met degree requirements in which 
-- They didn't go to class
-- They didn't take notes, have to stay awake
-- They didn't have to meet with professors
-- They didn't have to pay attention or necessarily engage with the material
* AFAM/AFRI SEMINAR COURSES
-- 20-25 page papers on course topics
-- THESE NO LONGER EXIST!"
Most, if not all, of North Carolina's coaching staff was present at the meeting, including then-coach Butch Davis. The academic counselor later sent the PowerPoint to Robert Mercer, the director of North Carolina's academic support unit for athletes, and senior associate athletic director John Blanchard, according to the report. 
Crowder's boss, longtime African-American Studies department chairman Julius Nyang'oro, allowed Crowder to create the paper classes and later continued some of them when Crowder retired. On one occassion, according to the report, Crowder told Nyang'oro that the athletic department academic counselors "believed he was 'being an ass' for demanding so much from the players and were rethinking whether they should be steering student-athletes to AFAM classes."
One popular class was Swahili 3, in which struggling students could satisfy their foreign language requirement by writing a paper about Swahili culture in English rather than completing a regular Swahili 3 paper class in Swahili. The report says 18 students were enrolled in Swahili 3 paper classes, including 12 athletes.
Nyang'oro was initially indicted by a grand injury for accepting payment for a summer class he did not teach in 2011. The charge was dropped last June. Nyang'oro told investigators he was sympathetic to athletes who flunked out, having early in his career seen one murdered in his hometown and another end up in jail.
The Wainstein report comes at a time when the NCAA has reopened its academic fraud case at North Carolina. Previously, the NCAA said there were no violations of NCAA policies. That was before Crowder and Nyang'oro agreed to speak with investigators.
North Carolina and the NCAA released a joint statement on Wednesday that said both sides continue to engage in an "independent and cooperative effort" to review possible NCAA violations.
"The information included in the Wainstein Report will be reviewed by the university and the enforcement staff under the same standards that are applied in all NCAA infractions cases," the statement said.
At a news conference Wednesday, Wainstein said university administrators had a "glaring" lack of oversight. North Carolina Chancellor Carol Folt said the university will initiate termination against four employees and disciplinary review for another five. Their names were not identified. 
"The bad actions of a very few and inaction of many more failed our students, faculty and staff and undermined our institution," Folt said.
Former North Carolina academic adviser Mary Willingham, who publicly questioned the literacy level of Tar Heels players and provided information on academic misconduct before leaving the job in 2010, said the report is thorough for the most part.
Willingham still questions how coaches could not have known about the fraudulent classes. Wainstein said he found no evidence that athletic coaches were involved in initiating the fraudulent classes. But he wrote in the report it was clear to the academic counselors they were being evaluated by the coaches and judged on whether they keep players eligible to play sports.
"If you're telling me you didn't know, why should you make all that money as a coach and be talking to parents and athletes about academics?" Willingham said. "I just don't buy it. It's going to be my word against Roy's and he's going to win. I remember reading about the Penn State (child sex-abuse scandal) and how the culture was a factor. It is the culture of the place here to allow something like this to happen."
Willingham, who has been criticized within the Chapel Hill community and has a civil lawsuit against the university for losing her job, said she does not feel vindicated by the report.
"It's a sad day," she said. "Maybe it's my age, but I don't really feel that being right is as important as fixing the problem. What I really wish is sometime back in 2010 the university could have acknowledged it and fixed it and helped the students."
CBS Sports HQ Newsletter
We bring sports news that matters to your inbox, to help you stay informed and get a winning edge.
Please check the opt-in box to acknowledge that you would like to subscribe.
Thanks for signing up!
Keep an eye on your inbox for the latest sports news.
Sorry!
There was an error processing your subscription.
Face coverings are available on CBSSports.com

This is the latest date we've seen for the return of players to campus

The Gators continue to stockpile depth at the quarterback spot
Ramsey finished the 2019 season as the starter at Indiana

Just three-plus months away from the start of the 2020 season, let's look at everything you...

The defending ACC football champs will be on a quest to take back the national championship...
CBS Sports was with you all day covering National Signing Day as the Class of 2020 wrapped...

Complete analysis, highlights and coverage of the 2020 College Football Playoff National Championship

Live scores, highlights and updates from the Miami (OH) vs. Louisiana football game