UNC's unprecedented academic fraud case will test NCAA
What's the appropriate NCAA punishment for what is being described as the worst academic fraud scandal in college sports history?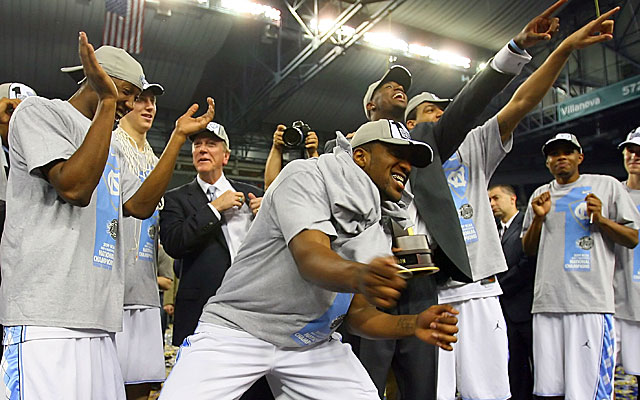 Drake Group president Gerald Gurney and two colleagues researched every NCAA academic fraud case since the Division I infractions committee began in 1953. Gurney has little doubt where North Carolina's academic scandal stands in NCAA history.
"I can assure you the depth and breadth and sheer numbers of affected athletes is in fact the largest and the most egregious case of academic fraud by far in NCAA history," said Gurney, who has been an athletic department compliance director and run academic support programs for athletes.
What's the appropriate NCAA punishment for what is being described as the worst academic fraud scandal in college sports history? Pending the NCAA's investigation, penalties could include postseason bans, fines, scholarship reductions and vacating victories (including possibly the Tar Heels' 2005 and 2009 NCAA men's basketball titles).
North Carolina's bogus African-American Studies classes for approximately 1,500 athletes over 18 years will test the effectiveness and credibility of NCAA enforcement at a time when some major conference commissioners have discussed outsourcing the discipline.
"This is going to be the first really big test for the penalty matrix and the new structure that was designed to tackle the most serious cases," said attorney Michael Buckner, who runs a sports law firm that has worked on NCAA cases. "I think the NCAA, because of the scrutiny the enforcement staff has gone under, will take a very cautious and thorough approach to it. We all know in this business that academic fraud is one of, if not the most, serious allegation you can make."
The NCAA, which announced in June it had reopened the North Carolina case once key witnesses began cooperating, will use Kenneth Wainstein's report into the scandal.
In recent months, the NCAA has said it wants to enforce violations that most seriously threaten the college model, including academic fraud. The enforcement staff added an academic integrity unit led by assistant director of enforcement Kathy Sulentic, who previously worked in athletic academic advising at Nebraska and Colorado.
"She understands the academic industry and speaks the same language as academic advisers and understands policies," NCAA vice president of enforcement Jonathan Duncan said in May.
The North Carolina scandal lingered for three years as the university tried to convince the NCAA this was not an athletic issue, but rather an academic issue because non-athletes also took the fake courses. (Athletes comprised 47 percent of the students in the bogus classes, compared to athletes representing 4 percent of the North Carolina student body.)
While a US Congressman probed for answers as to why the NCAA was not investigating North Carolina, two NCAA committees began working to clarify what constitutes academic fraud cases that should be investigated by the NCAA. Drafts of the new definitions are currently being reviewed.
"Was this an academic or an athletic issue?" North Carolina Chancellor Carol Folt said at a news conference this week. "Clearly it was an issue in both areas."
The door is now open for the NCAA to punish North Carolina.
What will the NCAA look for?
Several people familiar with NCAA enforcement outlined a few elements to what the NCAA may look for based on Wainstein's report. For starters, they have no doubt the North Carolina case rises to Level I violations (the highest level in the NCAA's structure and defined as a severe breach of conduct).
The Wainstein report didn't deal with the eligibility of the athletes. The NCAA figures to do so by going through former players' transcripts to test if bogus classes impacted their eligibility. In other words, how many of the athletes would have been ineligible if not for grades in classes that required virtually no work while grading was done by Deborah Crowder, who wasn't a faculty member?
Since Wainstein has described these classes as "GPA boosters" in the eyes of a number of academic advisers, "It defies logic to think it didn't impact eligibility for many players given the sheer numbers of phony classes," Gurney said.
The NCAA will look to see if there's an athletic component to the academic fraud. Wainstein's report went into great detail over how many people were aware of the fraudulent classes, including athletic academic advisers and Jan Boxill, chair of the university's faculty from 2011 to earlier this year. 
"I think what needs to be determined is how widespread was the involvement of the athletic department?" said Colonial Athletic Association commissioner Tom Yeager, former chair of the NCAA infractions committee. "Those kids registered for those classes somehow. What's the level of knowledge? How far does it run to administrators and other folks at the university? Ultimately, it's probably an institutional control question."
That's another question the NCAA will address: Do the violations represent lack of institutional control (a dreaded label for universities with stricter penalties) or simply failure to monitor?
Wainstein outlined a lack of academic oversight by the university for many years. The investigative report attributed the reasons to cherished academic independence professors enjoy at elite institutions and policy flaws at North Carolina that shielded the Department of African and Afro-American Studies (AFAM) from established oversight mechanisms.
"I feel almost certain that this is an egregious case of lack of institutional control," Gurney said. "If ever there was a case, this is it."
Also, there's the question of whether there is any culpability for past or present North Carolina coaches, including men's basketball coach Roy Williams. Wainstein's report avoided placing blame on coaches for the classes. But the report said it was clear to academic counselors that coaches had the power over their employment and the counselors were being evaluated by the coaches based on keeping players eligible on the field or court.
Wayne Walden, an academic counselor who Williams brought to North Carolina from Kansas in 2003, told investigators he worked with Crowder to get players into the fake classes she organized. Walden admitted knowing students enrolled in these classes had no contact with faculty and said he thought Crowder was probably doing some of the grading.
Penalties in the old NCAA enforcement structure relied on whether the head coach had a "presumption of knowledge" of violations. Under the new structure since 2013, the bylaws presume responsibility by the head coach, who can be disciplined for other staff members' behavior.
Williams told investigators he never learned from Walden or anyone else there was a question about faculty involvement in the classes or that Crowder was doing the grading.
"When you bring your own academic counselor from Kansas and that counselor continued the sham for eligibility purposes, it is not believable that Roy Williams didn't know about it," Gurney said. "He asked the athletic director about the course loads."
Possible penalties
The NCAA's penalty structure changed in recent years to more closely follow federal court sentencing guidelines. Aggravating or mitigating factors can increase or decrease the punishment.
For example, a school with an aggravating Level I violation could face a two- to four-year postseason ban; fines that reach up to 5 percent of the total budget for the penalized sport; scholarship reductions between 25 percent and 50 percent for the involved sport; a show-cause order of five to 10 years for an individual involved in a case; and a head coach suspended for up to a full season.
"At first blush, [North Carolina's case] seems like Level I aggravating given the number of athletic employees allegedly involved, the number of occasions with athletes, and the period of time," Buckner said. "I think a lot of penalties will be on the table."
North Carolina will likely argue there's a mitigating factor: The university went to great effort and expense to conduct a public investigation. North Carolina could argue the NCAA would not have found out about the scope of the fraud if not for the university-funded Wainstein investigation.
"To their credit, they finally got to the bottom of this," Gurney said. "They didn't have to do that. They could have said the NCAA is saying this is an academic issue, but they went ahead and got an outside person and did a thorough job."
Gurney, who has run academic support programs at Oklahoma, Iowa State, SMU and Maryland, sees an opportunity for the NCAA to show it's serious about academics on a number of fronts.
For starters, Gurney proposes a "very severe limit" on the number of independent-study classes a student can take and require a certain grade-point average to enroll in such a course. He also wants a limit on online classes, which he believes are ripe with fraud.
"But if you really want to stop this fraud, you make it transparent," Gurney said. "I would have a committee across all colleges that looks at the grades athletes receive vs. the student body course by course, without identifying students. Faculty will stop giving out easy grades immediately."
Wainstein provided a level of such transparency in his report. In one example, he showed that the average fake-class GPA for six North Carolina football players in 2009 was 3.61 -- far higher than their average GPA of 1.917 for their other classes.
Brian Shannon, president of 1A Faculty Athletics Representatives and Texas Tech's faculty rep, said he's not sure what impact Gurney's idea would have. Shannon said the North Carolina case should force schools to do their own crosschecks on grades, similar to checks over the number of athletes who cluster to certain majors.
"But I think the NCAA has to send a strong signal here academic fraud is not acceptable," Shannon said. "It can't be perceived as some sort of wrist slap that runs counter to educating our student-athletes. We need to assure people that students are here to get legitimate degrees."
The North Carolina case doesn't appear to be following the track of the Penn State child-sex abuse scandal, in which NCAA president Mark Emmert went outside the regular enforcement process with unprecedented penalties that have since been reduced. The NCAA has said the Wainstein report will be used under the same standards for all cases.
"I hope Emmert is fair and lets it run its course because there are mitigating factors on North Carolina's part," Gurney said. "There's an opportunity for Emmert to reestablish control over a renegade membership. Will he take that opportunity? I don't know. He's been a very weak NCAA president."
CBS Sports HQ Daily Newsletter
Get the best highlights and stories - yeah, just the good stuff handpicked by our team to start your day.
Please check the opt-in box to acknowledge that you would like to subscribe.
Thanks for signing up!
Keep an eye on your inbox for the latest sports news.
Sorry!
There was an error processing your subscription.
Stevens is reuniting with former Penn State offensive coordinator Joe Moorhead in Starkvil...

Ranking each AAC team by their projected strength of schedule in 2019

Olonilua rushed for 635 yards last year for the Horned Frogs
Ranking each Pac-12 team by their projected strength of schedule in 2019

Projecting the 2019 strength of schedule for every Big 12 team

The Big Ten is rolling in money after a reported revenue of $759 million