Underappreciated Snyder shakes up Big 12 race with upset at OU
Bill Snyder is working another miracle in Manhattan with his Kansas State team and rolled out Oklahoma with an upset win. In doing so the veteran coach has blown the Big 12 title race open and made his team one of the favorites.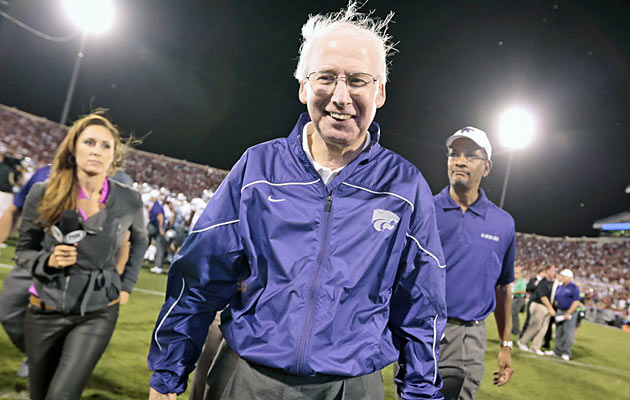 Nobody gets the most out of his players than Bill Snyder, who thrusts K-State into the Big 12 title picture. (US Presswire)
NORMAN, Okla. -- Bill Snyder isn't what one would call a technologically savvy coach. A simple 72-year-old who cares chiefly about his family, football and his program, don't bother asking him about Twitter – he'll probably think it's a backside blitz -- Facebook or what the iPhone is.
Saturday night, less than an hour after his Kansas State team rolled into Oklahoma and delivered a 24-19 upset that caused the winds at Owen Field to howl in anger, Snyder's Wikipedia page he'll likely never see was updated to include a new middle name for the master of Manhattan: God.
The work of an overzealous Wildcats fan? Sure, but it's not far from the truth. Snyder has been working miracles and transforming underdogs into winners with amazing success since 1989, when he first took over what was one of the worst FBS-level teams in the country. In his second stint at the program he built – his name's on the stadium – he's taken Jucos and starless recruits nobody wanted and managed to turn them into winners with remarkable success. It may be the football equivalent of water into wine but the always humble dean of Big 12 coaching simply smiles and deflects credit to his players.
"Coach Snyder says to have no limitations and play to the best of our ability," quarterback Collin Klein said. "We have to do what we need to do in order to be ready for a battle and when the time comes, we have to go to battle. We believe that together we're able to get it done. It's a big step, a big win."
Fourteen ranked teams came into Norman to face Bob Stoops and 14 left bruised, battered and beaten. Not Snyder, not this time, as he runs his September record to 55-5 since 1992. The veteran coach has a much improved defense with just two players he signed out of high school, a bruising running game with tailback John Hubert and the country's most underrated playmaker in Klein, who sealed the game with two 3rd down conversions by using both his arm and his legs. There's nobody more underappreciated than the Wildcats, and that's fine by them, but their opening win means whoever wants to win the Big 12 this season will have to keep pace with somebody other than Texas or Oklahoma.
"It gives us confidence and momentum," Hubert said. "We are one of those teams that can be in the top five easily, but we like to be underdogs. It gives us confidence to go out and play hard."
Oklahoma will likely fall out of the top 10 and the questions the lackluster win over UTEP to open the season brought up will continue to haunt a team that simply turns the ball over too much on offense. Their Red River rival Texas can earn their top 15 ranking and show they can carry the Big 12 banner next week with a win against Oklahoma State. Newcomers West Virginia and TCU were not terribly impressive in early games Saturday but have the talent to swing for the title.
It's a jumbled up Big 12 and somebody's got to win it, why not Kansas State?
"All wins are important as every coach will tell you," Snyder said. "They're so hard to come by no matter who you have to play. When you play somebody as good as an Oklahoma team, then it really does mean something special to them. I think they feel good about it.
"But you'll probably see that it's not like they've never been there before."
With a wide open conference race and no clear favorite, maybe it's the crafty Wildcats who are the ones out front just like they were Saturday night.
CBS Sports HQ Daily Newsletter
Get the best highlights and stories - yeah, just the good stuff handpicked by our team to start your day.
Please check the opt-in box to acknowledge that you would like to subscribe.
Thanks for signing up!
Keep an eye on your inbox for the latest sports news.
Sorry!
There was an error processing your subscription.
Old Dominion got its first C-USA win in bizarre fashion

Purdue knocked Ohio State out of the College Football Playoff, and rival Michigan is happy...

The Buckeyes got stomped by Purdue, and now that's all anyone will talk about for the next...
Purdue turned in its most impressive win of the year, and honored Trent with a "cancer sucks"...

The Big Ten's biggest fear may just be starting to come true

NCAA football scores, highlights and updates from Week 8 all Saturday long