Unless it's BCS, Notre Dame suddenly a bowl outlier the next two seasons
If not in the BCS, ND will have to hope some conference can't fill its bowl slots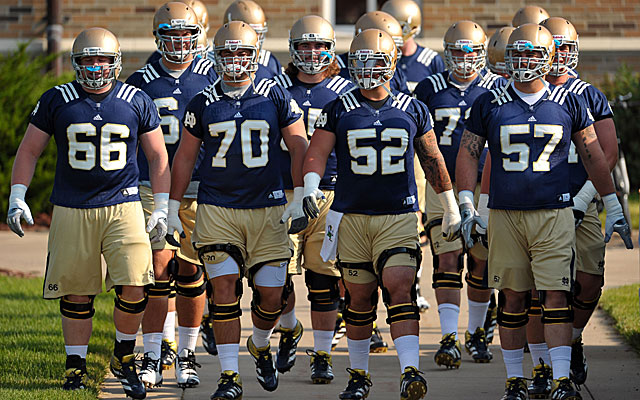 The Irish could win nine games and conceivably get shut out of a bowl game. (US Presswire)
SOUTH BEND, Ind. -- It is the kind of independence Notre Dame loathes.
The Irish begin the 2012 season this week as essentially the only FBS program (Division I-A) without a possible bowl tie-in below the BCS level. That means an N.D. team that finishes 9-3 could conceivably be left without a bowl through the 2013 season. That is, if doesn't meet its BCS qualification criteria -- automatically in one of those five bowls if it finishes in the top eight.
"What we have to do, it's no secret, is not be in this [current] position," Notre Dame AD Jack Swarbrick told CBSSports.com recently. "It's not manageable."
The situation developed when the Champs Sports Bowl (now the Russell Athletic Bowl) exercised a once-in-four-years option to take the Irish last season. For the final two years of the BCS, then, Notre Dame -- if it doesn't gain that automatic BCS spot -- will have to hope.
More on Notre Dame
Opinion

Related content
Hope that some conference will not be able to fill its bowl slots or one of the other independents -- Army, Navy, BYU -- is not bowl eligible. All 35 bowls -- 70 spots -- are spoken for this season. There were only 72 bowl-eligible schools for those 70 spots last year. CBSSports.com's Jerry Palm projects the 2012 postseason will be right at the cut line -- 70 spots for 70 bowl-eligible teams.
Four bowl-eligible teams have already been removed from the pool of bowl participants -- Central Florida, Ohio State, North Carolina and Penn State. However, the four newest members of FBS -- South Alabama, Texas-San Antonio, Texas State and UMass -- could be bowl-eligible under expanded bowl eligibility guidelines adopted by the NCAA, in part to address the shortage of teams.
Palm still projects Notre Dame will be one of those 70, playing Miami (Ohio) in the Military Bowl Dec. 27 in Washington, D.C. That matchup would mark the fourth time in Notre Dame's long and glorious bowl history that it played an opponent outside the current six BCS conferences.
As mentioned, the Irish's best hope below the BCS is for some conference or another not to fill its allotment of bowl teams. Notre Dame opens the season Saturday in Dublin, Ireland, as a 17-point favorite against a Navy team with more bowl security (Kraft Fight Hunger) than the Irish.
"Now the good news is with conference realignment there will probably be some openings that there might not have been," Swarbrick said. "The Big 12 now has 10 teams. Maybe they've only got four teams or five teams to fill their slots."
You read that right. The once-mighty Irish could be scoreboard watching in hopes of getting into the postseason. In the case of the military, Army and an eighth pick from the ACC would not be bowl eligible in order for Palm's projection to be possible. By the way, the 10-team Big 12 filled all eight of his slots last season.
Notre Dame has been granted special access to the top bowls for essentially the past 20 years since the Bowl Coalition debuted in 1992. Since 1998, Notre Dame has been guaranteed a BCS bowl if it met a standard -- currently top eight automatic, top 14 considered. If not, it has had agreements in conjunction with the Big East at various times with the Gator, Insight, Music City and Sun bowls over the past 14 years. (From 2002-2009 there was also a loose agreement with the Cotton Bowl.)
Since going to the Fiesta Bowl at 6-4-1 in 1994, N.D.'s access to the top bowls has decreased throughout the years in the BCS. Critics have howled over the BCS caveat that gives Notre Dame $1.3 million per year in years when it doesn't play in a BCS bowl. It didn't help the perception when the Irish lost nine consecutive bowls from 1994-2006.
It has been widely speculated that the Orange Bowl will contract with Notre Dame to play the ACC champion beginning in 2014. Starting that season, if N.D. doesn't land in the top four for the playoff as selected by a human committee, it would have to finish in spots five through 12 to get to the Orange. Six bowls will be in the playoff rotation each season -- two hosting semifinals and four others rotating through.
If the Orange Bowl hook-up isn't finalized, N.D. could be in a dire situation. Starting in 2014, in any given year there may be only three at-large spots available out of 12. If only three spots are open, a qualified Notre Dame most likely would get one of them. But the Orange Bowl agreement would make it a certainty and make it more lucrative.
The Orange Bowl deal probably won't be announced until after the Champions Bowl media rights deal is done. The SEC and Big 12 are expected to get a number equal to the Rose Bowl which signed with ESPN recently for $80 million per year from 2015 through 2026. That number represented a $50 million increase per year from the old deal.
The Orange Bowl deal isn't expected to be as high, but it's clear that the value of a playoff beginning in 2014 is shooting prices through the roof.
"What we wanted going in is a system where, if we earned it, we'd get in," Swarbrick said. "The system allowed that. That was a critical element to us."
Below those top six bowls, Notre Dame could be involved in a "tiering" process where it would qualify for lower-level bowls if it met a certain threshold. What Swarbrick wants to avoid is his program becoming second-hand in the postseason.
In 2008, Notre Dame dropped down to the Hawaii Bowl in the pecking order because it was only 6-6. That was OK with then-coach Charlie Weis, who eventually landed five-star linebacker Manti Te'o, an Oahu native. In 2010, Notre Dame played Miami in the Sun Bowl, taking a Pac-10 bowl slot that wasn't filled.
"Is that ideal?" Swarbrick asked. "No, it's not ideal. It has worked out but it's Russian Roulette. You're counting on a set of circumstances that may not happen. You can't have any predictability."
And Notre Dame loves predictability. From 1987-95 the Irish went to a major bowl each season (Cotton Bowl included) while winning a national championship. Since 1998, it has played in three BCS bowls.
For decades in an unregulated bowl market, Notre Dame's name frequently was enough to land it in a major postseason game. In 2012 and 2013, the program has bowl eligibility standards for one of the four BCS bowls but no postseason anchor below that level for the first time since 1997.
As the No. 1 independent, N.D. prefers scheduling flexibility. See this year's regular-season schedule that includes games in Dublin, Los Angeles, Norman, Chicago and Boston. But it also wants a certain degree of postseason certainty.
The current situation indicates in some small way how N.D.'s mediocre football is having an effect. At least for 2012 and 2013, it won't be able to write its own bowl ticket.
Swarbrick was credited with being a leader in the room as the FBS commissioners hammered out that playoff during the first six months of this year. He was seen as a calming influence in what could have been a contentious situation. When a playoff recommendation was forwarded to the presidents in June, it was no a coincidence that Swarbrick made the announcement in Chicago with his peers assembled behind him.
"It was so important that people avoided absolutes -- 'Under no circumstances will we do X,' " Swarbrick said. "You knew there were things Mike [Slive] or Jim [Delany] or Larry [Scott] weren't going to do but you knew it would have killed the tone of the meeting if people started doing that. It never happened."
There will be little sympathy for Notre Dame in some parts. In the BCS system, N.D. gets "consideration" for a BCS bowl if it finishes in that top 14. For Notre Dame, finishing ninth through 14th would all but assure the Irish a BCS bowl because of its drawing power.
At best, there are four at-large berths in the five BCS bowls (10 total berths). However, the Irish haven't been in the BCS discussion for years. They haven't so much as appeared in the BCS top 10 since November 2006. Its last overall appearance was three years ago. In that sense, Notre Dame's mediocre football is beginning to catch up to its bowl value.
"We can't fix the next two years, but after that we need some greater predictability," Swarbrick said.
CBS Sports HQ Daily Newsletter
Get the best highlights and stories - yeah, just the good stuff handpicked by our team to start your day.
Please check the opt-in box to acknowledge that you would like to subscribe.
Thanks for signing up!
Keep an eye on your inbox for the latest sports news.
Sorry!
There was an error processing your subscription.
Ball is still life for Malzahn, but he now has some space to be himself as he leads the Ti...

Swinney is happy to have his current quarterback situation

Taggart created change in Tallahassee with energy and responsibility
In his third year at South Carolina, Muschamp ready to prove the doubters wrong

The university self-reported the violations in February, but suspensions may be on the hor...

Lewis had previously been arrested in February on a domestic violence charge