Unlike FSU and Winston, Oregon not paying Mariota's insurance premiums
Schools helping players pay for insurance premiums is a new trend -- FSU, Baylor and Texas A&M are doing it. Oregon is not with Marcus Mariota, for several reasons.
• 2 min read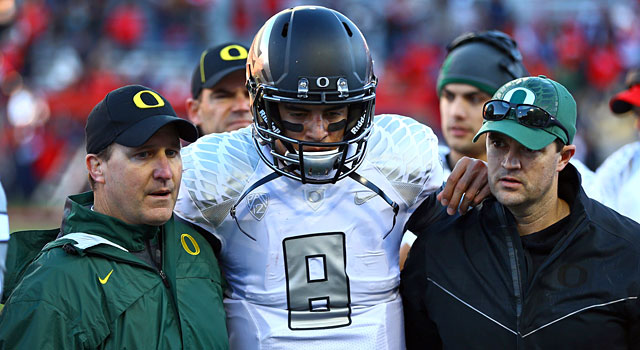 More college football: Conference Predictions | Jon Solomon | Dennis Dodd
Only one of the projected top-two quarterbacks in college football has a portion of his insurance premium covered by his school.
Oregon's reasons for that illustrate the complicated decisions schools face with how to use the Student Assistance Fund.
While FSU is using the NCAA-governed assistance fund to help Jameis Winston pay for his reported $10 million package for injury protection, Marcus Mariota has his own policy worth an undisclosed value.
Oregon doesn't currently allocate its assistance funds -- which checked out at $334,997 during the 2013-14 year -- for insurance premiums among nearly 500 student-athletes, Ducks senior associate AD Craig Pintens said.
Four Oregon football players have taken out insurance policies. Helping all four would have exhausted most or all of the annual fund allocation, Pintens said, leaving no money to help hundreds of athletes pay for emergency dental work, trips home for funerals or other player demands.
An Oregon source said Mariota purchased his insurance a while ago, closer to the end of the 2013 season, and the trend of schools helping front player insurance bills is a relatively new one. A Texas A&M official told Fox Sports in July the Aggies are helping left tackle Cedric Ogbuehi, who considered entering May's NFL draft, with nearly $60,000. "I don't think many schools know about it," Aggies associate AD for football Justin Moore told Fox about the right to allocate for insurance.
FSU is helping Winston cover his loss of value policy, which could be as much as $60,000. Baylor is assisting three players, including quarterback Bryce Petty.
In Aug. 2013, the NCAA allocated $73,514,000 to Division I conference offices for the assistance fund, which is designed to "assist student-athletes in meeting financial needs that arise in conjunction with participation in intercollegiate athletics, enrollment in academic curriculum or recognize academic achievement."
The Ducks recently consulted the Pac-12 for interpretation on using the fund for insurance premiums. The league told Oregon the funds can be used "should the student-athlete lack financial resources to pay for or obtain a loan unrelated to future earning potential."
Oregon, of course, can't publicly discuss such private matters about its players. Deciding whether the backgrounds of Mariota or other Ducks swayed the decision would be speculative.
Conferences have discretion over how the funds get distributed but can't use them on benefits such as salaries or stipends.
"With everything that's going on (with NCAA changes), hopefully in the future this is something that we would be able to budget for," Pintens said. "From our perspective, we want to ensure we're benefiting our student-athletes. We allocate that money every year."
In December, Mariota announced his returned for his redshirt junior season.
Schools will continue to face tough calls on whether to spend thousands to insure top players -- in many cases for competitive reasons -- or spread the money out evenly. 
Trust the Process as Tom Fornelli leads you toward his best bets for Week 13 of the season

This edition of the sport's greatest rivalry will go down in history as one of the most im...

Dennis Dodd makes his prognostications for the last and most important week of the regular...
Kelly is presently deciding whether to start anew with the Gators or Bruins

There are a handful of conference championship games still to be determined

SportsLine's top college football expert, on a 30-18 run, locks in his top picks for a loaded...