Unlike Pac-12, Big 12 isn't worried about SEC's 8 games
The Big 12 is not taking a stand against the SEC's decision not to go to a nine-game league schedule -- at least yet.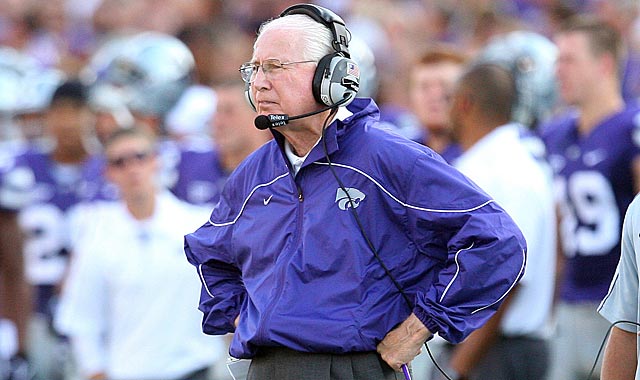 PHOENIX -- The College Football Playoff talking points have come out in full force about comparing "apples to oranges" in conference schedules.
It's only May. Wait until late November.
The Big 12 is far less concerned about the SEC sticking with eight conference football games than the Pac-12. Then again, the Big 12 is also an outlier in CFP scheduling uniformity since it doesn't play a conference championship game.
"I think everybody is doing what's best for them, as they ought to," Baylor coach Art Briles said. "If you're gonna worry about somebody, worry about yourself first. That's what's best for them. I just think it's human nature and common sense."
Said Kansas State coach Bill Snyder: "I think every conference deserves the right to do whatever they want to do. I take no issue with anybody. If they play three, that's fine. If they play 12, that's fine. That's their option."
Big 12 commissioner Bob Bowlsby said the SEC struck a compromise by staying at eight and requiring a nonconference game against a power-five conference starting in 2016.
"It isn't the number of games, it's who you're playing," Bowlsby said. "The committee will be more than sophisticated enough to make those distinctions, just like my experience with the basketball committee. They could very easily tell the difference between a 9-9 record when everybody plays each other twice and a 9-9 when there's been some no-plays and one-plays."
Pac-12 coaches have been critical that the SEC won't go to nine games, meaning some of the top SEC teams could miss each other during the regular season. For example, the SEC format means Alabama and Georgia will only play twice over 12 years.
"The NFL wouldn't play an NFC championship game and not play an AFC championship game," Arizona State coach Todd Graham said. "They wouldn't have one league playing a certain amount of conference games and another league not."
Graham said he is concerned the playoff committee will have difficulty comparing "apples to oranges."
"If we're playing Stanford and if we didn't play that extra (Pac-12) game, we'd be playing a [FCS] team," Graham said. "What if we go undefeated and lose to Oregon in the championship game and the team in the Big 12 doesn't have to play a championship game?"
While the Pac-12 worries about its champion being left out of the four-team playoff, the Big 12 expressed no such concerns.
"Unlike the larger leagues, where the teams don't play each other 100 percent, you kind of need a playoff at the end of the year because you haven't had some of your better teams play each other," Bowlsby said. "In our case, we all play each other and in some ways a conference championship game would be redundant. We think our method for determining our champion is the right one."
The Big 12 and ACC submitted NCAA legislation that would deregulate conference championship games. Conferences currently must have divisions and a total of 12 teams to stage a championship game.
The proposal would allow conferences flexibility to determine who plays in the championship game. The ACC may decide next week whether it plays eight or nine games. ACC coaches favor eight. The Big Ten is eventually going to nine games.
Bowlsby said the Big 12 has no plans to switch back to a championship game. "Does that mean we'd never consider it? We might at some time," he said. "Right now, I don't think our athletics directors or our coaches would favor it. We like our path to the national championship playoff."
The SEC's decision to stick with eight games could also have non conference scheduling ramifications. Since SEC teams will be required to play at least one game against the ACC, Big 12, Pac-12 or Big Ten, will a league such as the American Athletic Conference still get games against the SEC?
"I think it still gives us an opportunity to play them," American commissioner Mike Aresco said. "We argue strength of schedule will be very critical, and when you only play eight games with 14 teams, you'll probably be subject to more scrutiny. You can play several of our teams and get real credit for it."
Stanford coach David Shaw praised the SEC's "unbelievable" success but believes there should be uniformity in conference schedules.
"Alabama is in favor (of nine SEC games) and they'd love to go to it," Shaw said. "They'll add conference games. They don't care. It's the teams that don't want to add Alabama to their conference schedule. (Nick Saban) isn't going to back down from a challenge. It's one more challenging game on your schedule that's actually in your conference. The rest of us say, why not?"
The movie will zero in on former Penn State coach Joe Paterno during the Jerry Sandusky sc...

Bidding for Salaam's trophy, which the auction house says was obtained legally, ends Satur...

Locksley has been the offensive coordinator at Illinois and Maryland during his coaching c...
Many NFL-eligible juniors ignore advice provided by the league and risk going undrafted each...

Snyder died in Manhattan, Kansas, on Wednesday

Locksley joined Alabama's staff in 2016