Update: Prairie View coach denies contact with former Auburn tailback Michael Dyer
Prairie View coaches now deny reports that they're taking in the former BCS Championship MVP at Auburn.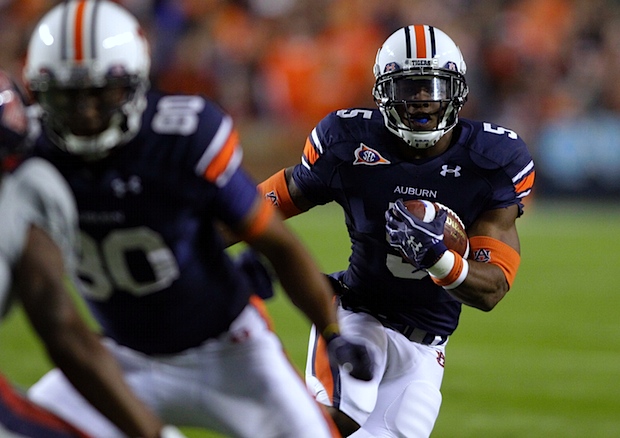 UPDATE, 3:26 p.m. ET. Throw the brakes on this story: After multiple outlets reported Dyer's pending transfer this morning, Prairie View A&M coach Heishman Northern told one of them, al.com, that he hasn't had any contact with Dyer, and was not aware that Dyer had any plans to join the team.
"I have not contacted Mike Dyer," Northern said. "None of my assistant coaches have, to my knowledge. ...I haven't talked to any coaches from Auburn, I haven't talked to any coaches from Arkansas State, I haven't talked to his high school coaches. And I haven't talked him."
Northern made a similiar statement to the Arkansas Democrat-Gazette. Nothing in the following post has been edited based on his denial. – MH
- - -
While we wait for another high-profile SEC refugee to make his next move, it looks like another has already made up his mind, for the second time:
Headed to the SWAC to play for Prairie View A&M this season! twitpic.com/aj5hkx

— Michael Dyer (@Mike_Dyer5) August 14, 2012
That would be former Auburn tailback Michael Dyer, fresh from his dismissal from Arkansas State, announcing his plans to enroll at Prairie View A&M this fall. (Not pictured: A pair of retro Nike sneakers with a PVAMU logo that Dyer passed along with his tweet.) If the transfer comes off, he'll be immediately eligible to play for the Panthers this fall. On the extremely remote chance he hasn't left school for a pro career by then, he'll also have a final year of eligibility remaining in 2013.
Prairie View A&M is an historically black university in Prairie View, Texas, a little north of Houston, known to football fans mainly for an incredible nine-year, 80-game losing streak from 1989-98, easily the most futile run by a single program in NCAA history. (In 1991, the year after Dyer was born, the Panthers scored 48 points all season while allowing an average of 56 points per game.) More recently, Prairie View delivered four consecutive winning seasons from 2007-10, including a long-awaited SWAC championship in 2009. But it still hasn't had a player drafted by the NFL since the Dallas Cowboys took defensive end Matthew Teague in the tenth round in 1980.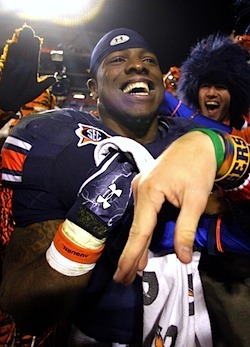 If he stays healthy and out of trouble, Dyer's combination of size (215 pounds on a sturdy, 5-foot-9 frame) and proven production in the SEC is almost guaranteed to change that. With 1,242 yards on a little over 20 carries per game, Dyer was the only Auburn player on either side of the ball voted first-team All-SEC in 2011, one year after he broke Bo Jackson's freshman rushing record during the Tigers' run to conference and national titles. In the BCS Championship Game, he was voted MVP after setting up a last-second, Tostitos-clinching field goal with two critical runs on the Tigers' final drive against Oregon.
His star began to fade last winter, when police traced a gun Dyer owned to an armed robbery involving four teammates the previous summer. Earlier this year, Dyer told a jury at the trial of former wide receiver Antonio Goodwin that he had smoked synthetic marijuana with all four suspects just before the alleged robbery, and let Goodwin borrow the gun. Dyer wasn't charged in the case (Goodwin was convicted in April; the other three suspects are still awaiting trial), but he was subsequently suspended for the Chick-Fil-A Bowl and was off the team for good a few weeks later.
From there, he returned home to Arkansas State , where his offensive coordinator from Auburn, fellow Arkansan Gus Malzahn, had just been named head coach. In March, however, Dyer was pulled over for speeding by an Arkansas state trooper who subsequently found a gun and marijuana during a search of Dyer's car; when dashboard video of the incident surfaced last month, Dyer was booted from the team, and the officer who made the stop was fired from the Arkansas State Police for improperly confiscating the gun and marijuana without reporting either.
Before his dismissal from ASU, the NCAA ruled Dyer would have to sit out the upcoming season under its standard one-year penalty for transfers within the same division. With the step down from the FBS level to the FCS, though, the only question that might keep him off the field this fall is academic: If Dyer's grades are in order, playing defense in the SWAC just got that much tougher.
Cristobal's first game at Oregon ended the same way Chip Kelly's did

Conner Manning and the Panthers dominated the Hilltoppers in the Cure Bowl

You can only go to the well so often before it dries up
The Trojans beat LSU earlier in the year and now have their first 11-win season as a FBS t...

Saban has never been a fan of the early signing period and made it clear that hasn't chang...

Paul Tyson is a three-star quarterback prospect for the 2019 recruiting class