Upset about impending Louisville-Petrino reunion? You shouldn't be
So what if Louisville is hiring Bobby Petrino? The Cardinals need a winning coach, and Petrino has served his penance for the sins he committed at Arkansas.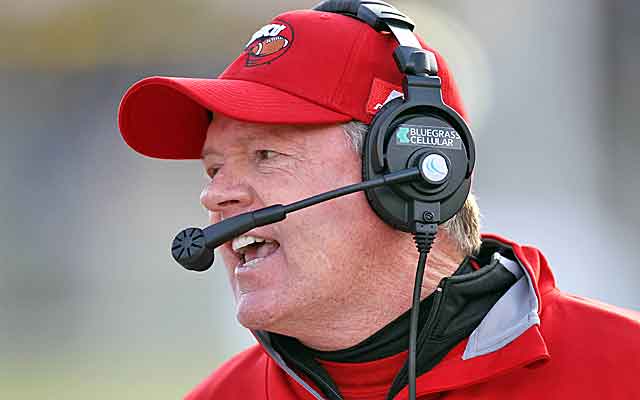 Louisville wants Bobby Petrino to coach its football team. It really is -- or should be -- as simple as that. He made mistakes, and he paid for them.
Has he paid enough? Nah. Not for some people, people whose thirst for another man's suffering is never quenched. If I may veer off topic for a bit, let me bring up Michael Vick. Different guy, different guilt, different courtroom.
Petrino was found guilty in the court of public of opinion after the motorcycle fiasco that brought down him and Arkansas' top-10 football program, and revealed the mistress he'd hired for a job that reported directly to him. Vick was found guilty in an actual courtroom, and went to jail. Big difference. Got it.
Vick lost his freedom, his money -- the fallout from his dog-fighting conviction included bankruptcy for the former $130 million man -- and his reputation. For lots of people that wasn't enough. They were outraged when the Eagles signed him in 2009. Four years later they were still outraged, and Vick had to cancel a book tour because of death threats. In September 2013 a restaurant 90 minutes from Philly, where Vick was still the Eagles' starting quarterback, canceled his scheduled appearance after customers complained.
This is what we do to the fallen. We demand that they stay down, either at our feet where we can kick them or simply out of sight -- free to live their life so long as they don't live it where we have to actually notice them. That's how some will say it should be for Petrino, who to be fair to his detractors, spent the better part of a decade demanding our dislike.
Me? I disliked the guy, way before Arkansas happened. I disliked him when he was at Louisville, sneaking around to interview for the Auburn job held by his buddy Tommy Tuberville and flirting with so many actual vacancies. When Louisville won the 2007 Orange Bowl I called Petrino "such a tramp that "I'm guessing he carried his cell phone on the sideline, just in case Alabama or the Miami Dolphins were trying to reach him."
Four days later Petrino left Louisville for the Falcons -- then left the Falcons after 13 games for Arkansas. A full year after he snuck out of Atlanta, I covered a Falcons game and was still so disgusted that I called Petrino a "lying, sniveling, high-tailing coward of a coach." (I also blasted Vick in that story, ironically enough. My position on Vick didn't change until this story in 2009.)
So don't tell me I have a soft spot for Bobby Petrino. Never have. Never will.
Well, no, that last statement isn't true. I would have had a soft spot for Petrino -- had Louisville pursued him and was shouted down by the mob of perfect people who will act as I've acted at times over the years, as someone who has never made a mistake. Man, we all make mistakes. Even me, and more shockingly than that, even you. Have we made mistakes as big as Petrino has made over the years, as big as the one he made at Arkansas? Don't know. Don't care. Someone else can rank sins.
All I know is, mistakes happen. Petrino's happened, and he paid enormously. He lost his job. Lost his dignity. Lost half his face on Highway 16 in rural, northwest Arkansas.
Petrino was out of work that 2012 season, then was hired at Western Kentucky, where his team went 8-4 this past season and finished 30th nationally in total offense at 459 yards per game. Same old Petrino, you know? The guy has a genius for coaching offense, which is why Louisville wants to bring him back.
Louisville students, fans and former were in favor of the move. Some students hung a banner on the Swain Student Activities Center, where Jurich works, that said: "Bring Back Bobby." Four of the best players in recent school history -- defensive end Elvis Dumervil, running back Michael Bush, center Eric Wood and quarterback Brian Brohm -- have tweeted their support for Petrino's return. And a fan poll conducted by local TV station WDRB had Petrino receiving more than three times the support of any other candidate.
How could they feel that way? Same way I could, I suppose. Don't ask me to root for a man like Petrino when he's riding high -- but when he's hit rock bottom, as he clearly did after being laughed at by a nation and fired by Arkansas? I can root for a man who has been humbled, for the same reason I can buy a stock at its lowest point. Nowhere to go but up.
That's Petrino. He's ascending, and I don't think leaving Western Kentucky after only one reflects badly on him. They did each other a favor -- WKU giving him a chance at on-the-job rehabilitation, Petrino giving WKU a coach who can continue the momentum achieved by Willie Taggart (now at USF) -- but the school gave him a short (four-year) deal with a reasonable ($1.2 million) buyout for a reason: That school, and this football coach, weren't meant to be together for long.
Petrino and Louisville? That's different. If he goes to Louisville and repeats any -- and I mean any -- of the mistakes he made earlier in his career, I'd mark him off as hopeless. If he wins 23 games in two years and leaves for a bigger football school, or even tries to leave, then the hell with him. But that's a bridge to cross later, if at all.
Meantime, I'm believing Bobby Petrino has changed. If he hasn't, he isn't human. And if there's one thing I know, it's this:
We're all human.
Lane Kiffin turned around FAU remarkably fast and has the Owls in the C-USA title game

NCAA football scoreboard, highlights and updates from the biggest Week 12 games

The junior injured his finger diving for the pylon late in the first quarter of the loss to...
Projecting the changes in the new AP Top 25 poll college football rankings after Week 12

There's only one true Turnover Chain in college football, and it belongs to The U

The 72-yard punt return was perfectly executed by the Trojans