Upset Alerts, Week 10: Can Gophers spring another one at Indiana?
The Eye on CFB gang make their upset calls for Week 9, with Indiana, Michigan State, North Carolina and FAU on alert.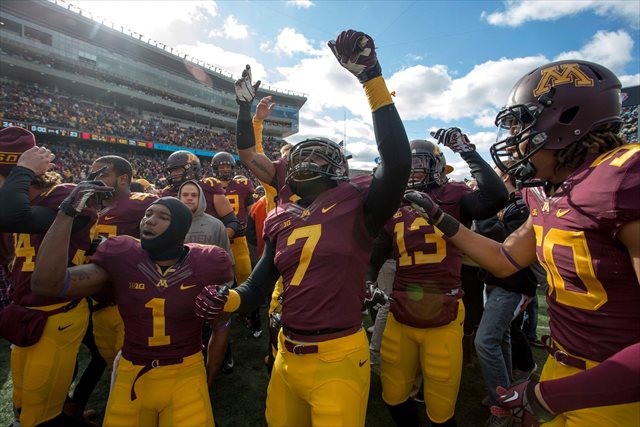 Welcome to Upset Alerts, where each week our three intrepid Eye on College Football writers and special guest BCS/bowl projections expert Jerry Palm each pick an upset they believe will shock (or at least mildly amuse) the college football world.
This week's lines are here. The picks:
CHIP PATTERSON: Minnesota (+8) over Indiana : The Big Ten Legends Division has been so weird this year, I expect one of the three home favorites to lose on Saturday. I expect Michigan State to shut down Devin Gardner and Jeremy Gallon, so that leaves me with either Minnesota at Indiana or Northwestern at Nebraska. The Golden Gophers got an offensive boost from a healthy Phillip Nelson against Nebraska, but I think it will be the defense that gives them the advantage against the Hoosiers.

Minnesota leads the Big Ten with 52.0 tackles for loss, and as Tom pointed out on the Eye On College Football Podcast, 6-foot-6, 311-pound redshirt senior Ra'Shede Hageman has been a force to reckon with at the nose tackle position recently. When the Gophers got into the backfield, Nebraska's offense fell out of rhythm. Repeating that performance against Indiana's high-powered attack would beneficial, particularly considering the current state of the Hoosiers defense -- one that's giving up 6.43 yards per play against conference competition. This would be the Gophers' third straight upset after taking down Northwestern and Nebraska as double-digit underdogs.
Last week: Missed on Texas Tech over Oklahoma. Season-to-date: 2-for-8.
JERRY PALM: Michigan (+5) over Michigan State : This is a bitter rivalry game that Michigan State owned in recent years. Michigan won last year in Ann Arbor, breaking a four-game losing streak to the Spartans. Michigan's offense moves the ball pretty well, and can put up big numbers as long as Devin Gardner isn't giving it away. And that's the rub. Gardner has 14 turnovers in seven games. When he takes better care of the ball, this offense can really light up the scoreboard.

The Spartan defense is among the best in the nation. Indiana's high powered offense is the only one to put up more than 17 points on Michigan State so far. They have given up only three points in the last two weeks, albeit to Purdue and Illinois. Michigan State's offense is pretty dysfunctional though. Chris Cook has finally settled in as the starting quarterback, but he and the offense are maddeningly inconsistent. They only scored 14 against Purdue two weeks ago (just seven by the offense), but 42 against Illinois last week. Look for Devin Gardner to step up in his last game against the Spartans and lead Michigan to a close victory.
Last week: Missed on Northwestern over Iowa (albeit in overtime). Season-to-date: 3-for-7
TOM FORNELLI: N.C. State (+5) over North Carolina : I know our very own North Carolina graduate, Chip Patterson, isn't going to appreciate this pick. But I'll just have to repair that relationship later, because I just don't see the Tar Heels leaving Raleigh with a win this week.

First of all, this is Homecoming for the Wolfpack, and these guys won't want to let down their newly-crowned queen. Also, the Pack has won four of the last five meetings in this series, and lost last season after blowing a 10-point lead in the fourth quarter, a collapse capped off by a Tar Heel punt return touchdown with 13 seconds left.

Then there's the fact that North Carolina has left Chapel Hill three times this season ... and lost all three of those games. Loss number four is coming on Saturday.
Last week: HIT on Texas over TCU. Season-to-date: 4-for-8.
JERRY HINNEN: Tulane (+2.5) over FAU : As a rule, I try to pick upsets for this column where the spread is wider than a field goal, especially when the "underdog" is the team on the road. If you accept the old Vegas adage that homefield is worth three points, then the homestanding Owls are actually the better team (by half a point) on a neutral field. So is this really an upset?
But whether it is or not, when one is 1-for-8 on the season, one tends to get a little desperate, tends to cling a little less stubbornly to personal principle. Tulane is 6-2 and has already won straight-up as an underdog five times; FAU is 2-6, and though several close losses mean they're better than that record -- thus them being made the betting favorite -- they also, you know, watched their head coach and defensive coordinator resign over illegal drug use this week. Picking the Green Wave just feels a little too easy.
Which is probably why I'll be 1-for-9 when you check this space next Friday.
Last week: Missed on Utah over USC. Season-to-date: 1-for-8.
A magic trick turned into a scholarship surprise for this Texas lineman

Michigan's notorious secrecy is getting called out again

Key was named a 2017 CBS Sports Preseason All-America selection this week
Our bowls expert looks at the toughest -- and weakest -- nonconference schedules in the na...

The new uniforms will be worn on Oct. 28 at Kyle Field vs. the Bulldogs

Kiffin's Owls have added myriad troubled players since he took over in Boca Raton