Upset Alerts, Week 12: Trojans to end Cardinal's run at BCS?
The Eye on CFB gang make their upset calls for Week 12, with Stanford, Georgia, San Diego State and Notre Dame on alert.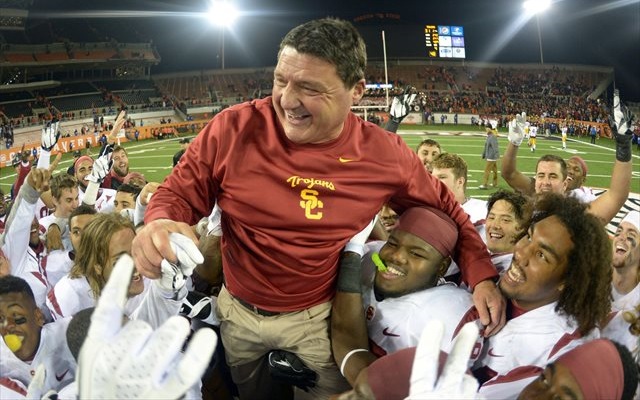 Welcome to Upset Alerts, where each week our three intrepid Eye on College Football writers and special guest BCS/bowl projections expert Jerry Palm each pick an upset they believe will shock (or at least mildly amuse) the college football world.
The week 12 lines are here. The picks:
JERRY HINNEN: USC (+4) over Stanford : So, to ask a question often asked of teams not typically ranked No. 4 in the BCS standings: which is the real Stanford? Is it the team that was outgained by 210 yards at home vs. Washington, only to be bailed out by Ty Montgomery's kick returns? The one that lost at a Utah team now scraping for bowl eligibility? The one that needed a late goal-line stand to survive Oregon State, the team last seen getting demolished at home by -- oh, would you look at that -- USC? Or, you know, the one that straight-up manhandled Oregon in arguably the most impressive performance in college football this season?

It's possible the realest Stanford is the latter. But here's one guess that the real Stanford is closer to the vulnerable outfit seen much more often in 2013 than the one that flattened the Ducks. And if that's the hungover Stanford that shows up in Los Angeles, Ed Oregeron's revitalized Trojans are more than good enough to take advantage.
Last week: Hit on Virginia Tech over Miami. Season-to-date: 2-for-10
JERRY PALM: Georgia (+3.5) over Auburn : Auburn has been on an incredible roll this season, currently sitting 9-1 and 7th in the latest BCS standings. One thing the Tigers haven't seen much of to this point is quality athletes on the opposing defense. Georgia will bring that. They have been getting better of late, and are a top 20 rushing defense nationally.

The Bulldogs are also finally getting healty on offense. RB Todd Gurley came back last week, and this week could bring the return of top receiver Chris Conley and TE Arthur Lynch may return this week. Given the kind of season Auburn has had, I'm surprised this line isn't bigger. It's basically the equivalent of home field advantage. Georgia has won six of the last seven, including the last two by a combined score of 83-7. Georgia isn't going to put up numbers like that, but they will pull off the upset.
Last week: Missed on Oklahoma over Baylor. Season-to-date: 3-for-9
CHIP PATTERSON: Texas (+3.5) over Oklahoma State : This game opened closer to a pick em, and I think Saturday night's matchup is absolutely a toss up. Oklahoma State, at its best, will run wear an opponent down with deflating explosion plays, utilizing the offense's tempo and the athleticism at the skill positions to get the job done. However, the Cowboys have looked stagnant on offense for long stretches of games and -- okay, I give it up.

I think Oklahoma State is going to win this game. In fact, all six of the CBS Sports Experts selected Oklahoma State to cover 3.5. A team with that kind of unopposed support as a road favorite in mid-November is ripe for upset. If you heard Mack Brown on Friday discussing the Nick Saban-Texas rumors, you know he's feeling feisty. The Longhorns overcome another lethal bite from the injury bug, shocking the Cowboys at home to remain undefeated in Big 12 play.
Last week: Hit on Pitt over Notre Dame. Season-to-date: 4-for-10
TOM FORNELLI: Hawaii (+4.5) over San Diego State : Am I just picking Hawaii to beat San Diego State this week because of the awesome throwback uniforms the Warriors will be wearing on Saturday? Maybe. Is there a chance that, once again, I got scooped on the games I wanted to pick by a someone else this week? Possibly.

Or is that I'm just picking Hawaii because I really don't think the Warriors are as bad as their record -- they're 0-9, but actually 5-4 against the spread, having lost three games by a touchdown or less -- and that they've played a lot better at home than they have on the road? Hey, it can be whatever reason you want it to be. I'm just here to tell you that Hawaii gets its first win of the season on Saturday.
Last week: Missed on Penn State over Minnesota. Season-to-date: 4-for-10
The Wildcats and Utes open conference play on Friday night

Eichorst's firing on Thursday sets Riley's seat ablaze, even if a decision won't be made i...

Eichorst had been at Nebraska since 2012
Three straight titles makes it seem like 'Alabama and everybody else' in the SEC

Some early-season Big Ten games could shake up the national standings

Trust the Process as Tom Fornelli leads you toward his best bets in Week 4 of the season