Upset Alerts: Week 2
Our three Eye on College Football bloggers offer their picks for Week 2 upsets.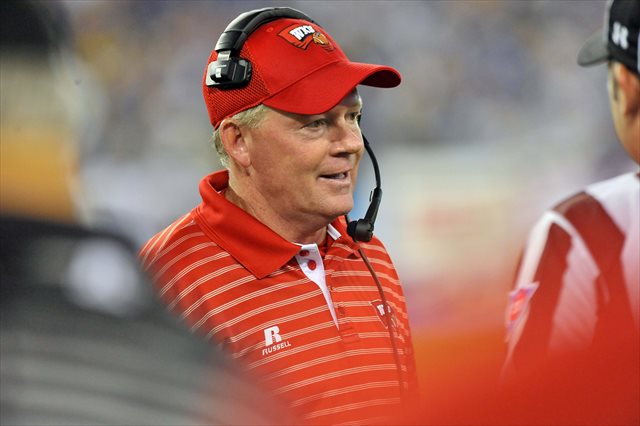 Welcome to Upset Alerts, where each week our three intrepid Eye on College Football writers will pick an upset they believe will shock (or at least mildly amuse) the college football world. This week's picks:
Tom Fornelli: Western Kentucky (+13.5) over Tennessee: Losing to the Hilltoppers certainly wouldn't be an ideal way to start for Butch Jones in Knoxville, but Western Kentucky has shown over the last few years that it's a team capable of pulling off this kind of upset. Sure, there's been a change in the coaching staff from Willie Taggart to Bobby Petrino, but that didn't stop Petrino's team from knocking off Kentucky last week did it?

Also, this is a Tennessee team that certainly had some trouble against the pass on defense last season, and hapless Austin Peay really didn't provide much of a test last week.

Oh, and did I mention Tennessee is traveling to Oregon to play the Ducks next week? Somebody might get caught looking ahead.
Chip Patterson: Navy (+12.5) over Indiana: We've been waiting on Indiana's offense to click on a regular basis ever since Kevin Wilson was hired as the Hoosiers head coach prior to the 2011 season. After setting a school-record for first half points and a Memorial Stadium record with 73 by the end of the game, some would argue this could be a breakthrough year for the team. Others would point out that the performance came against Indiana State.

Indiana had a long week of preparation for Navy after their Thursday opener, but the Midshipmen have not played a game yet. This game opened at 5.5, and I think that number is far more appropriate for this mismatch of offensive styles. Navy can't pull the upset without limiting turnovers and avoiding third and long, but the ball control created by their ground attack could keep Indiana's offense from getting into rhythm.

There aren't a ton of double-digit upsets on the board this week, but thanks to some overreaction from Week 1 this game became one.
Jerry Hinnen: Central Arkansas (+13) over Colorado: After explaining in vivid detail why we shouldn't expect the same quantity or quality of FCS-over-FBS upsets this week we saw in Week 1, I really wanted to look somewhere other than games involving the division-formerly-known-as-I-AA ... but man, this week gives me nothing to work with other than the games you guys have already mentioned. UNLV and BYU both have shots at pulling off a home stunner over Arizona or Texas, respectively, but the Wildcats and 'Horns should be just a little out of reach.

So, fine, scheduling gods, you win: I'm picking Central Arkansas to upset Colorado. The No. 6 Bears are another one of those high-ranked FCS powers that caused so much havoc last week, and gave Ole Miss serious issues for a half in 2012 before losing by 22. The Buffaloes, meanwhile, looked good in dismantling Colorado State in their debut under Mike MacIntyre. But the game vs. UCA comes sandwiched between that rivalry meeting and next week's revenge date vs. Fresno State (who humiliated the Buffs 69-14 last year), and this is still (mostly) the same group of players that lost to (much weaker) FCS opponent Sacramento State team last season. According to Jeff Sagarin's Predictor ratings, in fact -- which rated Central Arkansas 102nd and Colorado 164th -- this wouldn't have even been an upset in 2012.

The Buffs are no doubt much-improved, meaning it would be an upset in 2013. But just because it's not as likely doesn't mean that upset won't happen this Saturday.
The movie will zero in on former Penn State coach Joe Paterno during the Jerry Sandusky sc...

Bidding for Salaam's trophy, which the auction house says was obtained legally, ends Satur...

Locksley has been the offensive coordinator at Illinois and Maryland during his coaching c...
Many NFL-eligible juniors ignore advice provided by the league and risk going undrafted each...

Snyder died in Manhattan, Kansas, on Wednesday

Locksley joined Alabama's staff in 2016